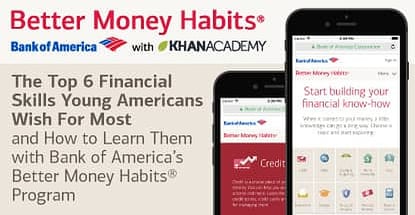 credit card news
Our experts and industry insiders blog the latest news, studies and current events from inside the credit card industry. Our articles follow strict editorial guidelines.
In a Nutshell: With only so many hours in the teaching day, it likely comes as little surprise to anyone that young adults are finding themselves ill-prepared for life after graduation. The latest "Young Americans & Money" report, a joint effort between Bank of America and USA TODAY, focused on those young adults who grew up in the middle of the Great Recession in 2008. The report studied the things those ages 18 to 26 wish they'd learned more about in school, revealing that the majority strongly desired better mastery of personal finance. Through a partnership with Khan Academy, Bank of America's BetterMoneyHabits.com is helping bridge the personal finance information gap, covering a wide range of topics with engaging videos, infographics, and lessons designed to put the "fun" back in "fundamental."
One of the many complaints consumers often have of larger corporations is the lack of a voice. Of course, when a customer is literally one among millions, it's understandable to feel a little lost in the crowd. In an environment like finance, where the largest bank accounts are often given the largest allotment of resources, it can be even more difficult to feel heard — especially if you are among those young adults just starting to come into their own.
The team at Bank of America has a different approach, making it a priority to reach out to all customers, including mysterious millennials who are (infamously) puzzling many a marketer. As part of that effort to connect, Bank of America works with USA TODAY to publish the Better Money Habits® report, a survey designed to help them understand the needs and wants of their youngest customers.
"We want to sort of take the financial pulse of young people, to get a sense of their aspirations, goals — and pain points," explained Britney Sheehan, Regional Media Relations for Bank of America. While the report usually focuses on the full range of millennials, who currently include people well into their 30s, the Fall 2016 survey, Young Americans & Money, was, instead, more sharply focused.
"We wanted to understand a younger mindset –- that of young people who were still in school during the Great Recession (2008), those just starting out in the job market," said Andrew Plepler, Environmental, Social, and Governance Executive, in his summary of the report. "To this end, we surveyed 18 to 26-year-olds, a smaller swath that includes both younger millennials (ages 22 to 26) and the older members of Generation Z (ages 18 to 21). With this report, we set out to understand how the nation's rising generations are thinking about their financial futures."
As it turns out, America's latest batch of adults has mixed feelings about the state of their financial affairs — and that of the country in general. While the majority of those surveyed were at least somewhat optimistic about their own financial futures, nearly a third were not. And opinions on the economy were even more divisive, with 44% of the respondents describing the economy as "somewhat good" or better — but more than half feeling the economy was poor.
"We learned that when it comes to financial matters, these young people are both cautiously optimistic and practical," described Andrew. "They have positive feelings about their own financial futures but also have doubts about both the economy and the job market. With one in three carrying student debt, they are striving for independence — but having trouble achieving it."
Degrees Don't Guarantee Financial Smarts: What Young Americans Would Have Liked to Learn More About
According to the report, the failure of America's youngest adults to find financial independence may affect more than just their pocketbooks. Responses show that a majority of the children raised during the Great Recession are coming of age with the belief that financial independence is actually the most important step toward becoming an adult.
"Achieving financial independence isn't easy, and most young Americans are having trouble supporting themselves. Many do not pay their own rent, do their own taxes or have their own health insurance," Andrew said. "Financial challenges are blocking their path to adulthood, and they're not necessarily feeling prepared to deal with the practical challenges that lie ahead."
The main source of their lack of confidence may not have anything to do with modern financial events, but, rather, a symptom of a lack of financial education.
"Of those who attended college, only 41% said their college education did a good job of teaching them good financial habits and only 31% said their high school education did so," revealed Andrew. "Nearly all of those surveyed said they wish they had learned more about money matters in school –- more so than any other subject."
In fact, of the 15 most frequent answers to the question, half were financially based, and several more dealt with job skills. Furthermore, the top six responses included a range of topics that are considered by most experts to be basic personal finance skills.
1. How to Invest
Though a troubling topic for 43% of Young Americans & Money respondents, the question of how to invest likely boggles nearly as many older Americans as young ones. However tricky, knowing the ins and outs of investing is a vital personal finance skill, even if consumers only ever invest through a 401K or other retirement account. Knowledge of basic investing concepts, such as the difference between stocks, bonds, and mutual funds, can have a big impact on your bottom line in retirement.
2. How to Do Taxes
Right after investing on the list comes taxes, another topic that is a bane for more than just the younger generations. While the majority of those surveyed held jobs, only 15% of the people aged 18 to 21, and 44% of those 22 to 26, actually did their own taxes. Since having your taxes professionally prepared can start around $70 for the most basic filing service, learning to properly manage your taxes can be a big savings in the long run.
3. How to Manage Monthly Bills
Despite the fact that experts agree a budget is one of the most important tools a person needs to maintain healthy personal finances, most people fail to regularly maintain a budget. It should be little surprise, then, that more than a quarter of respondents cited managing monthly bills as a skill they'd have liked to learn better, even though only about half actually made their own car or rent payments.
4. How to Negotiate a Salary
While not strictly a personal finance skill, the ability to (successfully) negotiate when signing on to a new job can end up having an impact on just about all aspects of a person's finances. Beyond the obvious salary implications, employment negotiations can also include important peripheral financial aspects, such as health care benefits and retirement contributions.
5. How to Save for Retirement
With only half of America's young adults believing that Social Security will be a viable resource when they retire, planning for retirement is a legitimate concern. Given the power of compound interest, the best tool many young people have when it comes to saving for retirement is time. Unfortunately, while 58% of the survey's respondents were actively saving money, only about a quarter of those aged 22 to 26 were contributing to a 401(k) plan — and less than 10% of those 18 to 21 contributed.
6. How to Buy a Home
Yet another topic that seems to be puzzling to many, regardless of age, is learning about the home-buying process. Though fewer than 10% currently owned a home, the topic was of concern for more than 20% of people in the report — and with good reason. Buying a home comes complete with the confusing financial lingo of investing and the complex legalese of taxes, all wrapped up in a variety of complicated costs and fees unique to the mortgage process.
Bank of America and Khan Academy Partner to Help Bridge the Financial Education Gap
Of course, identifying the gaps in the way we teach financial education is one thing; fixing those gaps is quite another. There exist only so many hours in the school day in which to fit every important subject, especially one as broad as personal finance.
"With so many things to teach," said Andrew, "high schools and colleges may be falling short when it comes to financial education, and there is a need to fill the gap." For Bank of America, it seemed only natural that, as one of the country's largest financial institutions, they help do just that.
"Having seen the fragility of the economy, young Americans are aware of the headwinds they may face and feel they may not be getting the support that they need," Andrew described. "That is one reason we created Better Money Habits. Through a partnership with the innovative education nonprofit Khan Academy, Bank of America offers free online resources that explain financial topics in a simple and conversational way."
For the youngest adults most in need of guidance, the Better Money Habits approach seems to be right on target. It combines a wide variety of engaging videos and infographics with concise, but informative, list-based articles, the lot of which are sure to appeal to the shorter, graphically-inclined attention spans of the tech-enabled generations.
Topics cover the gamut of personal finance, including a wealth of information addressing many of those topics identified as areas of concern to the survey's participants. For instance, one colorful infographic illustrates the importance of budgeting enough for closing costs when buying a home, and a fun animated video describes potential retirement challenges.
"The whole goal of our work was basically to put together unbiased, easy to understand information on this wide range of personal financial topics," said Britney. "We work with Sal and the Khan Academy team, but we also work directly with young people to better understand their money needs. We ask them pointed questions and really try to get to the bottom of what drives and motivates them."
It's Never Too Late (Or Early) to Learn Better Money Habits
For America's newest adults, the future brings many financial challenges — not the least of which, in many cases, is simply being heard. Through Better Money Habits, Bank of America not only seeks to identify the needs of their young customers but also wants to provide the means for them to have bright financial futures.
"Despite their best efforts, financial independence can be hard to come by for young Americans today. Starting out in the job market can be intimidating, especially with one in three carrying student debt," said Andrew. "As a group that has seen the ups and downs of the economy, they know what they're up against. If we bring them the right resources to take control of their financial futures, that will go a long way in helping them achieve greater financial independence."