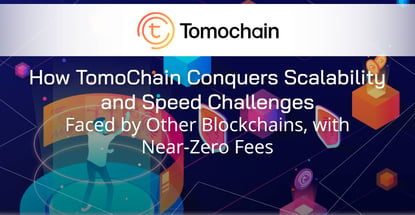 credit card news
Our experts and industry insiders blog the latest news, studies and current events from inside the credit card industry. Our articles follow strict editorial guidelines.
In a Nutshell: TomoChain is a new blockchain platform that resolves what CEO Long Vuong views as some of the technology's main challenges to mass adoption. TomoChain demonstrates faster transaction times and more transactions per second than other leading blockchains, all with near-zero fees. The company is pushing for higher blockchain adoption levels by removing as much friction as possible from the blockchain experience with its TomoZ and TomoX protocols. TomoChain is also helping to promote blockchain to developers with the first international gaming contest, the TomoChain Gaming dAppthon.
TomoChain CEO Long Vuong proposes that money should not be understood as a thing or a commodity, but as a technology to record value. In other words, money is a common technology adopted by society to record who owns what.
"Therefore, blockchain technology with its endemic characteristics, including transparency/ anonymity, efficiency, accessibility, decentralization, programmability shows its potential for the creation of a new economic model, which is called the tokenized economy," Vuong said.

But Vuong observed in 2017 that, despite its potential, the blockchain industry was still seeing a slow rate of mass adoption in the marketplace, Nguyen said. The entire industry was valued at $268 billion and contains fewer than 2,000 decentralized applications (dApps), programs that run on a P2P network of computers rather than on a single computer.
"Technology at that time was the main barrier," Vuong said. "Confirmation time was between seven and 60 seconds and transactions per second (TPS) were between six and 30. Too slow in comparison with Visa and Mastercard, with confirmation times of one to two seconds and TPS between 3,000 and 40,000."
In addition to the pioneering blockchain game CryptoKitties crashed due to high traffic. This caused major overloading and congestion problems on the Ethereum blockchain for almost two days.
"In order to solve these problems, there was a need for creating a highly efficient public blockchain," Vuong said.
Vuong set about solving these issues with TomoChain. The CEO had been following blockchain closely since 2013 and even co-founded crypto and blockchain platform NEM in 2014. He was no stranger to the ins and outs of the nascent technology.
We recently had a chance to speak with TomChain's Marketing Manager, Victor Nguyen, about how Vuong's vision became a reality, and how TomoChain solves some of blockchain technology's greatest challenges while reaching a larger audience.
An Efficient and Scalable Platform That's Ideal for dApps
Nguyen said the TomoChain team lept into action in 2017 and by the end of the year had published its first white paper and testnet 1.0. Early efforts focused on TomoApp, the first blockchain social network.
Over the past two years, TomoChain has seen significant evolution in terms of product development and building its ecosystem, he said.
"Shortly after finishing our ICO in Q1 of 2018, TomoChain introduced TomoWallet, our first built-in product, followed by TomoMaster — a governance dApp — where users apply to become a master node and/or login to vote/stake for their favorite master nodes," Nguyen said.
By the end of the year, the company published the TomoChain consensus mechanism, launched its mainnet, and published its technical white paper.
With so much progress in such a short amount of time, it's apparent that TomoChain is motivated in its goals.
"TomoChain relies on a system of 150 master nodes with proof-of-stake voting (PoSV) consensus that can support near-zero fees and 2-second transaction confirmation times," according to the company website.
Its fast, stable, scalable, and decentralized platform makes TomoChain a good ecosystem for dApps.
"New scaling techniques such as sharding, EVM parallelization, hardware integration will be continuously researched and incorporated into TomoChain's master node architecture — which will provide a scalable smart-contract public blockchain for decentralized apps, token issuances and token integrations for small and big businesses," according to a Medium article.
Nguyen said TomoChain's dApps have been listed on the world's two largest dApp store sites dApp.com and dApp.review.
Promoting Mass-Market Adoption with TomoZ and TomoX
"The community means a lot to the Tomo team, and our decision-making process will always start from discussions with our community," Nguyen said. "Blockchain is a special industry when everyone, from the CEO to executives, come and discuss with the community on a daily basis."
He said this level of engagement demonstrates the company's strong commitment to its supporters, who help keep Tomo on their toes and working to improve.
"They are not only investors but are also some of our greatest critics and contributors," Nguyen said. They continuously motivate our team with their insightful questions, suggestions, and invaluable feedback regarding team goals and product development."
Gaining insight from the community inspires the Tomo team in many ways, he said. A prime example is the development of the TomoZ protocol, which powers a frictionless token experience on the Tomo blockchain.
"Feedback from the community showed us the need for a new product to break down barriers between blockchain technology and mass adoption," Nguyen said.
In most major smart contract platforms, users must hold the native token in their wallets to pay for transactions, but with TomoZ users can pay transaction fees with the tokens they are already using. Nguyen said the approach is also known as the pay-fee-by-any-token protocol.
The protocol is based around Tomo's TRC21 token. "The TRC21 token allows users of the TomoChain network to pay fees by the token itself — simple and frictionless experiences," according to the website.
The company has also been promoting the mass market adoption of TomoX, Nguyen said, which will launch by the end of the year.
"TomoX is the protocol that companies and exchange builders can use for building relayers benefitting from the high performance and fast confirmation time of PoSV consensus," he said.
Reaching Developers Around the Globe with the TomoChain Game dAppathon
"In 2019, TomoChain has been focusing on end-users growth hacking with the TomoChain Gaming dAppthon," Nguyen said.
The dAppathon is the first international blockchain gaming contest, according to the company.
"We are inviting all developers, from anywhere in the world to join us in this event to build fun and creative games on the TomoChain blockchain," according to the website. The company is aiming to reach developers from all across the globe "who are interested in exploring dApp development and explore how blockchain technology can revolutionize the gaming industry."
The contest consists of two mini rounds and one final round. The winner will receive the equivalent of $5,000 in TOMO, the company's native token, and two runners-up will receive the equivalent of $1,000 in TOMO. Additionally, the Tomo community will select one other winner to receive the equivalent of $1,000 in TOMO.
The company recommends that participants have experience in game development with popular frameworks and languages, but it is not required.
"Blockchain knowledge and experience is a plus but not essential," according to the website. "If you are not familiar with blockchain development, our TomoChain engineers can guide you through building your first blockchain game/dApp."
The final round submission period began on July 6 and closes on September 9.
"Submission format is a video demo of your game. This can be uploaded privately to YouTube or similar video hosting platforms – please include a private link," according to the company. "Developers can apply individually or as a team. There is no restriction on the number of team members per team."
As if that weren't enough, Nguyen said Tomo is also working with Binance DEX on a TomoChain trading competition and gearing up to launch a blockchain education series for top universities in Vietnam.