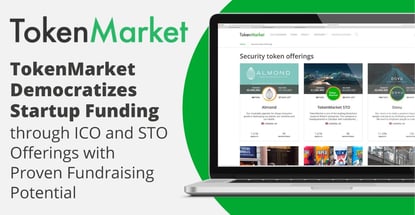 credit card news
Our experts and industry insiders blog the latest news, studies and current events from inside the credit card industry. Our articles follow strict editorial guidelines.
In a Nutshell: TokenMarket provides a best-in-class ICO and STO platform for startups that need to raise early-stage capital. Over 250,000 token buyers made more than $300 million in cryptocurrency transactions in the first 18 months of the platform's existence. The TokenMarket platform provides clients with strategic advisory and marketing and handles all of the technology — including token issuance, holding a client's ICO funds, and KYC requirements — needed to conduct a sale.
For years, the average consumer saw investing as a hobby for the wealthy. After all, the middle class didn't have money to potentially lose, and it seemed that big profits only came to those with big upfront money.
But technology and modern digital trading platforms changed the way investors research, buy, and sell their holdings. Anyone with a computer or mobile device can now buy and share trades on equity markets.
And as times change, so do the types of investments that prospectors consider. The ICO market has created substantial interest in blockchain-based companies that look to raise funds by selling digital tokens that offer partial ownership in a project, but allow the company to retain full equity in the overall business.
TokenMarket officially launched on March 8, 2017, the same day ICO marketplaces became incorporated in Gibraltar. After a little more than two years of offering ICO options to the public, the company has processed more than $300 million in cryptocurrency transactions.
TokenMarket uses best-in-class blockchain technology to work with regulated authorities and create a safe and trusted environment for users to safely manage their portfolio within the burgeoning investing industry.
"We're all about the democratization of startup funding," said Ransu Salovaara, CEO of TokenMarket. "We see that, with the power of blockchain, we can enable each company to manage thousands of shareholders. Most companies have tried to avoid the nightmare of having too many people on their cap table, but it's so much easier now."
With annual revenues of more than $13 million, TokenMarket found itself quickly rising to the top of the ICO platform market. Salovaara said that much of the company's early success came from its knowledge of the technology it uses and business connections in the space, but he said that one should never discount the importance of timing.
"We came in the early days of ICOs and had clients even before we incorporated that we were booking three months in advance," he said. "So, the day we incorporated, we also sent out invoices to clients. That was kind of a dream scenario for a startup."
TokenMarket started fast with a pair of $30 million ICO campaigns for tech startups Civic and Storj. Today, the platform manages the technology, payment processing, and payouts for a wide range of startups that want to raise money through token sales.
"We are full-on advisors for ICO token sales," Salovaara said. "We do strategic advisory, we do part of the marketing, and handle all of the technology needed — as far as token issuance, holding a client's funds, and all of the KYC that's needed."
Security Tokens Expand the Appeal of ICOs to Non-Blockchain Companies
While the ICO market has brought many casual investors into the cryptocurrency market, Salovaara predicted that the next big change in how retail investors seek profits will come through Security Token Offerings (STO).
Security tokens, unlike the traditional utility tokens sold through ICOs, are tied to an external, tradable asset — not a concept or project. Because the tokens are deemed a security, they are subject to federal securities and regulations. If the STO offering doesn't adhere to the regulations, the company offering the token could be subject to penalties.
"Our big project over the last 12 months has seen us expand from utility tokens to security tokens," Salovaara said. "When we talk about security tokens, we don't talk about utility tokens just registered as securities, like many people do in America. We're talking about real shareholders in a company. This is really like equity crowdfunding 2.0."
This powerful shift in crowdfunding has expanded the types of companies that consider coin offerings to raise quick funds. While TokenMarket once saw its clientele come from the same fields, Salovaara said the company now serves a wide demographic.
"While all of our first transactions were blockchain companies that issued utility tokens, the expansion into security tokens also expands the types of companies that we're looking to work with," Salovaara said. "We're always looking to work with innovative tech companies that are raising early-stage capital."
In recent months, these companies have come from the fintech, blockchain, AI, internet of things, robotics, health tech, and gaming sectors. TokenMarket recently signed on its first wave of clients, one of them being a Cryotherapy company that is revolutionizing the HealthTech industry and has elite level athletes using their product.
"We're not interested in working with older companies that want to do fundraising or companies that need rescuing through a round of funding," Salovaara said. "We're looking for the next potential unicorn — an exciting company that we can give normal investors a chance to work with and not just the typical angel investors of venture capital companies."
Salovaara noted that TokenMarket's platform allows for a wide range of sales, as he's seen the platform process as many as 14,000 transactions in the first three hours of an offering. In the past, such traffic would be frowned upon, as managing token buyers becomes more difficult as their number grows. But TokenMarket has mastered the tightrope walk of opening sales to the masses but not making it too accessible to the general public.
"We see all of our clients as being successful, as they all raised capital that they otherwise wouldn't have had access to," Salovaara said. "That's why our technology is so important to startup companies. We handle all of the sales with the proper KYC compliance."
More than 250,000 Token Buyers Served in 18 months
In just 18 months, more than 250,000 token buyers have transacted on the TokenMarket platform. In the past, that number would have seemed inconceivable, as such sales weren't open to retail investors.
That new level of accessibility, according to Salovaara, is what he is most proud of.
"It's exciting to see and take part in the 2.0 version of crowdfunding," Salovaara said. "This number of token buyers has proven there is a new class of investor and the demand continues to increase; We want to give better deal access to not just VCs, but all types of investors."
But as token sales become more common, Salovaara sees the need for marketplaces for speculators to buy and sell their tokens — after all, an investment is only as valuable as its resale potential.

Providing the potential for more liquidity and accurate pricing, TokenMarket plans to launch a pair of token security exchanges in the third quarter of 2019 — one in Malta and the other in Dubai — that would become one of the first token exchanges available in Europe.
"This is big because it will be a boost for the STO movement when we can enable secondary market trading," Salovaara said. "STOs are currently handicapped when compared to ICOs because they cannot currently be easily traded."
And, as with the token sales, Salovaara plans to open the exchanges to investors of all backgrounds. By bringing these speculators in from around the globe, TokenMarket predicts that companies will no longer have to fit within certain niches to raise vital funding in their early stages.
"We hope that this will mean companies won't have to be only from a few hot spots, like Silicon Valley, to raise money," Salovaara said. "Any exciting company, anywhere in the world, can come to us and we can help them get the global investor base excited about their offering."
As these decentralized exchanges continue to pop up, the excitement levels around fintech and blockchain-based companies continue to grow. No longer just the proving ground for young developers, these companies are now creating global enterprises with world-changing capabilities — and taking the average retail investor along for the ride.
TokenMarket's Own STO Launches in 2019
TokenMarket doesn't just talk a big game when it comes to its STO offerings. The company believes so much in the power of its fundraising potential that it's planned its own token offering in April 2019.
"We're about to conduct one of the first authorized STO offerings in Europe, where we're raising money for ourselves," Salovaara said. "We're using the U.K.'s equity crowdfunding rules to conduct a crowdfunding campaign that will bring in up to $2.5 million."
Investors in its STO or any other offering on the platform can be from anywhere on the globe that allows such activity. And with a low $75 minimum investment in the TokenMarket STO, more people than ever can gain entry into the token-buying arena.
"This is a big innovation," Salovaara said. "Until now, about 99% of completed STOs have only been for accredited investors with a minimum investment of $25,000 to $100,000. We're opening this up on a massive scale to anyone who wants to invest."
The TokenMarket STO is only one of several such offerings scheduled for the site in the coming months.
Current projects and companies seeking funding include a cryotherapy company, a crypto-assets management platform, and a cryptocurrency-based fintech business lender.
And it isn't just tech-driven companies that are paving the way for this new age of crowdfunding. Companies like PO8, a marine archaeology startup that uses blockchain technology to excavate sunken treasures and artifacts from ocean floors, are proof of that.
And the diversity in offerings means that investors on the TokenMarket platform will continue to have access to a wide range of offerings, and the companies offering tokens will have access to capital that would likely have otherwise been impossible to secure.