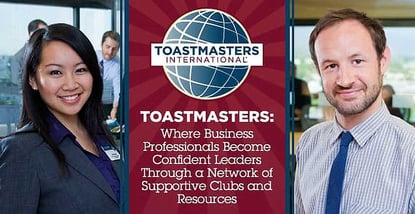 credit card news
Our experts and industry insiders blog the latest news, studies and current events from inside the credit card industry. Our articles follow strict editorial guidelines.
In a Nutshell: In the early days of launching a business, entrepreneurs don't always see the value of taking time for personal and professional development. But, as a business grows, skills like public speaking, communication, and leadership become increasingly vital to growth. Toastmasters International, a non-profit organization launched in the early 1900s, fulfills the purpose of educating young professionals and giving them opportunities to practice these skills in a supportive club atmosphere. With access to more than 16,600 clubs worldwide, affordable memberships, multimedia resources, and opportunities for personal mentorship, Toastmasters is helping professionals become confident leaders within their own industries and communities.
For the business professional in an established company, taking the time to work on personal development skills, such as communication and leadership, can lead to positive outcomes like a promotion or a new career opportunity. For a budding entrepreneur, the stakes can be much higher.
While good leadership and communication skills aren't prerequisites for launching a business, those skills gain importance as a business expands, starts hiring employees, and faces other new challenges. The ability to deliver persuasive pitches, conduct effective meetings, or run public relations campaigns can often mean the difference between lost opportunities and continued growth.
For David Reichelt, a military veteran and game developer, public speaking wasn't a skill he'd thought he'd need. But, when his game Color Switch quickly grew into the second-most downloaded app of 2016 and turned him into a successful entrepreneur, it suddenly became very important. David was well-prepared to handle the media attention and numerous requests to speak on podcasts and live shows thanks to the skills he had acquired as a member of Toastmasters International.
"Toastmasters has helped me so that every time I do one of these interviews, I'm not nervous to be on television," David said. "Toastmasters is a very safe environment where you're there to practice and learn this skill and use it in the real world."
Not every business professional is a natural-born speaker, but with the right educational tools and a strong network, entrepreneurs like David can gain the skills they need to establish an assertive public presence. Toastmasters International, a 93-year-old non-profit organization that specializes in professional education and support, facilitates the type of training and experiences that help business owners develop vital leadership and communication skills.
With the assistance of mentors, focused learning materials, and a friendly social setting, Toastmasters enables entrepreneurs to gain the confidence and skills they need to become successful leaders equipped to grow their businesses.
Empowering Professional Development of Members Through Personal Growth
Toastmasters began at the YMCA as a club-based organization with a focus on personal development. As director of education at his local YMCA in Bloomington, Illinois, Ralph Smedley noticed a particular need for young men to learn how to speak in public, perform civic duties, and fulfill other leadership roles within their communities. In response, he started the first informal Toastmasters club in 1905.
At the first Toastmasters club meetings, participants took turns leading, giving short speeches, and evaluating them – activities that remain a core part of the culture in today's Toastmasters clubs. Meetings are typically one to two hours long, and consist of members giving speeches and serving in roles such as the day's Toastmaster (the meeting's chair), timer, grammarian, speech evaluators, and Ah-counter, who is the person who keeps track of any overused words or filler sounds used as a crutch by anyone who speaks during the meeting.
At meetings, members present speeches or projects that coincide with either the Competent Communication track or the Competent Leadership track. Both tracks contain 10 projects, but they differ in scope. For instance, the Competent Communication track teaches skills on organizing a speech and using effective body language, while the Competent Leadership track includes projects on running a meeting, organizing a recruitment campaign, using visual aids, or creating a newsletter.
In the latter part of Toastmasters club sessions, an officiant introduces table topics that give the group a chance to practice their impromptu speech skills. Finally, all the speeches are evaluated, and the group votes to recognize winners in various categories such as best speaker. As members complete their tracks, they're invited to apply for completion awards and advanced programs.
With this hands-on format, Toastmasters provides a unique opportunity for professionals to both learn and practice skills in a no-pressure setting, gaining the confidence they need to apply those skills to their careers and businesses.
For more than a century, Toastmasters has built its platform of professional development through personal growth and community support, and its clubs worldwide continue to empower present and future leaders.
Worldwide Presence Provides Opportunities for Everyone
Toastmasters started as a small American organization, but it quickly spread beyond the US into Canada and beyond. In 1924, Ralph launched what became the first branch of Toastmasters International in Santa Ana, California. Today more than 16,600 Toastmasters clubs can be found in numerous districts spanning 143 countries.
These clubs meet in a variety of settings — including corporations, colleges, restaurants, and local community centers. Although all Toastmasters clubs share the same core values and overall structure, each one has a unique, professional environment.
Toastmasters believes clubs should be places where professionals feel at home, so it advises prospective members to find a club using its online search tool and then visit a few clubs before joining. Members apply at the club level, and must be at least 18, pay membership fees every six months, as well as pay other possible fees.
Professional mentors can be an important source of wisdom and guidance for entrepreneurs in the early stages of starting a small business, but it can be difficult to know where to find them.
Understanding the importance of this role in the learning process, Toastmasters makes mentoring opportunities an integral part of its structure. New members are encouraged to ask their leaders to connect them with an appropriate mentor who can share real-life experiences and inspire them on a personal level. In response to feedback, Toastmasters also offers a formal mentorship training program as part of the Pathways program which it continues to roll out.
Toastmasters International makes it easier for busy professionals to prioritize their personal development by providing affordable worldwide access to leadership growth, and the support of club members and mentors who share the same journey.
A Variety of Resources to Help Build Communication and Leadership Skills
Toastmasters provides entrepreneurs with multiple online and offline educational resources to help them focus on specific areas to continually improve leadership skills and build their businesses.
Members are encouraged to start with one of the two traditional education tracks and can purchase the Competent Communication and Competent Leadership manuals, which contain guidelines for each track's 10 projects in a PDF format that's compatible with multiple devices. The vast online resource library contains additional free digital manuals that address specific topics like how to use body language, develop an authoritative speaking voice, become a visionary leader, and employ company values in achieving team goals.
The resource library gives members and visitors access to other free multimedia learning materials. This area of the site contains articles from Toastmaster magazine, a Video Library with member testimonials and helpful tutorials, and podcasts from previous Toastmasters conventions and events.
On a page dedicated to public speaking tips, Toastmasters features practical articles that apply directly to the skills entrepreneurs need to run a business, including articulating sales pitches or speaking to diverse audiences. Toastmasters also hosts a large-scale annual convention, a global speech competition, and presents various awards to recognize members who have made notable achievements in leadership.
Toastmasters' multi-format educational resources help business leaders engage with the knowledge they need in the ways that work best for them.
16,600+ Clubs Providing the Support Toastmasters Members Need to Succeed
Ralph saw and addressed his generation's need for communication and leadership skills with the most efficient format he knew — a supportive peer setting where individuals could be educated, gain practical experience, and benefit from the mentorship of others.
The continued need for these skills among professionals has driven Toastmasters' growth from its origins at a local YMCA to more than 16,600 clubs across 143 countries. Today, Toastmasters is helping entrepreneurs like David Reichelt develop skills that don't always come naturally but are vital to the growth and success of both personal careers and company goals.
While the early informal gatherings and print materials have evolved to include multimedia formats, Toastmasters clubs remain centered on the mission of helping professionals gain the communication and leadership skills — and the support — they need to succeed.