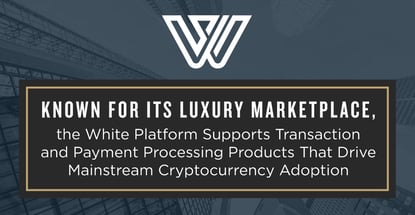 credit card news
Our experts and industry insiders blog the latest news, studies and current events from inside the credit card industry. Our articles follow strict editorial guidelines.
In a Nutshell: In theory, cryptocurrencies have the power to make financial transactions faster, cheaper, and more secure. But consumers and merchants have yet to find a practical use case for digital currency. The White Platform is changing this dynamic through its powerful transactional capabilities and crypto payment processing solutions. The exchange even supports its own luxury marketplace that demonstrates how its suite of products work together for consumers and retailers. By assembling all the pieces of the digital currency puzzle into one seamless solution, the White Platform is bringing crypto even closer to mainstream adoption.
The massive upturn in cryptocurrency values that occurred in 2017 gave Elizabeth White an idea. She found herself uniquely positioned to break into the industry with a dual background as a former luxury brand executive and a cryptocurrency investor and advocate.
By 2017, many long-time holders of Bitcoin and other cryptocurrencies had amassed the equivalent of millions of dollars in assets. At the time, upturns seemed so limitless that investors grew fond of predicting how quickly a particular crypto purchase would appreciate enough to enable the buyer to afford a Lamborghini sports car — and the hashtag #whenlambo went viral on social media and crypto.

It was all good fun, but it also got White's attention. She realized that even new crypto millionaires faced limited choices as consumers. They could go through the bureaucratic and expensive process of cashing their coins into fiat, or they could hold on for dear life (or HODL) and hope for a brighter future. But it turned out to be extremely difficult to use crypto to purchase anything — even a Lamborghini.
So White started a company to broker exchanges of crypto for luxury goods like sports cars, artwork, and jewelry — which became the White Platform. And, as crypto markets went from bull to bear status in 2018, buyers kept coming. White's luxury concierge service ended up facilitating around $250 million in crypto transactions that year.
But White didn't want to stop at offering a luxury marketplace for crypto holders. She realized people needed an end-to-end solution for making all types of purchases — from lipstick and light bulbs to sports cars.
Several iterations down the road, the White Platform is now a formal cryptocurrency exchange that offers transactional and payment processing products, including the powerful White Wallet, alongside its luxury White Marketplace.
"What we ultimately wanted to do was create a pathway for merchants to accept crypto. And White Wallet is the heavy technology that powers our entire platform," said White.
The platform's suite of solutions helps bring crypto to the brink of mainstream acceptance. And it has already begun to normalize those transactions between merchants and consumers.
White Wallet Allows Users to Securely Trade, Buy, Sell, and Store Crypto and Fiat
The White Platform bridges the gap between commerce and crypto in ways that save time and money for consumers. Underpinning the platform is the White Wallet exchange, which allows global customers to instantly send, receive, trade, hold, and invest more than a dozen of the most widespread fiat and cryptocurrencies with no fees or limits.
White Wallet offers speed and security and operates on the open-source Stellar protocol, which is specialized for cross-border digital and fiat currency transfers.
"The technology is built for scalability," White said. "Being built on the protocol we are, it's three seconds or less per transaction and the technology processes more than 100,000 transactions per second."
Security comes from partnerships with providers that support methodologies, including two-factor authentication and biometrics. And it all adds up to a compelling solution for cross-border remittances and a plethora of other payment use cases.
"Because of the scalability of our platform, we can truly focus on solving international payments and other remittances and small transactions, White said. "We offer white label solutions for companies that don't have the resources to deal with compliance or can't acquire money-service business licenses or the bank accounts in foreign countries."
The results fully leverage cryptocurrency's inherent efficiencies while mitigating its volatility.
"If you know you have three-second settlements, that negates the volatility of fiat currencies and cryptocurrencies alike," White said. "And given the fees associated with conventional wire transfers, it just doesn't make sense to use those antiquated systems."
Fast Payment and Card Processing Products Benefit Crypto Businesses
Companies can turn to the White Platform for transaction and payment processing products that can transform them into crypto platforms — similar to White's luxury store.
In effect, White Pay is the luxury store's dedicated processing solution that can extend to merchants around the world. Without it, every transaction would need to go through the platform itself. Instead, White Pay gives merchants the power to accept and manage their own crypto.
It is easy for merchants to set up White Pay and accept popular cryptocurrencies — including Bitcoin, Bitcoin Cash, Ethereum, Stellar, and the White Platform's own dollar-backed White Standard stablecoin. The solution supports transactions both at physical locations and online without the need for physical readers or anything beyond an email address.
An added incentive for merchants is that fees are much lower than those incurred from conventional card processing services and banks that have so many steps in their processes.
"Banks have the brick and mortar, the tellers, the whole wire department, involvement in the SWIFT network — and they still print out paperwork to go in between each of the banks and someone has to process that," White said.
The most recent addition to the platform is the White Card, its consumer-facing, reloadable crypto debit card. It is already accepted in more than 200 countries and makes using crypto easy for consumers.
"The White Card goes through the White Wallet where you can get the prepaid card," White said. "For certain clients, we actually provide a credit card, but that's focused more on ultra-high-network use cases. With credit card systems, you have to back all of the funds that you provide as credit. So, we need to know how much each client has and how much they're willing to stake as collateral."
White Platform: Building Trust in Cryptocurrency for Merchants and Consumers
The White Platform's components bring all the parts of the crypto puzzle together for merchants and consumers. But according to White, there's nothing revolutionary about the idea, just the execution.
"Everybody uses the word 'disrupt,' but it's not like we're trying to disrupt anything," she said. "We're trying to make buying and selling easier, transparent, safer, and more secure. And we're trying to find those places where people didn't know they could use their cryptocurrency."
In summer 2019, for example, White announced her firm would make it possible for U.S. presidential candidate Rep. Eric Swalwell to accept campaign contributions in cryptocurrency.
"We built it for real-world use," White said. "We're not shooting rocket ships in the air and hoping something happens. We want to make the world even better — more efficient and faster."
The next step on that path is to help people practice using cryptocurrency in the real world. In 2020, White plans to hold invite-only shopping events at large name-brand locations — all powered by White Pay.
"We'll invite clients to come into the stores and spend their cryptocurrency," White said. "The merchants will feel very safe and comfortable with us being there. And it feels a little better because you can't currently walk into somewhere, like a Louis Vuitton store, and pay with Bitcoin."
But according to White, that day is coming, and the White Platform will be there to ensure it happens.