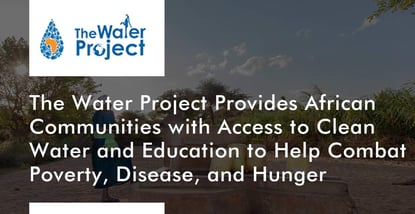 credit card news
Our experts and industry insiders blog the latest news, studies and current events from inside the credit card industry. Our articles follow strict editorial guidelines.
In a Nutshell: The Water Project is a 501(c)(3) nonprofit organization that builds, repairs, and maintains thousands of water access points in sub-Saharan Africa. The organization has improved the lives of more than 520,000 people to date. By bringing clean water resources and hygiene and sanitation education to impoverished areas, The Water Project helps combat poverty, disease, and hunger. Its operations are dependent on financial donations, so the next time you check your credit card rewards balance, consider donating your rewards to this worthy cause.
Every day we use clean water to shower, brush our teeth, wash our hands, our dishes, and our clothes and rarely think twice about it. Access to running water remains constant in our lives — the water is always there when we need it, as if by magic, with a quick turn of a knob.
But what if that weren't the case? What would our daily lives look like?
For starters, it may require great time and energy to locate a viable water source, such as a stream, spring, or if resources are scarce, perhaps a muddied pond. And, because these sources are open and communal, shared by everyone around you, the water quality is compromised.
The water may be contaminated, but without other options, you take what you can and bring it back to your household to share with your family. Some days you may go without because there is no water to be found, or the weather conditions aren't favorable for walking several miles to the nearest water source. Maybe you put a bucket outside and pray for a downpour.
This is the daily reality for millions of people around the world, where safe and reliable water sources are scarce — if they exist at all. According to The Water Project, 1 in 9 people globally do not have access to clean water. But where The Water Project works in sub-Saharan Africa, that number is much higher, particularly for the rural poor.
The Water Project is a 501(c)(3) nonprofit organization that builds, repairs, and maintains thousands of "water points" in African communities that include wells, rain catchment tanks, and sand dams. It also protects naturally occurring springs in Uganda and Kenya, ensuring the water is free of contaminants.
"The type of water project varies by community and what they need, and what the hydrogeological information set is," said Tess Crick, Director of Development for The Water Project. "We do a variety of new projects every year, generally around 250 to 300 projects, depending upon the year."
The Water Project Has Impacted More Than 520,000 People in 9 Countries Since 2008
The Water Project's mission is to "unlock human potential by building and connecting global networks of local leaders, communities of generous supporters, and an informed public to provide sustainable water and sanitation programs to needlessly suffering communities in developing countries."
The Water Project is succeeding in completing its mission, having directly affected the lives of over half a million people to date.
"We've served about 520,000 people with clean water, and we continue to monitor those projects actively three to four times a year so that we know that those water projects we've completed are continuing to give clean water today," said Crick.
One example of The Water Project's impact can be found at the Mahera Health Clinic in the Port Loko district of Sierra Leone, which was recently completed in April. The Water Project constructed a borehole well and a hand pump that is capable of pumping five gallons of clean water per minute.

According to The Water Project, more than 500 people a day depend on the well at Mahera Health Clinic, but before The Water Project's intervention, the existing hand-dug well was incapable of producing enough water to meet the community's needs.
"I will be the happiest person in this community when this water well is converted. I will have water at any time of the day and not worry about going far from my house," — 13-year-old girl, Isatu
The dry season took its toll on the water supply, resulting in long lines and even fights among community members in need of water for themselves and their families. The Water Project led a complete rehabilitation of the well, converting it from a hand-dug well to a borehole well. This not only ensures a sufficient water supply for all — even during the dry season — but the water provided is free of bacteria.
In addition to water access points, hygiene and sanitation training is a core component of The Water Project's efforts. It wants to ensure the communities it helps know how to properly use the equipment it's given and how to prevent the spread of disease.
In the case of Mahera, "the hygiene and sanitation trainer decided it would be best to teach community members how to build a tippy tap (a hands-free handwashing station built with a jerrycan, string, and sticks). They will use these tippy taps for handwashing demonstrations and will also teach about other tools like dish racks and the importance of properly penning in animals to keep them away from people's food and water," according to The Water Project's website.
"We talk about not only person-to-person disease transmission but also sanitation and how disease can be spread from poor sanitation," said Crick. "So, while the project varies by community need, that education is a component of every project we do."
Of course, the Mahera Health Clinic is just one example of thousands. Aside from the hundreds of new projects the nonprofit undertakes each year, it actively monitors another 1,400-plus to ensure its water points remain functional.
1,400+ Projects Currently Monitored for Sustainability
If you visit The Water Project's website, you'll see it is currently monitoring more than 1,400 completed water points — 95% of which are fully functioning.
"That's an important differential for us. When it comes to doing any new work, we want to make sure that the existing work we've already done is still functioning well and people have reliable water — not just first-time water," said Crick. "And, if you've done any research into the water sector and so forth, the past history of work in developing countries hasn't always gotten the best reviews for that reason."
Crick explained that after new water points were completed and the organizations moved on, they would never follow up or know how the communities were doing afterward. Meanwhile, there would be issues with supply chains, needed repairs, and other logistics.
"Years ago, there really was an awful lot of water points that were basically like a graveyard, where projects would break down and the communities would be no better off than when [these organizations] first came in and met with them, and oftentimes in worse situations," said Crick. "For us, our model of working is about long-term relationships and reliability. We want to make sure that those water points continue to stay viable and that the communities can then start to grow and benefit. If water is reliable, then people have an opportunity to flourish."
How You Can Help Solve the Water Crisis
It is a little-known fact that nearly one-third of credit card holders let their credit card rewards go unused. Another little-known fact is that you can donate those rewards to nonprofit organizations. The monetary value of your rewards is transferred as a cash donation to the organization of your choosing, such as The Water Project.
"As a nonprofit, the largest impact anyone can have is via their giving. So, whether that's credit card rewards or personal giving, we are dependent on the financial generosity of caring people to do the work we do. We have programs where someone can give monthly, or people can give a lump sum gift," said Crick.
In addition to cash, the organization also accepts cryptocurrencies. "Cryptocurrency donations are received just like any other form of currency — cash, debit/credit card, checks, stocks. The Water Project has a wallet to which donations are made, and we convert them into USD and put them to work giving people clean water," said Crick.
Another option is to create a fundraising campaign that can be shared virtually with friends and family, such as through social media. "It's a great way to bring the community together for a cause," said Crick.
And lastly, Crick said that advocacy is one of the most important ways to support The Water Project.
"We find that most people understand the vital importance of having clean water. Once they hear that they can make a direct impact and see the results of their giving, people want to help and give! So, having champions who continue to share the message of how to get involved is a wonderful support."