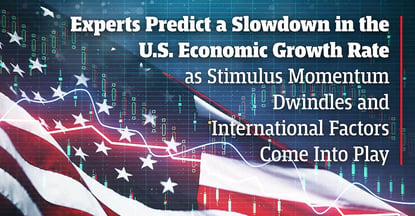 credit card news
Our experts and industry insiders blog the latest news, studies and current events from inside the credit card industry. Our articles follow strict editorial guidelines.
In a Nutshell: The U.S. economy saw strong growth in 2018 that outpaced the economies of all of its G7 peers. While that growth is expected to continue, experts predict the growth rate will begin to slow in 2019. We recently spoke with Gregory Daco, the Chief U.S. Economist for Oxford Economics, about some of the factors at play in the economy's growth. Daco also shed some light on how international events can impact the U.S. economy, and he discussed the recent government shutdown and its expected long-term impacts.
Many currents converge to keep a nation's economy steadily gliding along. A complex mix of domestic decisions, international events, market developments, and plain-old gut feelings can impact those currents in innumerable ways. Calm skies can give way to turbulence and unexpected twists and turns, but the hope is the currents remain steady and strong.
Steady and strong was the course for the U.S. economy in 2018. In looking at the available Q3 numbers, the GDP was $20.66 trillion, up from $19.39 billion in 2017 — an increase of 3.5%. The year-end numbers are expected to be similarly positive.
That's about as good as it gets when considering the GDP as the main economic health indicator. If economic growth bumped up to even 4%, it would be faster growth than experts believe are healthy, according to The Balance.
With 2018 closing on such a high note, that leaves consumers and experts alike looking tentatively at what kind of numbers 2019 will bring. Are our steady currents dwindling to a weak breeze? Are we heading into turbulent headwinds? Or can we anticipate smooth flying in the coming months?
We spoke to Gregory Daco, the Chief U.S. Economist at Oxford Economics, about what he and other experts are expecting to see in 2019, the factors that may make the biggest impacts on the economy, and whether any lingering impact from the January government shutdown will come into play.
The Economy is Still Feeling the Positive Effects of Stimulus Initiatives, But Growth is Beginning to Slow
Recently, Daco tweeted that the U.S. is expected to be the fastest-growing G7 economy in 2019 by a wide margin.
"The key reason why the U.S. is expected to outpace the other G7 nations is largely still owing to a pretty significant fiscal stimulus program that contained both the Tax Cuts and Jobs Act of 2017 and the bipartisan JOBS Act, which increased government outlays," Daco said.
The JOBS Act, officially known as the Jumpstart Our Business Startups Act, was signed into law by President Barack Obama in 2012. The act is intended to stimulate the funding of small businesses by easing security regulations. For example, a portion of the JOBS Act called the CROWDFUND Act, allows companies to use crowdfunding to issue securities.
And, with the signing into law of the Tax Cuts and Jobs Act of 2017, the U.S. tax code saw the most significant changes enacted since the 1986 Tax Reform Act. Now, in the throes of the 2019 tax season, there are many grumblings among Americans about tax refunds that are much lower than anticipated as a result of the new law.
Low tax refunds aside, Daco said that not only did those two acts stimulate the economy in a proactive way, but they also helped to insulate the U.S. what experts have observed as an overall global slowdown.
"That momentum will dissipate, so we expect growth to gradually moderate in the U.S.," he said. "But I think it really is a large part of the reason why the U.S. has outpaced the rest of the world — and is expected to continue to do so."
International Events, from China's Slowdown to Brexit, Send Ripples to the U.S.
"Everything in today's environment is interrelated. So, if we see a slowdown that's taking place globally, that will affect the U.S.," Daco said. "Even though the U.S. is a closed economy, it is still susceptible to trade headwinds."
He said in our increasingly financially connected environment, shocks and disruptions on one side of the world can make their way to the U.S. very rapidly. The largest known international factor that could impact economic growth in the U.S. is the state of China's economy.
He said the reason for the economic momentum slowing in China is due to a combination of domestic and international factors.
"On the domestic front, we've seen a slowdown in domestic demand, a cooling in real estate activity, and a slowdown in credit growth, which is very important in China. All these factors have been addressed via policy measures that have contained a mix of monetary stimulus via the reduction in reserve requirement ratios, policies to increase liquidity in the banking system, as well as fiscal policies," Daco said.
Despite all these factors being put in place, Daco said a slowdown is still present, and a domestic slowdown is "further exacerbated by international constraints, in terms of tariffs and trade flows that have slowed quite significantly over the past six months to a year."
Europe has also downshifted to a slower pace of growth, he said. Growth that was trending at 2.5% in 2017 is now trending closer to 1%. Daco said this is also due to multiple factors.
"We know there are one-offs related to either a poor season in terms of weather, low levels of water in the Rhine, or some retooling of cars and assembly chains because of new emission standards in different countries," he said.
But the underlying picture shows a slowdown in economic activity across Europe. Daco said Germany barely avoided a recession in 2018.
"We're also seeing a lot of political uncertainty, whether it's in France or Italy, or in the U.K. with Brexit," Daco said. "All those elements are important to consider when looking at the European picture."
The Full Effects of the Government Shutdown are Behind Us, But the Complete Reports are Yet to be Seen
From December 22, 2018, to January 25, 2019, the federal government experienced its longest partial shutdown in history. The shutdown was a result of President Donald Trump's demand for $5.7 billion in taxpayer dollars to go toward building a wall on the U.S.-Mexican border. The wall was a central theme in Trump's presidential campaign, but at the time, he promised Americans that Mexico would pay for the wall.
During the 35-day shutdown, 800,000 federal employees went unpaid, with about half of those continuing to report for their shifts. A Prudential survey of more than 350 federal employees revealed that 27% said they missed mortgage or rent payments, 62% depleted all or most of their savings, 25% visited a food bank, and 49% fell behind on paying bills.
Daco said he thinks the biggest impacts of the shutdown have passed because it's over with.
"I don't think we've seen the data effect of it," he said. "We think the drag in the first quarter is likely to be about three-tenths on GDP growth. But we won't get that number for another three months, so it's going to be some time before we actually see the GDP impact."
He said the U.S. is seeing some disruptions to economic momentum due to the government shutdown, and that's something the country should continue to expect moving forward.
"When we start getting preliminary data on January, we already know that private sector confidence was hit quite severely," Daco said. "But it looks like actual spending patterns will be disrupted because of the government shutdown."
All Things Considered, Experts Are Hoping for a Soft Landing
Daco said that, while it is good the U.S. economy will continue to see growth in 2019, the big question is will the country see a soft landing as the growth becomes flatter.
"Are we going to be able to land this plane softly and avoid a hard landing and a crash?" he asked. "That's really going to be the key question when it comes to this year's economy: How do global headwinds affect U.S. momentum and how strong and resilient is domestic spending in the U.S. economy?"