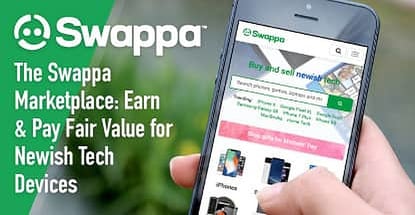 credit card news
Our experts and industry insiders blog the latest news, studies and current events from inside the credit card industry. Our articles follow strict editorial guidelines.
In a Nutshell: Swappa™ is an online marketplace where sellers can list their gently used tech devices and be matched with buyers looking for quality devices at fair prices. The Swappa team deploys a multi-step authentication process prior to accepting any listings on the site to ensure devices are fully functional and free of defects, helping buyers feel confident in their purchase. All transactions are conducted through PayPal for its extensive buyer and seller protections, enabling sellers to receive fast payments and providing buyers dispute protection, if for any reason, an item is not as described.
We all have the drawer. You know, the one packed to the brim of things you almost never need and avoid opening at all costs because it'll likely jam, and then you have to spend the next 15 minutes of your life getting it unstuck. You inevitably become flustered and decide it's easier to just slam it shut and walk away. Drawer 1: You 0.
Things typically found in this dark abyss often include old appliance manuals you're afraid to throw away, some trinket or other a friend gave you that you have no use for but know you can't get rid of, a deck of cards you swear you'll need one day (you won't because you have three others elsewhere that are easier to get to), heaps of junk you forgot you had, and all your previous phones in perfectly good condition that you have no use for anymore because you just had to get the new iPhone, obviously.
Things you don't need but are reluctant to part with for various reasons are exactly what "the drawer" is for.
Take your old phone, for example. Your phone wants out of the drawer. It longs for someone to appreciate it the way you once did, and countless people would be happy to have that device and be willing to pay you a fair price for it. You, however, may think it's too much trouble to find a buyer, though you'd be happy to sell it and free it from the abyss for a few extra bucks if it were simple to do so.
There are sites where you can list and sell your devices, but they charge hefty fees for the convenience, or local classifieds sites, but the idea of meeting up with a stranger to complete the transaction can be less than appealing.
Swappa is an online user-to-user marketplace that makes it easy to sell your device and put a little — or a lot — of cash in your pocket. Conversely, consumers in search of a new-to-them device can easily find what they're looking for thanks to Swappa's large selection of quality products.
And it's not just smartphones available on the site — Swappa also has tablets, laptops, smartwatches, and even VR headsets for purchase, in addition to its latest offerings of home tech and video gaming products.
We spoke with Swappa's Director of Marketing, Corey Rabazinski, who explained how the marketplace works on both the buyer and seller side.
"We're a facilitator of connecting buyers and sellers. The users come and list their devices for sale, whether that's a MacBook, iPad, or iPhone, and we just launched home tech and gaming products too," Rabazinski explained. "What Swappa does is facilitate the sale, and the service that we really provide is approving all listings and making sure the listings that are posted on Swappa meet our strict approval guidelines."
Rabazinski also said there tend to be more buyers than sellers on the site, so a large part of what they do is vouch that the devices for sale on Swappa are fully functioning, quality devices to avoid any buyer hesitations or concerns.
Multi-Step Device Approval Ensures Buyers Shop Confidently
The Swappa team employs a multi-step authentication process to guarantee only quality devices are sold to its buyers. They have a "no junk" policy that mandates devices meet all listing requirements before they are made available for purchase, helping to ensure confident shopping.
Devices with cracked glass, water damage, blocked ESNs or locked operating systems, and/or any nonfunctioning components of a device are not allowed, among other restrictions.  And, if for any reason, you're unhappy with your purchase, it's not a one-and-done deal — Swappa has multiple courses of action available to resolve the issue.
Swappa requires all payments go through PayPal for its extensive buyer and seller protections.
"PayPal helps protect buyers if what you receive is not as advertised or if you buy a device that is later blacklisted. Hopefully, it's never necessary, but you can use their dispute resolution process to get your money back from a bad seller," according to the Swappa website.
Swappa does charge a minimal fee for its services, but the fee is already incorporated into the price you see on the listing, so there are never any hidden or surprise charges. Sellers pay for the cost of shipping, so you don't have to worry about that, either.
"We're pretty close to guaranteeing we provide the best prices for buyers and sellers because there is no middleman and we don't hold any inventory. It's a connecting service for buyers and sellers and therefore a natural marketplace. The prices regulate themselves. Some of our competitors take money from both sides of the transaction and our fees are generally lower, so there are some easy comparisons we make that show how Swappa wins over our competitors," said Rabazinski.
Sellers Name Their Price for Quality, Gently Used Devices
Swappa lets sellers name their price and provides up-to-date pricing data so you can see how much the device you're selling has sold for recently on the site. Rabazinski told us the iPhone has consistently been a top seller, followed closely by Samsung Galaxy devices.
A key component to selling any item on Swappa is wiping clean all devices that store data to avoid privacy concerns. Because all items go directly from seller to buyer, Swappa does not intervene and do this for you – it's on you to ensure the device is clear of data and reset to factory settings – but don't worry, Swappa provides clear guidelines on how to do this properly for all items sold through its online marketplace.
"Once a device is sold, it's all made readily available on our site and sent to the seller when the sale is complete. Guidelines are individual to the device they are selling and all of that information is presented to the seller multiple times throughout the process to ensure they're wiping their device and removing any data they may have stored on the device," Rabazinski told us.
To sell your device on Swappa, you will need to provide verification photos to prove you are in possession of the item you are selling, and the device must meet all listing criteria. You can read this article for tips on how to take effective verification photos.
The best part about selling on Swappa is the only fee you're responsible for is shipping charges to the buyer, unlike other buying and selling platforms that charge additional fees on both sides. The site's PayPal-based system means you'll be paid fast, too, with payments delivered before you ship the item.
Recent Additions Include Home Tech & Gaming
Swappa's latest offerings include the increasingly popular home tech category, with items such as Amazon, Google, and Apple home devices, along with its new gaming category, where you can pick up hot items like Nintendo, PlayStation, and Xbox consoles, games, and accessories.

What began as a used-phone e-commerce site several years ago has grown to become a dynamic marketplace of various tech offerings for the money-conscience consumer. Whether you're ready to set your old phone free from the dreaded drawer or snatch up a newish gaming console for your kid (or yourself, no judgment), Swappa can help you buy and sell quality tech devices at fair value, without the middleman.