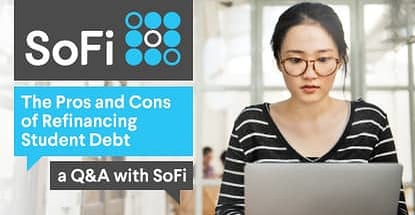 credit card news
Our experts and industry insiders blog the latest news, studies and current events from inside the credit card industry. Our articles follow strict editorial guidelines.
Student debt is no longer just a small piece of the American financial market. While private and government-issued student loans are now the second highest consumer debt category in the US — trailing only mortgage debt — more than 10% of all loans are currently 90 or more days delinquent and lenders issue over $30 billion in new loans each quarter.
More than 44 million borrowers collectively owe $1.48 trillion in student loan debt in the US alone. The average student in the Class of 2016 has $37,172 in student loan debt.
In other words, student debt is here to stay.
Despite the scary numbers and warnings of a debt bubble similar to the US mortgage crisis nearly two decades ago, an education is still a wise investment. As the US job market improves and companies look for more skilled labor, someone with a bachelor's degree can end up with upward of $2 million more in lifetime earnings compared to someone with only a high school diploma.
But student loan debt doesn't have to saddle borrowers with egregious charges and excessive interest fees. Just as the market for student lending has grown, so have the number of lenders that offer to refinance existing private and government loans. That competition can mean improved rates and favorable terms for consumers.

SoFi
, the pioneer and market leader in student loan refinancing, offers a
no-obligation rate-finding tool
that shows users potential pre-approval terms and savings before they fill out a formal application.
But is refinancing a good idea for every debtholder? We recently sat down with John Hsieh, VP of Product at SoFi, to get his opinion on the matter.
Who qualifies for student loan refinancing?
"Exact eligibility criteria varies by lender. At SoFi, we offer student loan refinancing for borrowers with associate's degrees or higher. We can refinance both private and federal student loans.
We look at a number of factors when considering applicants beyond just their FICO Score, like their free cash flow and career. But, for reference, our average borrower has a credit score over 700 and an annual income of over $100,000."
Other than potential savings, are there additional benefits to refinancing?
"When refinancing your student loans with SoFi, you can save money by refinancing to a shorter term, or you can decrease your monthly payments by refinancing to a longer term.
Additional benefits that are unique to SoFi include unemployment protection and member benefits — including rate discounts on other SoFi products, access to complimentary career counseling, and financial planning sessions. Borrowers also get exclusive access to events ranging from financial literacy courses to the X Games.
Unlike most lenders, we can refinance both private and federal student loans and we don't charge any application fees, origination fees, or prepayment penalties."
Are there any drawbacks or considerations to be aware of, such as a minimum debt amount or types of student loans that cannot be refinanced?
"You shouldn't refinance your federal loans if you plan to use federal benefits, such as income-driven repayment and loan forgiveness, as you'll lose access to these programs if you refinance your loans.
The minimum refinancing amount for SoFi is $5,000."
What is the process to refinance through SoFi? What documentation is needed and how long does it typically take?
"Refinancing with SoFi is super painless. You can check your rate online in less than two minutes at SoFi.com with just some basic personal information. Once you're pre-approved, you'll select your rate and provide proof of income, proof of identity, and additional basic information. From application start to funding, the process normally takes about five days."
What's next for SoFi — any new products or services upcoming?
"We just launched the beta for our latest product — SoFi Money — a deposit account that functions like a blended checking and savings account. The account offers high-yielding interest (1.10% for July 2018), no account fees, a seamless mobile experience, and comes complete with a Visa debit card. You can learn more at www.sofi.com/money.
There is lots more coming down the pike for SoFi, so stay tuned!"