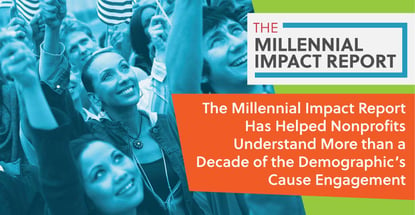 credit card news
Our experts and industry insiders blog the latest news, studies and current events from inside the credit card industry. Our articles follow strict editorial guidelines.
In a Nutshell: Millennials are gradually replacing baby boomers and Gen Xers as America's primary income generators and wealth creators. And nonprofit organizations and corporations concerned with social responsibility are interested in understanding what motivates them to engage with causes. The Millennial Impact Project has amassed a decade's worth of analysis that illuminates the demographic's patterns and preferences in The Millennial Impact Report: 10 Years Looking Back. The results constitute a primer that explains how charities and companies can effectively connect with the next generation of donors, volunteers, and socially conscious consumers.
The millennial generation, born between 1980 and 2000, is beginning to distinguish itself from others in the way its members handle their transition into adulthood. But in contrast to the optimism of baby boomers and the cynicism of Gen Xers, millennials have often been mischaracterized as self-absorbed and resistant to growing up. That perception has even led some to describe the group as The Peter Pan Generation.
Philanthropic organizations and social reform-minded companies wondered whether millennials would engage with — and support — cause movements in the same way as their predecessors.
Those questions attracted the attention of The Case Foundation, a nonprofit established in 1997 by internet entrepreneurs Jean and Steve Case. The foundation's 2008 discussion paper on social citizens started a conversation around the unique qualities of millennials, describing them as more committed to effecting change than stereotypes suggested.
The natural next step was to engage directly with millennials, from an analytical perspective, to obtain a sense of how they viewed themselves and how they behaved in the charitable domain. The result is the decade-long Millennial Impact Report.
The project was funded by The Case Foundation in partnership with Achieve, a digital marketing agency for causes and nonprofits. Its premise was that the most authentic way to capture the zeitgeist of the millennial generation was to listen to its voice.
And, as it turned out, that voice had something profound to say.
"When we started, millennials were viewed as too absorbed in their screens and their phones to pay much attention to what was going on around them," said Clay Williams, Managing Partner at Achieve. "But our research indicates that's not the case."
Analyzing the Impact of the First Online Generation
Since 2009, the Millennial Impact Report has generated the largest body of data and analysis on how U.S. millennials interact with causes. Researchers have used surveys, focus groups, and one-on-one interviews to analyze the behavior and preferences of more than 150,000 individuals.
This mixed-method approach produced insights that reveal the generation as much more complex than previously believed. The project culminated with its 2019 release of "The Millennial Impact Report: 10 Years, Looking Back," which brings all of its data and analysis together.
"The research indicates that millennials are as generous — or more generous — than previous generations during the same period in their careers," Williams said. "But they tend to view giving back more broadly than past generations."
That's because millennials are the first American generation to come of age in tandem with the start of the modern internet. The intuitiveness and immediacy of internet communication translate into a global extension of personal relationships into the public realm.
Consequently, millennials are more likely to support a specific cause or action and less likely to be loyal to an institution.
"They're going to be motivated by results, not a brand, if you will, that supposedly does good," Williams said. "They want to know what the real actions are to support that activity."
And because interactions with friends online happen through the same means as their public communications, millennials tend to view all their charitable contributions as equally important.
"Giving back could be supporting a cause on social media, spreading the word, participating with friends in a peer fundraising event. It could be attending an event or buying from organizations that act on behalf of the causes they care about," Williams said.
Giving as an Experience: The Social Connotations of Millennial Engagement
The report found that millennials engage with causes in more of a piecemeal way than did previous generations. That's because they're accustomed to connecting with everyone around them — and the world at large — through multiple channels.
At any time, they may feel inclined to perform a charitable act, even if it's not consistent with what they did yesterday or what they may do tomorrow. The result can be a perceived lack of continuity to specific pathways of giving — what the report calls "sector agnosticism" — and a blurring of traditional lines between volunteers and financial donors.
The inspiration of a point-of-sale request for a charitable donation might prompt immediate action, for example. And that's especially true if it's coupled with an opportunity to post about it on social media.
"Supporting a cause online through social media is perceived as being a very positive contribution in giving back to that cause," Williams said.
And perhaps nothing has more power to ignite millennial engagement with a cause than peer influence. The demographic tends to value joining collective movements and has mobilized around issues, including racial discrimination, LGBTQ rights, healthcare reform, immigration, the #MeToo movement, and gun control.
Online and in the workplace, they respond to peer requests for action. In public, they associate their identities with brands. In the political realm, they contact their political representatives and vote.
"With social media, millennials now have the power to create change — particularly with brands at the corporate level — by speaking out and joining movements to change the way organizations behave," Williams said. "And, to some extent, it's had a greater impact than donating to a charity."
Millennial Impact Report Can Show Causes How to Connect with a Connected Demographic
The level of charitable giving tends to increase as adults age, and adults over 50 do the most giving. Millennials aren't yet America's most consequential givers, but they will be.
The Millennial Impact Report is a primer on the challenges charitable stakeholders face and the opportunities they have in reaching that diverse demographic. It can also help those organizations attract millennials as they mature from today's incidental givers into the group that will make a categorical difference in charitable movements.
"The biggest factor we see in the marketplace, from a nonprofit perspective, is the importance of social media as a tool to reach people," Williams said. "Ten years ago, if you wanted to acquire new donors, you would buy a mailing list and do a donor acquisition mailing campaign. That doesn't work well for this generation."
But organizations have access to modern advertising, including platforms like Facebook and Instagram, which can reach a worldwide audience of millennials. And they can do it at a much lower cost than ever before.
"We see that as one of the biggest emerging trends in the nonprofit world from an engagement and fundraising perspective. Leveraging the powerful advertising platforms is critical to telling your story to more people and bringing them in to support your organization," Williams said.
The result is a level playing field for charities and companies interested in social issues. Not long ago, only a handful of international or national charities had widespread recognition, but, today, more causes have a chance to earn that support.
"We're no longer limited to three networks and a handful of cable channels," Williams said. "Now we've got celebrities on social media with millions of followers, and so many more people can make a big impact. It's changed everything."