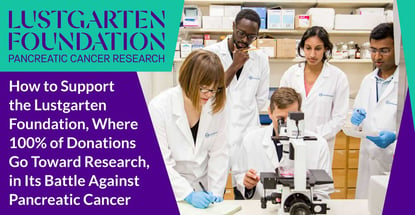 credit card news
Our experts and industry insiders blog the latest news, studies and current events from inside the credit card industry. Our articles follow strict editorial guidelines.
In a Nutshell: The Lustgarten Foundation was established by Marc Lustgarten and his colleagues after Lustgarten was diagnosed with pancreatic cancer in 1998. Unfortunately, Lustgarten passed away the following year, but his legacy lives on through the foundation. Pancreatic cancer is more difficult to diagnose than other cancers and is underfunded compared to more well-known cancers. The Lustgarten Foundation's research has led to innovative detection methods and treatments for pancreatic cancer. And every dollar donated to the foundation goes directly toward pancreatic research, making it a great choice for donors looking to support a worthy cause.
When Marc Lustgarten was diagnosed with late-stage pancreatic cancer in 1998, there were around 12 researchers studying pancreatic cancer — anywhere. Lustgarten had a prestigious career, and despite holding affluent positions as the Vice Chairman of Cablevision and the Chairman of Madison Square Garden, there was very little he could do to fight the disease.
Pancreatic cancers were categorized, along with several other cancers, as an orphan cancer at the time because there was so little funding being directed at researching and fighting it.

Lustgarten, along with Cablevision Chairman Charles F. Dolan and Chief Executive James L. Dolan, decided to launch the
Lustgarten Foundation
as an institute dedicated to curing pancreatic cancer through research.
Unfortunately, Lustgarten passed away in 1999, but the foundation lives on and has been able to contribute to significant advances in the fight against pancreatic cancer over the years.
"Thanks in large part to the Lustgarten Foundation, there are thousands of researchers that are working on pancreatic cancer today," said Stephanie Elsea, Vice President of Marketing and Communications at the Lustgarten Foundation.
Elsea said that, because pancreatic cancer research was so severely underfunded, the Lustgarten Foundation is structured so that its administrative costs are funded separately, so 100% of donations go directly to pancreatic cancer research.
It is the only pancreatic cancer research organization set up in this way and it presents a great opportunity to support an important cause, knowing exactly where your funds are going.
The foundation, which is based in Woodbury, New York, is the largest private funder of pancreatic cancer research in the world.
Pancreatic Cancer Challenges and Why It Can Be Difficult to Diagnose in Its Early Stages
"Pancreatic cancer is known as one of the deadliest cancers," Elsea said. "The five-year survival rate is at 9%. It's one of the very few cancers that has a five-year survival rate in the single digits."
She said one of the reasons it's so deadly is because it often goes undiagnosed until it has reached stage four, and at that point, the cancer has usually spread elsewhere in the body. As with most cancers, the earlier it can be detected, the greater one's chance is of survival.
"If you think about something like breast cancer, colon cancer, or skin cancer, there are different kinds of screenings that you can get that can help you catch it early," Elsea said. "The pancreas is deeper inside the body so it's more difficult to determine if there are any issues with it."
Generally, the only way pancreatic cancer is diagnosed early is when a person is getting a scan and it just happens to be identified on the scan, she said.
"Unfortunately, once somebody begins to have symptoms, it's generally because the cancer has reached a later stage," she added.
Pancreatic cancer is still considered a rare form of cancer, Elsea said, although the number of people diagnosed has recently increased slightly. She said the American Cancer Society estimates that there will be 57,600 new cases in 2020, an increase from 56,770 in 2019. About 150 are diagnosed every day.
"We anticipate that about 47,000 Americans will die from the disease every year," Elsea said.
The Impact of Lustgarten's Research
The Lustgarten Foundation's mission is "to cure pancreatic cancer by funding scientific and clinical research related to the diagnosis, treatment, and prevention of pancreatic cancer; providing research information and clinical support services to patients, caregivers and individuals at high risk; and increasing public awareness and hope for those dealing with this disease."
Since its launch, the organization has guided $188 million to pancreatic cancer research and helped expand the research field tremendously.
Elsea said that, as of 2019, the Lustgarten Foundation had funded four dedicated research laboratories across the U.S. solely devoted to pancreatic cancer research.
"Part of what we try to do is work with the smartest researchers out there that are doing the most cutting-edge work because we know that's going to be the way forward," she said.
Among the notable advances that have come from the Lustgarten Foundation's efforts is the discovery by Chief Scientist, David Tuveson, M.D., Ph.D., that pancreatic cancer tumors develop a protective membrane that prevents chemotherapy from reaching the cancer cells. This knowledge has led other researchers to seek methods to break through the membrane.
"Another thing we're doing that I think is really fascinating is using AI technology," Elsea said. "The human eye can only see so well. So, researchers are training with AI computers to be able to detect things that aren't visible to the human eye — that are a lot smaller and at the beginning stages that even a very capable radiologist can't see."
Elsea said CancerSEEK is another notable project the foundation has spearheaded recently. It is a blood test that can detect the early presence of pancreatic cancer as well as ovary, liver, stomach, esophagus, colorectal, lung and breast cancers. Not only does it identify the presence of cancer, but it pinpoints the organ of origin.
"This test is so critical because these eight cancers account for more than 60% of cancer deaths, and pancreatic cancer and four others in the panel have no screening test available," according to the foundation. "This study lays the foundation for a single blood screening test for multiple cancers that could be offered as part of routine medical checks."
Tests are ongoing to establish the clinical utility of CancerSEEK. Elsea said the pancreatic and ovarian cancer portions of the project were fast-tracked by the FDA and are currently in clinical trials.
The Lustgarten Foundation also played a critical role in bringing a new treatment — Keytruda® — to patients in 2017. It is the "first immunotherapy treatment for advanced pancreatic cancer patients whose tumors have a unique genetic mutation called mismatch repair deficiency," according to the foundation.
Raising Awareness and Funds for Lustgarten and Pancreatic Cancer Research
As an organization dependent on the support of generous donors, the Lustgarten Foundation is always happy to welcome new supporters and to spread awareness of pancreatic cancer.
In 2019, Jeopardy host Alex Trebek revealed that he had been diagnosed with pancreatic cancer. Trebek's struggle has served to raise awareness on a national scale and led to donations to the Lustgarten Foundation.
Elsea said a big part of the surge in awareness occurred in late 2019 when a Jeopardy contestant didn't know the final answer and wrote as his answer, "What is We ♥ you, Alex!" The host grew emotional and soon after #WeLoveYouAlex was trending on Twitter.
The contestant — Dhruv Gaur — was then a guest on "The Ellen DeGeneres Show," where Shutterfly publicly donated $25,000 to the Lustgarten Foundation.

"We were so fortunate. We didn't see any of this coming," Elsea said. Between the Shutterfly donation and donations made as a result of the social media surge, the Lustgarten Foundation ended up receiving a total of $100,000 in the wake of the Jeopardy episode.
Elsea said those who wish to support the Lustgarten Foundation can do so in a number of ways.
"You can go to our website, and we have about 300 community events that happen around the country," she said. These events range from fundraising walks in cities across the country to pancake breakfasts and information sessions.
"If you want to make a direct donation, of course, you can do that on our website as well," Elsea said. "We also have a program called Fundraise Your Way, so if your kids want to have a lemonade stand and raise money or if you have a particular talent for music or woodworking, or whatever, you can raise money through your talent."
The Lustgarten Foundation is carrying on Marc Lustgarten's legacy by helping others stand a chance in a battle he lost.
"Every dollar counts — every dollar goes to research and it's the only way we'll ever be able to change the stats around pancreatic cancer," Elsea said.