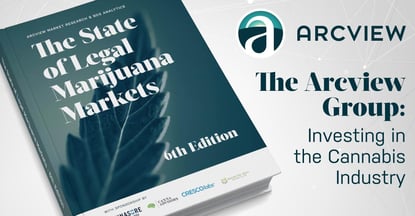 credit card news
Our experts and industry insiders blog the latest news, studies and current events from inside the credit card industry. Our articles follow strict editorial guidelines.
In a Nutshell: Throughout most of the 20th century, marijuana has been outlawed in the U.S., but in recent years, the sentiment and laws in certain states have begun to shift. The Arcview Group is a company that maintains a network of high net-worth individuals eager to invest in the developing cannabis industry. Since 2010, Arcview investors have contributed $240 million to 200 companies. The Arcview Group is also responsible for market-leading research, including its annual "The State of Legal Marijuana Markets" report. Although all indications point to the cannabis industry continuing to grow at a rapid pace, investors should be well-educated before they begin investing, said David Abernathy, The Arcview Group's Vice President for Data and Government Affairs.
Marijuana and the cannabis industry have experienced a tumultuous existence in the United States over the past century. Beginning in the early 1900s, laws prohibiting or criminalizing the use of marijuana grew increasingly stringent.
In the 1970 Controlled Substances Act, marijuana was classified as a Schedule 1 drug along with heroin and LSD, leading to the plant's most restricted phase in the U.S. Of course, marijuana use never went away, it just became riskier from a legal standpoint.

As with so many trends throughout history, the pendulum began a slow swing back toward legalizing marijuana in the 1990s, beginning with five states allowing marijuana for some medical uses. That list has grown throughout the 2000s, and the stigma associated with cannabis use has slowly begun to erode.
By 2018, medical marijuana was legal in 33 states and recreational marijuana was legal in 10 states.
Naturally, the industry supporting the now quickly evolving marijuana laws has seen rapid and substantial growth in recent years.
Since 2010, The Arcview Group has played a significant role in fostering that support and keeping stakeholders and consumers informed about the changing state of the cannabis industry.
"We're an investment and market research firm that focuses on a number of cannabis-related initiatives. Chief among them is running a network of investors who are looking to place capital in cannabis companies," said David Abernathy, the company's Vice President for Data and Government Affairs.
Not only has the organization been responsible for raising millions of dollars in funding for cannabis companies, but it annually publishes the industry standard for market analysis, "The State of Legal Marijuana Markets."
Supporting a Burgeoning Cannabis Industry with More Than $240 Million Invested in 200 Companies
With a stated mission "to forge a principled and profitable industry from the ashes of cannabis prohibition," The Arcview Group seeks to leverage the power of profitability to see marijuana legalization continue to spread.
"We believe that business is the most powerful platform for political change and that the development of a responsible, profitable, and politically-engaged legal cannabis industry will be the single biggest factor in hastening the day when not a single adult in the world is punished for this plant," according to the organization's website.
Abernathy said The Arcview Group's investment network consists of about 650 investors who are looking to put capital primarily into private cannabis companies. So far, Arcview investors have been responsible for providing $240 million in capital for 200 companies.
The exclusive investor group consists of heirs to family fortunes, venture capital funds, real estate investors, successful startup entrepreneurs, large dispensary owners, and other high net-worth individuals.
The list of companies that received financial backing from The Arcview Group — funding that helped them get a foothold in the cannabis industry — represent a diverse roster of cannabis-related organizations. The broad company classifications include agtech, biopharma, business services, devices, hemp, products, retail/cultivation, and software.
One of the standout companies is Eaze, an on-demand cannabis delivery service in California. The company is now valued at more than $100 million and is one of the biggest cannabis-tech brands on the market. It raised its seed round of capital from Arcview investors in 2015.
Aqualitas is a Canadian-based private licensed producer of cannabis that raised more than $8 million after presenting its business to Arcview members in 2017.
"At this point, we're happy to say there are quite a few companies that have done very well through Arcview, have made their exits, and are flourishing on their own," Abernathy said.
"The State of Legal Marijuana Markets" Provides Comprehensive Data on the Sector
The Arcview Group's other main area of expertise is in market research.
Last year, the group published the sixth edition of "The State of Legal Marijuana Markets," which has become the industry standard for the latest information and in-depth data on the cannabis industry. The report is co-produced with BDS Analytics and is sponsored by Canna Advisors, Medicine Man Technologies, Cresco Labs, and Cannasure Insurance Services.
"It tends to be about a 400-page report where we cover all aspects of the cannabis space," Abernathy said. "We look at states, Canadian provinces, regulations, predictions, individual U.S. markets, and markets as a whole."
The report's state-by-state analysis looks at pending legislation as well as things like possible ballot measures and regulatory changes, he said.
BDS Analytics has access to some of the best point-of-sale data available for cannabis products, Abernathy said, which allows The Arcview Group to get very granular in its data analysis. The company can look at what types of cannabis products are selling the most in a specific region. And he said the company can even explore what specific types of cannabis concentrates are popular in which markets.
"If you are an entrepreneur, investor, or regulator that will be making expensive decisions over the next year about your involvement in this industry, then you need the best information and analysis available," according to The Arcview Group website.
In addition to its flagship annual report, The Arcview Group conducts research and publishes smaller reports on focused areas throughout the year. Abernathy said topics for the smaller reports include the pharmaceutical industry, specific states, the economics of cannabis legalization, and its impact on jobs.
Those interested in learning more about "The State of Legal Marijuana Markets" and accessing the full list of The Arcview Group's reports can visit the research section of its website.
Although the Industry is Predicted to Expand, Research is Key Before Investing
"Adult-use markets will be the key drivers of a tripling of consumer spending around the world by 2022 to $32 billion, a 27.5% compound annual growth rate. Spending in the United States will grow to $23.4 billion," according to the sixth edition of "The State of Legal Marijuana Markets."
This prediction — perhaps more detailed than many — is indicative of just about any forecast about the future of the cannabis industry. Experts agree it will be generally trending up in the coming years based on the currently available information.
Nevertheless, Abernathy said potential investors should do their homework before diving into the developing cannabis industry.
"I wouldn't recommend that people just go out and start buying stocks without heavily researching what they're doing," he said. "Understanding the cannabis markets and understanding how public markets are structured, and plans for growth are part of due diligence. Getting in-depth information is key."
Abernathy said rules around cannabis also vary greatly from state to state. Some medical marijuana markets have extremely limited potential. These tend to be in states with very restrictive laws that only allow patients to procure cannabis if they have one of a small number of medical conditions and all other medical avenues have been exhausted.
Other states have much looser rules and allow many more people to access cannabis. Generally, these markets have the most potential for growth, Abernathy said.
"Another point worth mentioning is that, for the first time, it really looks plausible that some sort of federal legislation might happen in the next year or two which would represent a seismic shift in the market," he said.
In the meantime, new markets are going to continue to open up in the U.S. and abroad. Abernathy said once a new law is passed that opens up legal marijuana use, whether it's medical or recreational, there is usually a one- to two-year lag before the new market is up and running.
"Once that happens, we tend to see an absolute explosion in growth in that new market," he said.
Arcview Recently Launched a New Fund and Continues to Publish Research Reports
Arcview recently released an in-depth update to "The State of Legal Marijuana Markets," which is in its sixth edition, Abernathy said, and the company is gearing up to release the seventh edition of the comprehensive guide later this year.
"We're also really excited about the new fund that we're launching," he said. "It's really an opportunity for us to put our many years of insight and familiarity with the cannabis space to work for investors in a much more direct way."
The venture fund seeks to raise $50 million to $100 million.
The Arcview Group also has a number of its smaller, more focused reports set to be released in the near future, Abernathy said.