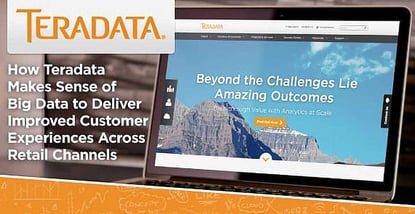 credit card news
Our experts and industry insiders blog the latest news, studies and current events from inside the credit card industry. Our articles follow strict editorial guidelines.
In a Nutshell: Marketing is more effective when delivered to consumers at the right time and through the channel a customer prefers. For this to be possible, retailers need to know more about each individual customer by using data from point of sale, proximity, social media, and every other available channel to deliver improved customer experiences and boost sales. Known for its data warehouse and software platforms, Teradata also acts as a consultant to retailers when they are choosing data architectures and strategies. Teradata's customer journey solution connects data, insights, and interactions to produce actionable results that drive ROI through personalized marketing.
Catering to a buyer base made up of mostly millennials, the marketing team for American Eagle Outfitters faces a unique challenge.
"They're thinking about you one minute and not thinking about you the next minute," said Rick Guntang, Senior Manager of Performance Marketing and Operations for American Eagle. "So, for us, technology is making sure we keep them engaged."
The popular retailer turned to Teradata, a technology leader known for its data warehouse platforms, software, and consultancy, for help with improving its outbound email marketing strategies. Capturing the attention of millennial shoppers goes beyond using customer data to deliver personalized experiences and marketing messages; American Eagle also needed to be able to move quickly.
"We installed a software application that allows their marketing team direct access into their customer data," said John Timmerman, Product Marketing Manager for Teradata. "They've got a point-and-click environment where they can create target segments, and they can then move those target segments or segment plans. It doesn't have to be a static group of people. It can be a definition of a group of people that changes every time you re-run that segment."
With the help of Teradata and its connected data ecosystem, American Eagle was able to distribute targeted emails to its customers within 15 minutes, compared to the 6 to 8 hours it took to reach out previously. The retailer experienced a 50% increase in email open rates, which is especially significant when you factor in the 4 billion emails American Eagle sends each year.
"It's what we do after the fact that makes them want to buy, so we're getting them to open [emails] a lot better, which is always promising," Rick said. "It's just a matter of, 'What's the next step to make sure that we convert that to an actual purchase?'"
One way American Eagle ups its conversion rates is by collecting geospatial data from customers through a partnership with a telecommunications company. Users of American Eagle's mobile application can opt into receiving location-based push notifications of timely, personalized deals for the retailer's best offers when they enter its brick-and-mortar stores.
By improving customer experiences and boosting ROI through more efficient outreach, Teradata has had a significant impact on American Eagle's marketing success and kept its millennial buyers' attention.
Retailers Benefit from Teradata's Connected Data Ecosystem
John told us Teradata identifies three pillars of capabilities within its customer journey solution for retailers: connected data, connected analytics, and connected interactions. It all starts with collecting multi-channel data on each customer from every documented interaction, from point of sale and proximity to social media and email.
Teradata's connected analytics work in real-time to analyze each customer's journey because shopper behavior differs widely from one consumer to the next. Some of the capabilities of Teradata's machine-learning analytics suite include discovery analytics that views customer paths, affinity analysis to identify customer preferences, and actionable analytics that drive marketing choices. The software provides retailers with visual dashboards and reports to keep track of campaign performance for agile decision-making.
"You can't automate a journey that you haven't discovered yet," John said. "There's certainly a discovery phase of our analytical approach to the customer journey where you're actually understanding what are those customer paths, what are the customer journeys that exist today based on the data."
Connected interactions essentially translates to delivering consistent experiences to customers across every channel.
"When we look at customer journey, it's more than just doing path analysis," John said. "It's also more than just doing traditional campaign management, where you've got a multi-step communication plan that's essentially an extension of that customer journey. So you're trying to drive all of these different decision points along the way in this choreographed, multi-channel conversation with your consumers."
Combining Consultation and Data Architecture to Solve Issues for Businesses
In the past, many clients who came to Teradata were willing to invest several millions of dollars into large IT infrastructure projects that wouldn't start to yield value until a year later. However, John tells us the market has changed and most businesses are turning to Teradata for shorter term, more specific projects that produce faster results.
These six- to eight-week consultancy projects are referred to as Rapid Analytic Consulting Engagement (RACE), and Teradata now does several hundred of these projects each year. Each RACE begins with a discussion about what a company hopes to gain through leveraging data.
"In any of these three pillars around analytics or interactions or the connected data, what are short-term wins that we can define from a business side?" John said. "Let's just say it's product recommendations. How do we implement a product recommendation engine in your enterprise based on the number of channels? Or let's try to understand what's driving customer satisfaction beyond just a Net Promoter Score (NPS).
"How do I start to collect that multi-channel, multi-application, customer satisfaction-oriented information and understand that from a data science perspective?"
Data architecture is a conversation that every business needs to think about and plan for before bringing big data into their decision-making processes, and Teradata is seasoned in these types of discussions. Data needs to be easily accessible for real-time marketing benefits, and many companies are finding value in hybrid cloud solutions that ensure connectivity between on-premise data and cloud-based applications.
"They need an analytical architecture that allows them to enable their customers to bridge those multiple data sets and be able to run queries across those multiple environments and bring back the answer sets, bring back the analytics, bring back the triggers into the structured environment, but they're letting the application data naturally reside out in the open-source world," John said.
Organizations Must Adapt to Trust Machine Learning Marketing Decisions
Before any business starts relying on machine learning to make marketing choices, it's important to have a company-wide conversation and set specific key performance indicators (KPIs) to measure success.
"When you want to start using machine learning, you have to be prepared from a business perspective that some decisions that in the past were made by a human, now these decisions are going to be made by machine learning," John said. "And when that happens, your product may get extended more often or less often, but the brand guy is not necessarily in control of that anymore."
Typically, for a company to take a leap of faith on machine learning, it takes a proof-of-concept period in which the business can see how data-driven decision making is affecting the bottom line. After this initial testing, which can take between one and three months, a clearer picture begins to emerge about the advantages of relying on data.
"That's enough time to be able to come back and show the exact figures and say, 'Look, you came out better doing it this way,' or 'You might have sold less, but you sold less at a significantly smaller cost,'" John said.
If the initial proof of concept doesn't yield the outcome a business is looking for, this is where data scientists would enter the picture and adjust the rules in place to increase how many offers are being extended by weighting attributes to lean toward a particular product or strategy.
Data Drives Real-Time Personalization Across Every Customer Interaction
Marketing agility is one of the greatest strengths of bringing big data and machine learning into retail operations. What Teradata did for American Eagle is a great example of what's possible when a retailer has instant access to multi-channel information on customers and the ability to use insights from that data to reach out to consumers in a timely fashion.
"The thing that we were predominantly doing with American Eagle was building out their customer database and all of the different attributes that they were able to collect around customers and using those to drive triggered campaigns," John said.
Through consulting and flexible data architectures, Teradata is connecting information, insights, and interactions to maximize efficiency in marketing strategies. No longer is American Eagle sending out blanket email offers to its entire customer base. Instead, its shoppers are getting personalized offers that they are much more likely to buy.
"We have jeans, such as boyfriend jeans, jeggings, or skinny jeans, and it's interesting to see people's buying habits in terms of what types of jeans they buy because they stay within one family," Rick said. "You're either skinny jeans, jeggings, or you're straight leg, relaxed. You don't stray. You really are focused on one type of jeans."
And since American Eagle's marketing team has point-and-click software, it's easy for them to adjust segments if someone does decide to try a new style of jeans.
"They're able to do some interaction-based messaging when somebody buys a new category or when somebody buys something in a particular promotion; they're able to respond with a multi-channel communication plan back out to those individuals, either thanking them or driving them to a related product purchase," John said.