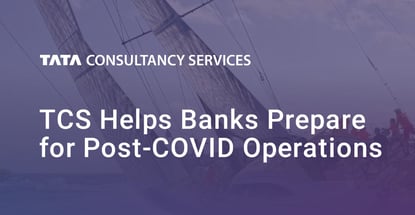 In a Nutshell: Tata Consultancy Services (TCS) is a consultancy firm that works with most top financial service providers providing them a full breadth of services. To help them plan for a post-COVID workplace, the firm recently released a study on the implications of the global pandemic on the financial services industry that outlined plans to handle four distinct stages of recovery: the Crisis stage, Transition stage, Post-COVID, and Future Proofing.
The Coronavirus pandemic has changed our day-to-day lives and altered the way most companies conduct business. While some organizations are still trying to feel their way through this new reality, certain sectors don't have the luxury of time to figure things out.
Operations already move at a rapid pace in financial services, but the uncertainty of a global emergency has most banks speeding blindfolded toward an unknown future.
The leadership team at Tata Consultancy Services (TCS) has studied the ongoing trends in financial services and has concluded that banks have a lot of work to do to prepare for the days and years ahead. TCS, which already works with several FinServ partners, recently laid out its plans for banks in a research report titled "The COVID-19 Crisis: Implications for the Financial Services Industry."
"TCS provides help to banks in several ways, and this is tailormade for the needs of banks in each of the four distinct stages of recovery," said Srinivasa Kumar Yerchuru, who heads the BFSI Industry Advisory Group within the Banking Financial Services and Insurance Unit at TCS.
"For instance, in the crisis and transition stage when social distancing needs are paramount, we use digital innovations to help manage queues to ensure everyone maintains physical distancing," he continued. "We enable touchless experiences for both the customers and bank employees to eliminate the chance of a spread of virus from shared access spaces. We also help create digital apps to drive good hygiene behavior and reduce the overall chances of employee health risks."
Yerchuru noted that the pandemic has resulted in many challenges to banks beyond creating a safe environment in lobbies and shared spaces. COVID-19 has disrupted the way banks conduct customer service and put a greater emphasis on in-house staff.
With many customers unable to enter local branches for help, most institutions experienced an unprecedented surge in call volumes and a reliance on digital payments. This tested electronic systems and stalled many digital channels.
And as businesses shut down to contain the pandemic, customers struggled to make loan payments. The demand rose restructured loans, government relief programs, and cash management advisors increased. And many bank employees had to work from home because of local stay-at-home mandates and safety precautions — something banks weren't quite prepared for.
"We can help banks to urgently partner with multiple vendors to enable work-from-home capabilities, ranging from infrastructure, network, access, security, and token management," Yerchuru said. "TCS has a very successful work-from-home [set up] for its 400,000+ workforce, who work for leading banks and other industries across the globe. Our own experience in maintaining secure, yet resilient, remote working helps us build similar capabilities for our customers."
As businesses shut down to contain the pandemic, and customers struggled to make loan payments, the demand for restructured loans, government relief programs, and cash management advisors increased.
"We help banks to proactively assess the potential customers requiring a credit rollover or a new short-term credit using intelligent modeling tools. Since a large number of customers are seeking assistance in a short time window, it is very difficult for banks to service these requests in the traditional way. We use AI-based bots to help digitally engage and conclude the small ticket large volume rollover requirements."
4 Unique Recovery Stages Over the Course of 3+ Years
Yerchuru said that TCS views the COVID-19 related challenges and their resolution across four distinct time frames; the Crisis Phase, Transition, Post COVID, and Future Proofing.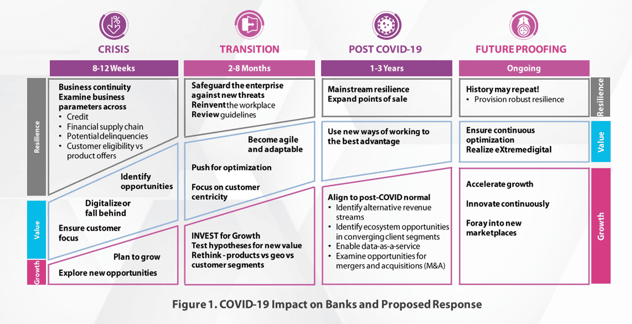 "We believe banks need specific interventions in each of these four phases," he said. "We've designed our overall solutions accordingly."
The TCS team that consults with financial institutions mapped out three years' worth of plans to work through the four stages. TCS expects the Crisis stage to last between eight and 12 weeks, followed by a transition stage of two to eight months.
The Crisis stage is when the consulting firm plans to help its FinServ clients defend their enterprise while containing new threats and reimagining the banking workplace going forward. That leads into a Post-COVID phase expected to last between one and three years. The Future-Proofing stage, on the other hand, started as this pandemic became real and may never truly end.
With proper future proofing, banks can defend themselves against possible second waves of the virus or future viral infections that may halt business operations on a local or global scale.
All of this depends on increased digital security surrounding bank assets — the need for which grows as more employees settle into a work-from-home environment that requires access to sensitive bank data.
As employees begin returning to bank branches and corporate offices, TCS has plans in place to help clients reinvent their work environment to curb the chances of contamination or future outbreaks.
"TCS harnesses technology to help employee engagement, reinforce behavior toward safe health practices, boost employee morale, and provide them access to external help like medical professionals and self-help tips," Yerchuru said.
"Our digital training and upskilling tools help to train, test, and evaluate employee skill and knowledge in a remote working mode," Yerchuru said. "We can extend many of the solutions that we use for our own enterprise to help banks manage their workforce."
Equipping Institutions to Support a Remote Workforce
Most banking customers expect to pull up to the drive-through or step up to the lobby counter and see a smiling face that is ready to help them. That's all changed in a post-COVID workplace, where plexiglass shields and video screens have replaced close, personal interactions.
While many industries can find ways to survive with a remote or altered workforce, banks depend on in-house staff to serve customers, provide security, and keep operations running smoothly. For every employee who transitions to remote work, banks add an extra layer of risk when granting access to databases and files.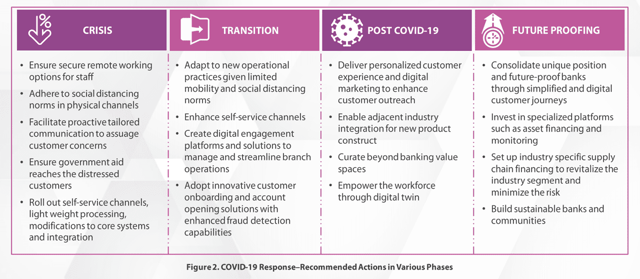 "While banks might plan to work remotely to overcome access issues, most of them never planned for anything like this in advance," Yerchuru said. "At best, their BCP strategy involved working from a different physical location. The challenge gets bigger as different employees have varying workspace, network, and device capabilities at home."
TCS has comprehensive digital solutions to help receive, distribute, and manage workload in a remote working setup. Its digital tools help maintain productivity, allow monitoring, and provide operational and performance insights. Most importantly, the tools help to protect a bank's most valuable asset — data.
"Cybercrimes have increased rapidly and a bank's next challenge is to ensure their employees are not victims of the same," Yerchuru said. "Likewise, client data is of paramount importance, and banks need to ensure their safety in a remote working setup."
While in-house employees may feel safe from cyber threats, these frontline workers still face risks of their own — namely potential exposure to COVID-19 in a workplace that sees steady foot traffic and customer interaction.
"Banks have to ensure the safety of these employees who continue to work in regular locations by maintaining social distancing at work, providing them with adequate safety gear, and monitoring the health of all employees," Yerchuru said. "TCS has rolled out solutions for this, both in terms of enabling remote working as well as reconfiguring workspaces."
Swift Action is Required for a Successful Reinvention
Banks have very little room for error. After all, one small mistake can lead to a massive failure in the financial system. That's why TCS believes its financial services clients need to quickly address their current issues. This includes a transition to remote work and finding ways to ease the burden on overworked staff.
"While some employees may be unavailable to work, others might be overworked due to a skill shortage to address certain needs," Yerchuru said. "The only solution for banks is to leverage digital technologies to enable effective digital interactions and enhance productivity through the usage of AI/ML-based automation suites. Both these cases require a lot of training effort that traditionally was an in-person, high-touch process.
"While enabling remote working for our own teams, we have also focused on helping them to deal with stress during these difficult times as they may be facing medical issues and disruptions on the home front as well. More than a third of TCS workforce are women and that is the situation with many banks as well. Banks need to accept that the current crisis could be highly worrying for many employees, who may be dealing with medical issues, personal issues, and family income disruption that leads to a depleted headcount.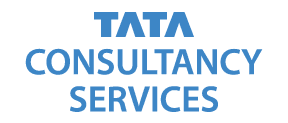 "Banks must constantly evaluate their employee needs on wellness and care. All employee communication on change of plans must be empathetic and lucid," said Yerchuru.
As few nations across the globe are slowly coming out of the crisis and evolving into the new realities, now is the time to re-imagine the future and revisit the future book of work. One impact of the pandemic is its digital push. Digital has been pervasively embraced as the new way forward in many areas now much more than before. That makes many new ways of working and collaboration across enterprises the new paradigm to embrace to create ecosystems of the future.
As many businesses reopen their doors and consumers look to bring back a sense of normalcy to their lives, Americans must remember that the country isn't out of the woods yet. Communities need careful planning and execution to stay safe and healthy without risking future outbreaks.
The same goes for financial service providers that need the right plan and guidance to reinvent themselves in a new post-pandemic world. If TCS has its way, the process may be smoother than expected.
Advertiser Disclosure
CardRates.com is a free online resource that offers valuable content and comparison services to users. To keep this resource 100% free, we receive compensation for referrals for many of the offers listed on the site. Along with key review factors, this compensation may impact how and where products appear across CardRates.com (including, for example, the order in which they appear). CardRates.com does not include the entire universe of available offers. Editorial opinions expressed on the site are strictly our own and are not provided, endorsed, or approved by advertisers.