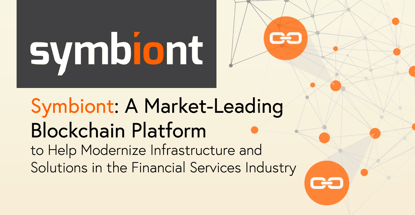 credit card news
Our experts and industry insiders blog the latest news, studies and current events from inside the credit card industry. Our articles follow strict editorial guidelines.
In a Nutshell: Symbiont is on a mission to revolutionize the financial services industry by deploying blockchain technology to renovate legacy infrastructure. Its core product helps bring back-office operations up to speed with modern innovations by reducing costs and digitizing outdated business workflows. The company has multiple use cases for various financial products, including mortgage tracking and syndicated loans. And Symbiont prides itself on a company culture based on utility and integrity, ensuring its partners receive the most value from its blockchain solutions.
In its report titled Digital Mastery in Financial Services, Capgemini exposes an open secret: Financial services firms are lagging behind in the digital transformation. The consulting firm cites two main causes for that technological gap; a lack of vision and a lack of operational capabilities.
There seems to be no clear direction for bringing financial institutions into the digital revolution, and there is currently no infrastructure to support that shift.
Symbiont seeks to disrupt that dynamic with its blockchain platform designed to improve financial services — among other industries. Its products are built on a core platform and aimed at solving modern problems. Symbiont provides both the vision and the technology necessary to bring financial services up to speed.
"We started with the vision of building an enterprise blockchain platform, one that was appropriate for use within financial services. We wanted to solve the many problems that financial services have with technological infrastructure," said Adam Krellenstein, CTO and Co-Founder of Symbiont. "A blockchain platform is a powerful tool to help re-imagine and reinvent that infrastructure. It brings a lot of value to financial institutions that are limited by the existing infrastructure and what it can't do."
Symbiont emerged from a 2014 meeting between Krellenstein, his friend Evan Wagner (Symbiont COO and Co-Founder), and Mark Smith (CEO and Co-Founder). Krellenstein and Wagner have backgrounds in technology and digital currencies, while Smith possesses experience in enterprise and fintech.
Together, the three recognized the immediate need for digital transformation products in the financial industry. And they saw the potential for blockchain technology to solve those problems.
Bringing Digital Transformation to Financial Institutions
The financial services industry is in desperate need of improved technology and, more generally, innovation. Symbiont satisfies that demand by renovating infrastructure to improve back-office efficiency and resolve disconnects with more modern technology in front offices and other sectors.
"Financial services is historically not an industry with the greatest amount of technological innovation," Krellenstein said. "Often, markets are using archaic technology to support their core business, especially within the back office."
Symbiont's offering focuses on three main paradigms that enhance the business operations of clients. First, it improves financial efficiency by eliminating costly intermediaries. Second, it unifies infrastructure within the market, removing reconciliation problems, including long settlement times. Finally, it digitizes pre-existing, decentralized workflows that rely on outdated technology.
"Our product can be used not only to reduce costs but also to create a lot of new value," Krellenstein said. "It starts with the goal of revamping the infrastructure of financial markets. That alone is a Herculean effort, one that would provide immense value not only to financial markets but also to every other industry that interacts with them. Which, of course, is every industry."
Smart Contracts are Powerful Tools for Implementing Elegant Solutions
Blockchain is best known as the foundation of cryptocurrency. Every participant in a blockchain possesses a copy of the ledger wherein all blocks — or lists of transaction records — are arranged and recorded. This ledger is updated whenever a new interaction occurs, even if a particular user isn't involved in that transaction. This process creates an up-to-date record that is extremely difficult to falsify. Altering it would entail changing every single copy of that ledger, every one of which is stored independently of the other.
Symbiont leverages these features in its Assembly blockchain platform, a decentralized database used for building networks that meet the specific needs of financial institutions. The platform can create complex financial instruments, replicate and execute smart contracts capable of administering those financial instruments, and share real-time data and logic among independent entities. It can also model complex business logics and workflows, store documents and files on-network, and provide a tamper-proof audit trail of system events.
An example of one of Assembly's use cases is in the mortgage industry, which suffers from an inability for borrowers, investors, regulators, and servicers to track mortgages over their lifetimes. Symbiont offers a unified, transparent platform; automation through smart contracts; and an immutable record of transactions.
Another area in which Symbiont's solutions are applicable is syndicated loans. They typically incur high costs due to information duplication among participants, inefficient processes, and delayed settlements due to high levels of complexity. Symbiont resolves these problems by digitizing shared loan information, enabling electronic clearing, and automating workflows.
"We're satisfying that pent-up demand for re-imagining the core financial market infrastructure. That includes how instruments are created and transferred, how their state is tracked, and how they mature," Krellenstein said.
High-Profile Partnerships Showcase its Adaptability
Symbiont hangs its hat on its blockchain platform — but it provides its partners with solutions built onto it. That approach ensures that the company offers targeted solutions to meet needs, rather than a one-size-fits-all product that may not satisfy certain use cases.
One example of that is Vanguard, one of Symbiont's first partners — and still one of its largest. Vanguard is one of the world's largest investment companies, managing around $5.2 trillion in assets. And the firm assists some 2 million investors residing in about 170 countries worldwide.
"Vanguard is an ideal customer because they inherently value decentralization of financial markets. That made for a lot of synergy between their vision and our vision." — Adam Krellenstein, CTO and Co-Founder of Symbiont
Symbiont's solution supports about $1.3 trillion worth of financial products Vanguard provides to clients. This partnership enables technologically advanced, frictionless production and consumption of index data provided to Vanguard by its partner the Center for Research in Security Prices (CRSP).
"Vanguard is an ideal customer because they inherently value decentralization of financial markets. That made for a lot of synergy between their vision and our vision," Krellenstein said. "They want to receive market data as efficiently, easily, transparently, and securely as possible. When they came to us with the use case of index data management, that was one that we hadn't thought of before. We worked with them to understand that use case, and they built a powerful application on top of our platform."
And Symbiont helps other customers build similar solutions on top of its standard blockchain product to maximize results for their markets.
Building a Strong Culture While Staying Committed to Product Improvement
The Symbiont team comprises about 75 people including its three founders. It is based primarily in New York but maintains a substantial presence in Europe.
"We've grown reasonably rapidly because we care about maintaining a strong culture and ensuring that we establish internal policies, practices, and habits," Krellenstein said.
One of Symbiont's primary goals is to maintain a high level of quality and integrity among its engineers and other employees. This focus enables the company to build the best possible product instead of rushing it onto market, where it may not meet all the needs of financial institutions.
"We have a very long-term vision for our products and for the value we can bring to financial services," Krellenstein said. "That's colored every decision we've made on the side of corporate organization and hiring, recruitment, and so forth."
Symbiont also prides itself on keeping its mission economized and well-defined. Its product holds obvious value for the industries commonly invoked in discussions of blockchain's applicability — including supply chains and healthcare. But Symbiont remains focused on financial services due to the industry's immediate need and the likely market impact its products can make.
"The financial market is moving the fastest. And that's where we think we can bring the most value," Krellenstein said. "We differentiate ourselves by supporting the most complex use cases for blockchain technology and developing the tech to its logical limits."