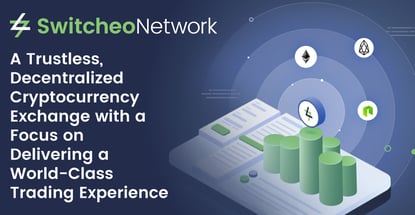 credit card news
Our experts and industry insiders blog the latest news, studies and current events from inside the credit card industry. Our articles follow strict editorial guidelines.
In a Nutshell: The Co-Founders of Switcheo began with a vision to offer cryptocurrency enthusiasts a decentralized exchange that was easy to use and blockchain agnostic. When it launched in 2018, it was the first decentralized crypto exchange on the popular NEO blockchain and today allows for trading of EOS, Ethereum, and NEO tokens. The platform's Switcheo Account feature allows users to trade on multiple blockchains with a single wallet. And, by maintaining a focus on security and delivering a high-quality user experience, Switcheo is continually refining its product and adding new benefits, such as the recent launch of its referral program.
The past decade has given rise to more than 1,500 cryptocurrencies, as both an investment asset and as a form of digital currency. It only makes sense that multiple exchanges would crop up to facilitate the buying, selling, and trading of these cryptos.
Additionally, the number of blockchains has proliferated. Beginning with the Bitcoin blockchain in 2009, the technology has since led to the development of the widely used Ethereum blockchain as well as countless other public, private, and hybrid blockchains.
As with any developing technology, challenges arise in the crypto world that turn into opportunities for people with vision and the skill to recognize and meet these challenges.

That's just what happened in the case of
Switcheo
and its Co-Founders, CEO Ivan Poon, COO Henry Chua, and CCO Jack Yeu.
A friend of Yeu's had paid him in Bitcoin for drinks at a bar one night in 2017. At the time, Yeu was new to the cryptocurrency ecosystem and simply wanted to cash out his Bitcoin for fiat currency. Then, upon researching how to get rid of his Bitcoin, he became interested in how the crypto exchanges worked. And how they could be improved.
Soon after, he met Poon and Chua. By that time, the three entrepreneurs shared an interest in cryptocurrency and were investing in NEO, a popular Chinese cryptocurrency.
"The initial idea of Switcheo came about as we wanted a decentralized exchange (DEX) that was blockchain agnostic, yet simple to use," Yeu told us. That means that no matter which blockchain the user is operating on, Switcheo would be compatible with it. This differs from other centralized exchanges that are locked into specific blockchains.
By 2018, the Switcheo network became the first decentralized cryptocurrency exchange on the NEO blockchain. And today, Switcheo allows trading of EOS, Ethereum, and NEO tokens.
"Our goal is to achieve a DEX network with cross-chain swapping capabilities across multiple blockchains, with a focus on delivering a world-class trading experience in a fully trustless and decentralized environment," according to the Switcheo website.
Switcheo's Decentralized Exchange Provides Benefits Over Centralized Options
"With the increasing popularity of blockchain technologies fuelling the price of cryptocurrencies, a majority of these trades are done via traditional centralized exchanges," according to the Switcheo white paper. "An immediate disadvantage when using a centralized exchange is the security risks arising from the centralization of funds."
In centralized exchanges, all of the funds users contribute for trading are stored on the exchange, which means the funds are vulnerable to a single point of failure.
This means if hackers were able to gain access to an exchange's servers, users of the exchange could lose all their funds.
"There have been major breaches of users' trust, evidenced in past exchange hacks which have amounted to billions of dollars in value lost over the last few years," according to the white paper.
Switcheo points to the $500 million Coincheck hack that occurred in January 2018 as a prime example.
"Decentralized exchanges solve this problem by letting the blockchain and the user handle the security of funds from start to end," according to Switcheo. "A DEX is therefore as secure as its smart contract, and most existing DEXs have been running for a long time with no core breaches."
But Switcheo takes things a step further than most decentralized exchanges with its blockchain agnostic vision. Yeu said that, even today, most DEXs available exist only on a single blockchain.
"And the workings of each blockchain is different — for example, on Ethereum a trader would have to pay gas fees to execute a trade/withdrawal and NEO transactions are free," he said. "We wanted to abstract such difficulties from the trading experience itself and provide a seamless trading experience for our users."
Switcheo Account Allows Users to Trade on Multiple Blockchains with One Wallet
One of the company's latest developments is the 2019 launch of Switcheo Account.
"We launched Switcheo Account with the idea of cross-chain interoperability in mind, which is essentially a wallet system where users log in with a system they are familiar with (email and password) and yet still holding the keys to their wallets through our wallet generation from the user's mnemonic phrase," Yeu said.
With this approach, Switcheo never holds custody of the user's keys and funds, and users are able to fully utilize the security of a DEX without having to deal with wallet management. When logging in, Switcheo users are presented with the choice to use Switcheo Account.
"If the Switcheo Account option is used, users will be able to trade on all chains without requiring separate wallet and software for each of the blockchains," according to a Medium article written by Yeu. "This will dramatically reduce friction and onboarding dropoff rate for potential traders."
For newcomers, all the talk about wallets and different blockchains may sound daunting, but Switcheo Account actually removes the complexity of dealing with blockchain wallets and smart contracts.
"Users will now be able to deposit and withdraw from their Switcheo Account in exactly the same way as a centralized exchange, reducing friction for less experienced users," Yeu wrote in the article.
Users of Switcheo Account will also not even have to understand or manage the transfer of funds between contracts and wallet balances because this aspect is automatically done by the Switcheo Exchange web application.
Top Security Measures and a High-Quality User Experience are Leading Priorities
While security was one of the main motivators behind Switcheo's decentralized approach to cryptocurrency exchanges, the company takes even greater steps to ensure the safety of its users and their funds.
"Security has always been one of our key focuses when designing the architecture of our exchange," Yeu said. "We have implemented various features for our users such as the ability to trade through familiar hardware wallets — such as Ledger and Trezor — such that the user's keys never leave their wallets."
Yeu said the company also utilizes state-of-the-art encryption and security features throughout the exchange to ensure the safety of users' funds, and users are free to view the source code of the exchange contracts on Switcheo's Github, to verify the safety of their funds.
Additionally, Switcheo has always strived to provide a straightforward and high-quality user experience. And part of the way the company can do this is by listening to its users, Yeu said.
"Our community members provide feedback through our Telegram group or during various AMAs, and our admins do convey feature requests to our team, who then implement requests that are often brought up," he said.
And in the interest of continually refining and improving its offerings, Switcheo is currently working on a much-anticipated interoperable side chain called Switcheo Chain, Yeu said. The side chain is designed to decentralize the company's current order matching system, which would allow it to connect to more blockchains while ensuring trades between blockchains are practical, seamless and user-friendly.
"We've also just launched our Referral Program, where Switcheo users can now invite friends and earn 50% of their friends' trading fees," Yeu said. "We've also launched a giveaway program where our participants can stand to win from a pool of $40,000 Bitcoin. Users who are interested to join can read more information about our Referral Program here."
From seasoned crypto experts to those new to the blockchain ecosystem, Switcheo provides a seamless and secure way to buy, sell, and trade cryptocurrencies.