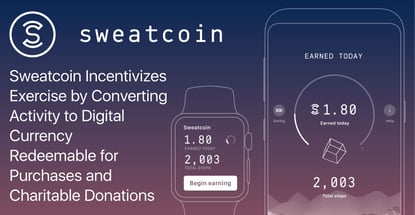 credit card news
Our experts and industry insiders blog the latest news, studies and current events from inside the credit card industry. Our articles follow strict editorial guidelines.
In a Nutshell: Sweatcoin addresses the risks of obesity and rising health care costs by encouraging people to get active. The platform, which was founded in the U.K. in 2015, verifies and converts user steps into sweatcoins — a digital currency that users can exchange for brand-name merchandise, services, and even charitable donations in its marketplace. By adding real-world value to exercise, sweatcoin incentivizes active lifestyles and can help reduce health care costs. The platform also has plans to partner with more governments, businesses, and organizations to build a healthier world.
When U.K. native Chris first downloaded the Sweatcoin app, he didn't think he'd use it much. For years, physical activity had been a challenge for him, and he relied heavily on a walking stick.
But while on vacation, Chris noticed he was starting to feel better and needed his walking stick a bit less. Then, he remembered the sweatcoin app, which had been tracking his activity level. Chris checked it and found that he'd more than doubled his daily steps while away — so he decided to keep it up.
A couple of months later, Chris — whose sweatcoin username is Phatt One — was logging 25,000 steps a day and reaping the benefits. He even felt comfortable enough to put his walking stick down for good. Chris became motivated to beat records set by other sweatcoin users, and his increasing activity level caught the attention of the platform's leadership team. The next year, he became the first user to surpass 100,000 steps in a day.
"He walked 102,500 steps in one day," said Jack Bartlett, Head of Customer Success at sweatcoin. "Through incentivization and using our app, he turned his life around. Starting from a point where he was barely doing 1,000 steps, he's now walking an average of 30,000 per day."
While many modern tech gadgets succeed at getting people active for a season, the biggest challenge is motivating them to make exercise a lifelong habit. Chris' story illustrates how sweatcoin's system of rewards can provide the motivation users need to exercise more, In the process, they can enjoy the long-term benefits of exercise — including better quality of life, reduced risk of obesity, fewer health problems, and even lower health care costs.
A University of Warwick study of sweatcoin users supports the platform's effectiveness. Its six-month study of more than 5,400 sweatcoin users showed a 19.5% average increase in user activity level, with 34% of study participants showing an overall increase in activity level while using the app.
Sweatcoin is designed to help people overcome motivational challenges often associated with exercise. The platform is also committed to demonstrating the economic value of movement to individuals, governments, healthcare providers, and insurers.
"From our perspective, it's about making people more sustainably active. If you reward someone for certain behaviors, the likelihood is that they'll continue to do it. And, so far, it's working for us," Jack said.
Using the Science of Human Nature to Inspire Activity
Entrepreneurs Oleg Fomenko and Anton Derlyatka initially developed sweatcoin in 2015 to address the overwhelming health crisis in the U.K. At the time, more than 66% of men and over 52% of women in the U.K. were overweight, and health care costs had reached £3 billion a year.
Oleg and Anton began to study the root causes behind the statistics and identified behaviors that influence motivation and keep people from exercising — in particular, a behavioral economics principle known as present bias.
"We're much more inclined to sit around and conserve energy. Humans also naturally have a bias toward immediate gratification," Jack said. "We're less inclined to focus on the long term, or things that are in our best interests."
To overcome this innate programming, sweatcoin channels it into a system that gives people what they want — both now and later.
"Sweatcoin overcomes present bias by converting their steps into something of value, sweatcoins, which they can use immediately in our app's marketplace," Jack said.
By playing into that present bias, sweatcoin helps people hack human nature and improve their health through daily exercise. Today, sweatcoin has more than 30 million registered users across 30-plus countries, with a large presence in the U.S., U.K., Germany, Italy, Canada, and Australia.
Rewarding Exercise with Brand-Name Merchandise or Donations to Charity
The free sweatcoin app is available on Android and iOS devices, including the Apple Watch. When open, or running in the background, the app's pedometer automatically counts daily steps, which are analyzed and verified with an algorithm that checks GPS location, speed, and cadence.
"For that reason, we don't currently support Fitbits or other devices that don't have the metrics we need to verify steps. And, given measures like GPS, we only convert outdoor steps," Jack said.
Once verified, steps convert into sweatcoins — the centralized digital currency Oleg and Anton created for the app. Users immediately receive a bonus sweatcoin for signing up. After that, users earn about one sweatcoin for every 1,000 steps.
"On the default membership, you can convert up to 5,000 steps per day, so you can earn up to five sweatcoins per day. We also have a range of other memberships that are completely paid for in sweatcoins and allow you to earn more per day," Jack said.
Sweatcoin partners with brands to provide the merchandise, services, and subscriptions featured in its marketplace. Smaller-value offers change every few days, while high-ticket items such as vacation packages, PayPal cash vouchers, and high-end electronics — which can cost up to 20,000 sweatcoins — are often featured in the marketplace much longer.
In addition, the sweatcoin marketplace regularly partners with charitable organizations such as Charity Miles, a fitness app that allows users to convert the miles they walk, run, bike, or swim into donations to one of more than 40 popular charities. This provides a way for users to lend their support to a favorite cause as they would to a virtual 5K or fun walk/run.
"Some people hodl, which is a crypto term for saving up for a rainy day. Others spend them regularly. We try to have a mix of things that users can spend their sweatcoins on, whether on themselves or donating to a good cause," Jack said.
And since sweatcoins never expire, users can save them up until they see something they want to purchase — or a favorite charity joins the platform.
An Exercise App that Harnesses the Value of Movement
Sweatcoin encourages users like Chris to get moving, and it is always looking for new ways to incentivize activity so more people can experience the benefits of a healthy life. One of the company's long-term goals is to convert sweatcoins into a cryptocurrency for use in the wider marketplace.
"We're working on a blockchain, which will provide facilitation of sweatcoin in the longer term," Jack said. "We see a future where you'll be paying your taxes in sweatcoins."
And as everyday success stories like Chris' continue to show sweatcoin's effectiveness at increasing activity levels and improving overall health, another goal is to move beyond its current vendor model to build partnerships and gain funding from local governments and healthcare providers.
"In the future, we will be working with health and life insurers, the healthcare industry, and local and national governments. As we continue to build the product, we're excited about further validating some of those drastic changes in behavior," Jack said. "It's a long-term play, and we're committed to the journey — providing value to users here and now, and over time slowly showing that value at a higher level."
The concept of getting paid to get fit resonates with people. And by helping them overcome present bias with immediate rewards, sweatcoin allows individuals to see the value of movement.
"If our users are physically active, and they're increasing their step count, we're doing our job," Jack said.