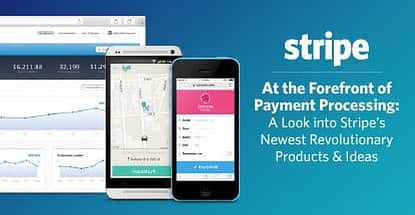 credit card news
Our experts and industry insiders blog the latest news, studies and current events from inside the credit card industry. Our articles follow strict editorial guidelines.
In a Nutshell: Once upon a time, businesses had to jump through hoops at the bank to get a coveted merchant account — the only way to accept credit cards online. Frustrated, developers Patrick and John Collison knew there had to be a better way, and set about building it. The result was Stripe, a digital payments processing system designed to easily integrate into existing websites in just minutes. Stripe allowed burgeoning businesses to process payments online using cut-and-paste code and custom branded forms. The revolutionary system drew entrepreneurs from all around, and soon Patrick and John's startup became a global fintech giant used by more than 1-in-4 Americans in 2015. Now, as they expand into even more countries, Stripe is simultaneously extending their own reach, and that of entrepreneurs around the world — changing the way companies form, grow, and connect online.
Brothers Patrick and John Collison were tinkering with various online projects — while working on their college degrees — when they found themselves running into the same problem again and again: taking payments online. The process, a tedious affair not unlike getting a mortgage, involved applying to a bank for a merchant account and building a payments interface — from scratch.
Rather than simply complain about the problem, as I would have done, the two set about building the solution, one which would eventually become Stripe, an online payments processing system now used by thousands of companies around the world.
"We started working on it, literally because we were frustrated," said Patrick Collison, now CEO of Stripe. "We were astonished by the non-existence of something like Stripe." Focusing on making the payments process as simple as possible, Stripe offers platforms the ability to start collecting digital payments in minutes, with as little as a few lines of code.
Cut & Paste Your Way to Accepting Payments
While the brothers are developers themselves and designed many of the Stripe features with coders and creators in mind, they also stayed true to the original philosophy behind the product: easy payments processing, without a lot of setup and hassle. All of the products are streamlined for ease of use, with a variety of customization options.
If you think "coffee" when you hear "Java", then you should use Checkout. The Checkout payments system is designed around easily-embedded forms that can be integrated in minutes, using a minimum amount of code. With a little cut and paste, and the insertion of some branding, businesses can have a fully functional payments form on their site, going from zero to operational in minutes. The development pages even offer a simple tutorial for creating your own branded payment button.
All of the components are based on HTML and Stripe.js, the company's foundational JavaScript library. This allows Stripe to "monitor conversion rates on different platforms; iterate, improve, and ship updates to you, with no additional work on your part." What's this mean for Checkout users? After integration, Stripe will maintain your software with the latest updates; you never need to manually update the code.
Don't think Stripe is only for the code illiterate; Stripe can also be integrated into fully customized payments forms, where every detail is designed by you. The development documents contain complete guides on creating your own payments forms and seamless procedure, from securely collecting payment details to generating a charge request.
Remember Customers, Monetize Your Social Network & Keep Track of Your Team
Stripe also offers additional functionality features, including ways to make purchasing more convenient for customers, and solutions for complex payments situations.
The easiest way to pay, Remember Me allows customers to save payment information for use with a future purchase. Secured by SMS verification for every transaction, users can choose to use Remember Me to make purchasing even faster — eliminating the hassle of constantly inputting credit card or digital wallet information.
To expand your company's reach while putting your social networks to work for you, use Relay. Launched last year, Relay allows Stripe users to sell products within third-party apps — including Twitter — by putting a "Buy" button right into your post. Make a post about the latest hot product, and, within just a few clicks, customers can turn your tweet into a product order, without ever leaving the application.
Offer a weekly or monthly service? Stripe offers subscription functionality that allows you to set up recurring payments. Customize the payment amount and frequency of each payment; Stripe can handle all manner of subscriptions, regardless of complexity. Subscriptions can be updated or changed at any point, including upgrades, downgrades, and renewals. You can even set up trial periods and coupons.
Not every business lends itself well to being an army of one; some services simply require a team to execute. For the companies that have an array of contractors, artists, or sellers, Stripe offers Connect. Your online marketplace or platform can use Connect to accept and disburse payments to your team or fleet as needed, from around the world.
 
All the features come together on the Dashboard, where you can keep track of everything that's going on. Generate sales reports, search transactions, find a customer, or see which team members are beating sales goals, all in one place.
Conduct Business Without Limits: More Than 135 Currencies (& Counting)
While the Stripe philosophy may seem to be all about integration on the surface — simple, fast integration to make payments easily accessible — part of the execution of that philosophy involves the broader idea of global accessibility. No matter how fast the product integrates, its usefulness can be severely limited by an inability to accept a wide range of payment types and currencies.
In an effort to maintain an unlimited, global product, Stripe not only supports eight different languages but will also accept credit and debit card payments in more than 135 different currencies, from dirhams to dollars. The foreign currency can be automatically exchanged in transit, arriving in your bank account in your preferred currency at current market rates, for a small fee.
For the digital spender, Stripe users can take payments across several digital wallet providers, including Android Pay and Apple Pay, as well as being one of the first processors to accept Bitcoin payments. Additionally, the products support payments through Alipay, the most popular payment method used in China. Alipay opens up a market of 500 million additional customers. The digital payment functionality is already built into your embedded Checkout forms, requiring no additional work to integrate, ensuring you can accept your customer's payment, no matter how they want to pay.
Incorporating the World with Atlas™
During its global expansion, the Stripe team stumbled onto another problem that could benefit from their philosophy of accessibility: the difficulty of starting an online business outside the U.S. The new program, called Atlas, aims to help entrepreneurs start internet businesses in areas where it is difficult, if not impossible, to do so now.
"The target audience is all of the entrepreneurs outside the U.S. who want access to the country's well-developed banking infrastructure and business services," according to the site.
The Atlas program will help foreign startups to incorporate in the U.S., open a business bank account, and enroll in Stripe payments. It even offers access to basic legal, and financial, advice from Orrick, and Price Waterhouse Cooper (respectively).
"A majority of the growth over the next 10 years will come from these underserved markets," explained Patrick. "That includes 6.2 billion people we don't reach yet — that's a huge missed opportunity if we don't try."
Making a Million-Dollar Bet on Convenience
For each of the problems we can't google our way out of, there is likely an intrepid young entrepreneur — and his or her burgeoning startup — working on a solution. And a good many of those startups are processing payments using Stripe.
"The vast majority of Stripe's customers are relatively new technology companies," said Patrick. While the company won't disclose specific numbers, Patrick does confirm the limited customer demographic hasn't damaged their overall growth, stating, "27% of Americans bought from a Stripe user [in 2015]."
With the number of online purchases growing each year, Stripe is making the coveted transition from startup company, to grown-up company. "We're making a bet," says Patrick, "that people will prefer to [make purchases] with their phones than go there in person."
As someone who chronically shops online to avoid driving, stores, and people, I think I'd take that bet — every time.