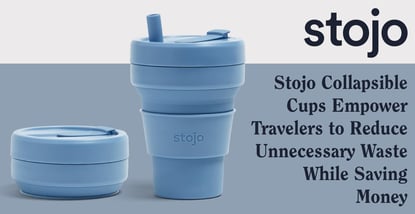 credit card news
Our experts and industry insiders blog the latest news, studies and current events from inside the credit card industry. Our articles follow strict editorial guidelines.
In a Nutshell: Whether professionals are traveling overseas or just commuting to the office, single-use coffee cups are often a part of their journey. But Stojo offers reusable alternatives in the form of collapsible, leakproof cups and bottles. The company manufactures its products using non-toxic materials that are both microwave- and dishwasher-safe. Stojo can also reduce solid waste from disposable coffee cups, water bottles, and other single-use containers. And, should Stojo users encounter problems along the way, the company's in-house customer service team is always available to get customers, and their Stojo products, back on the road.
In 2012, Jurrien Swarts and two friends were working in the finance industry, and they all relied on a steady diet of caffeine. But their daily cups of coffee came at a high cost to the environment.
"We knew that around 500 billion disposable coffee cups get thrown away every year," Swarts said. "We probably all drank anywhere from two to five coffee cups every day. We all felt a little bit guilty because of that. So one of us said, 'Why don't we come up with a collapsible coffee cup that would fit in your suit pocket?'"

So the group founded Stojo, a company that produces a collapsible, leakproof cup that comes in a variety of sizes designed to easily slip into a pocket or bag. The cups are manufactured using safe, durable materials, and, although initially designed with coffee in mind, they hold any hot or cold beverages, as well as soups, snacks, or anything people want to put in them. Each cup comes with a heat sleeve to protect fingers and increase rigidity, making them especially useful for travelers who often need a sturdy, on-the-go beverage container.
"My co-founders and I came up with the idea, and we looked around on the market, and there wasn't anything that was collapsible and leakproof. That's what we set out to design," said Swarts, CEO of Stojo. "They get used as kids cups for school. People also bring them to the park and fill them with wine or mixed drinks, and I know people use them for oatmeal. Some people do scrambled eggs in the microwave. All kinds of different stuff."
Stojo can also help drastically reduce waste from single-use coffee cups, and it might even save users some money on their daily coffee, as many shops offer discounts to customers who bring their own cups. And Stojo products look stylish and sophisticated, as well.
"Our first retailer — and they actually found us — was the Museum of Modern Art (MoMA) design store. We've enjoyed success with really design-centric crowds and creators and retailers," Swarts said. "It's been pretty fun."
Products Reflect a Commitment to Consumer Safety
Stojo's cups and bottle reservoirs are made from non-toxic, food-grade silicone, and the lids from durable, recyclable plastic. Both components are microwave- and dishwasher-safe, making heating and cleaning simple — two essential considerations for travelers and professionals who are always on the go.
"The grade of silicone we use is called LFGB. It's a German standard. It's the highest standard for food-grade silicone you can get," Swarts said. "We also use polypropylene, which is recyclable plastic, for the lid. We did that because it has great heat tolerance. It's microwave-safe. And it is the safest type of plastic you can use for hot food purposes."
No product in the Stojo line contains bisphenol A (BPA), a chemical widely used in the manufacture of plastic containers, including food packaging, and epoxy resins found in the lining of aluminum cans.
Over time, BPA can leach into the container's contents, and research suggests the substance can have adverse effects on fetal development. But, unlike with plastic water bottles or juice containers, that's not a worry with Stojo.
"We're trying to make the most premium products on the market," Swarts said.
Envisioning a World Without Single-Use Goods
Stojo began its journey to market on Kickstarter with a 12-ounce version that provided a welcome alternative to throwing out a single-use cup at the end of every coffee break. In 2018, Stojo's introduced straws to its 16-oz. cup, and, in 2019, its 8-ounce and 24-ounce models joined the product line, as did a collapsible water bottle.
And each one of its stylish variations serves the same, motivating purpose of reducing waste.
"If you're just buying one coffee a day, which is pretty normal, you're saving like 300 or 350 coffee cups every single year," Swarts said. "If you're a person like me, who had a three or four cup-a-day habit, that number goes to like 1,000-plus cups of coffee every year you're not throwing away."
Swarts, speaking from personal — and anecdotal — experience, said using Stojo helps consumers become more aware of their consumption of other single-use products. By realizing how many cups they're not throwing away, they come to realize how many plastic utensils, water bottles, and other products they are throwing out.
And Swarts said he hopes that awareness inspires a more significant shift in consumer consciousness.
"If you think back to the 1950s, you saw doctors and nurses smoking cigarettes in hospitals. Now, if you saw somebody doing that, you'd think they were crazy," Swarts said. "Our ultimate vision is to bring about a habit change among consumers where, eventually, nobody's going to be using single-use plastics to eat or drink."
Users Can Save a Little Cash on Coffee
When people walk into a coffee shop or up to a kiosk with their own cup, that's one less disposable cup used — and one less cup cutting into that establishment's bottom line. But it can also save customers money — both immediately and in the long run.
In 2000, Starbucks estimated that disposable packaging for coffee cost about 15 cents. For every cup, lid, and heat sleeve it didn't have to furnish their customers, the company saved 15 cents. Obviously, over 20 years, prices have risen, making single-use coffee cups an even larger line-item in these businesses' budgets.
That means reusable cups are not only good for the environment, but they can also reduce your favorite coffee shop/stand's total overhead costs. And they often pass those savings on to their ecologically minded and financially conscious customers.
"Most places — when you bring your own cup — will give you a discount on your coffee," Swarts said. "You'll get anywhere from 10 to 50 cents off, and some places will charge you the cost of a small coffee for a large, so you actually can save dollars whenever you do it. We calculated that, if you have a daily coffee habit, it only takes about two months (for the Stojo cup) to pay for itself, and after that, it's all upside."
Stojo: On a Mission to Ensure Customer Satisfaction
But people don't need to be professional coffee connoisseurs to appreciate the value of a Stojo cup.
"The product has a lot of utility," Swarts said.
In 2020, Stojo plans to develop on-the-go food containers for both adults and kids. These new products will offer the same benefits as drink containers: portability, easy storage, and leak prevention.
Of course, problems and accidents inevitably arise, even with the most meticulously designed and manufactured products. But if consumers ever experience an issue with their Stojo, the full-time customer service team is standing by to help.
"We've been conscious about having our customer service team in-house and capturing the spirit, feeling, tone, and voice of Stojo," Swarts said. "We're all about customer service. If anything goes wrong with your cup, we fix it for you — whether that means sending a replacement or giving your money back. That's what we do. Once we have a customer, we want to delight them."