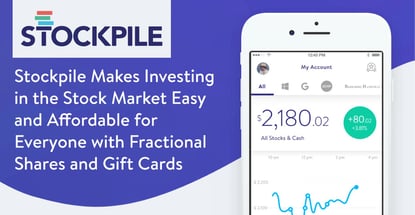 credit card news
Our experts and industry insiders blog the latest news, studies and current events from inside the credit card industry. Our articles follow strict editorial guidelines.
In a Nutshell: Millennials are the first modern American generation to favor cash as an investment vehicle over stocks. But on the easy-to-use, sharing-minded Stockpile platform, as little as $5 can get users up and running as traders of inexpensive fractional shares of thousands of popular stocks. Stockpile also offers redeemable gift cards both on its platform and in physical stores like Target — a marketing strategy that is introducing more and more younger Americans to the greater financial potential of stock investments.
Millennials are hesitant to invest in the stock market. Unlike their predecessors stretching back to the Silent Generation of the post-World War II era, millennials tend to favor cash-based investment vehicles like simple savings accounts over what they perceive as the vagaries of the stock market.
They have good reason to regard the stock market as unpredictable, of course. Older millennials recall the dot-com bubble of the late 1990s, when the early web economy imploded and stocks lost trillions.
Then, in 2007, the housing market collapsed, precipitating what came to be known as the Great Recession. By the time the economy began to rebound in 2009, stock prices had declined by more than 50%.
Meanwhile, millennials have come of age in an online world of social connectivity. They respond positively to the quick-and-easy, experiential nature of the web and don't hesitate to click away when they encounter resistance.
Despite the advancements of the internet, however, mainstream online trading platforms continue to present an aura of overcomplexity. It doesn't help that investment products themselves are often expensive and sometimes seem deliberately designed to alienate.
Since 2017, Stockpile has been introducing today's more casual and budget-minded consumers to a friendlier stock market. The platform's deceptively sophisticated, highly accessible design is bringing the financial benefits of stock trading to a new generation of investors.
"We're a platform targeted at beginners," Marketing Operations Manager Juan-David Rodriguez said. "Our goal is to demystify the investment process and show that investing in the stock market is not just for the few but for everyone."
Start an Investment Portfolio for as Little as $5
It's easy to get up and running on Stockpile. Signup is free and trades cost only $0.99 with no monthly fees or minimums — much lower rates than those available at traditional online brokerages. A fully functional Stockpile mobile app works alongside the desktop platform to enable users to do business wherever they are.
Stockpile offers more than 2,000 popular stocks. After signup, link your bank to Stockpile so you have cash on hand when you're ready to make a purchase. You can make as many trades as you like, and receive phone notifications for each transaction and as your stocks change in value.
Many of today's top stocks are quite pricey. A key value proposition for Stockpile is that it offers fractional shares, making desirable stocks, like Amazon, Apple, or Tesla, attainable for casual investors.
"If you go to a regular broker for Amazon, you'll pay $1,600, $1,700 — and that's the cost of one share," Rodriguez said. "For beginner investors or people who are just not comfortable with the stock market, that's pretty expensive."
Stockpile lets you purchase not only by share but also by dollar amount. If you have $50 or $100 to spend, you can put it toward a corresponding fraction of stock. Stockpile does the work of computing how that small investment changes over time.
In fact, the platform permits purchases as low as $5. At level, stocks can be thought of almost as an impulse purchase.
"That's one of the main ways we've been able to appeal to a different market," Rodriguez said.
Gift Cards Are Available on the Website and in Stores
Fractional shares and the $5 minimum investment also enable Stockpile's most creative innovation — gift cards. With Stockpile, stocks don't live in the esoteric realm inhabited by professional investors. Instead, a stock is something a grandparent can pick up on a trip to Target and enclose in a grandchild's birthday card.
Businesses order Stockpile gift cards in bulk to give to employees or clients. Or, as Stockpile's Co-Founder and CEO Avi Lele said in an interview with CNBC's Jim Kramer, because Stockpile gift cards are offered in amounts as low as $1, they can conceivably be given out as Halloween treats instead of candy.
Stockpile gift cards work like any other gift card. Over the web, they're deliverable via email and can optionally be printed out. Or you can order a physical gift card for delivery to you or someone else.
Major stores such as Target and dozens of other retailers sell Stockpile gift cards. "You can actually go to the gift card rack and purchase $25 worth of Facebook — go to the cashier, pay for the card, and give it to someone. And that person can redeem it for Facebook [fractional stock shares] on our platform," Rodriguez said.

Stockpile gift cards don't just open the market to new investors, however — they can also be given to children under 18 years of age who aren't even old enough to invest. When redeeming gift cards on Stockpile, children can register on the site via a custodial account held by a parent or guardian. They can then track their own stocks, place their own trades, and even share a wish list of favorite stocks with family and friends.
What's more, mini-lessons in trading offered on the Stockpile platform help kids — and budding investors of all ages — master the ins and outs of stock trading.
Democratizing Stocks for a New Generation of Investors
Although history proves that stocks are the best way to grow one's assets over the long term, the hesitancy of millennials to view the market positively could result in millions in potential earnings being left on the table.
Stockpile goes to great lengths to help new traders feel at ease through its product and support teams. Although it offers exchange-traded funds and a few other specialized products, for example, the emphasis is squarely on simplicity and appealing to its audience.
"Our product team is primarily focused on making Stockpile easy to understand and easy for anyone to get started with," Rodriguez said.

The product team is also responsible for deciding which stocks to offer on the platform.
"Most are publicly traded at above $6 — primarily stocks you'd see on the NASDAQ and New York Stock Exchange," Rodriguez said. "We like to make sure we don't offer stocks that don't have enough liquidity or might not really be suitable for users of our platform."
If a problem arises, however, support is always available. "Our support team answers any queries that our customers have," Rodriguez said. When a user receives a gift card but doesn't know what to do with it or needs help starting on the platform, support is there to offer direct assistance.
"And not only that, we have educational resources on the platform to explain what it means to buy a fraction of a stock, how you actually receive dividends on your stock, and tons more," Rodriguez said.
In the end, Stockpile appeals to the type of user who perceives the web as the primary space to access information, interact with friends, and make transactions. More and more millennials and other investment non-professionals are learning how to maximize their assets and prepare for their financial future with Stockpile.