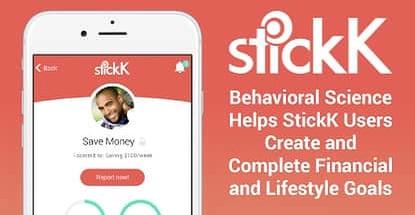 credit card news
Our experts and industry insiders blog the latest news, studies and current events from inside the credit card industry. Our articles follow strict editorial guidelines.
In a Nutshell: Everyone has a personal goal they'd like to meet. Some goals are small in scope and others can have life-changing impacts. Whatever your goal is, there's a good chance you've had moments when you lacked motivation or thought about quitting. The Yale behavioral economists who created stickK spent years studying why these lapses in resilience happen and included all of their research in the goal-setting platform. StickK users create Commitment Contracts for goals as varied as saving money, starting a business, or losing weight. To incentivize their successful completion, the platform provides options like adding financial stakes, where users' money can go to anti-charities that support causes the user doesn't agree with if the goal is not met.
You want to save money. You know you have to if you want to live a happier life. You've read every book on personal finance, set up multiple savings accounts, and created enough budgets to wallpaper a bathroom. Still, that sale at the mall tempted you, and you spent more than you should have.
You obviously have a problem, right? After all, we're taught from an early age that we have control over our actions and anything we do that's outside of the norm is our own fault. If you know you need to save money and still spend more than you should, you must enjoy living paycheck to paycheck.
Not so fast. According to the growing field of behavioral economics, people who understand the full consequences of their actions tend to act in their self-interest. But issues with self-control can often lead people to knowingly go against their better judgment.
Quite often, the only thing stopping people from completing their goals is a lack of motivation and commitment to stick with their plan. Three behavioral economists at Yale started studying these hurdles a decade ago and developed several theories on why some people tend to fall short on their goals.
In 2008, those theories helped the economists launch stickK, an online goal-setting platform where users create Commitment Contracts that have built-in accountability and motivational components. With more than 400,000 contracts initiated since its launch, the platform has shown it can significantly increase a user's odds of successfully completing a goal.

"Essentially, we use behavioral science and data-driven techniques to help empower behavioral change," said Jerry Brown, Associate Product Manager at stickK. "There are various features around the platform that users can opt-in to that are proven scientifically and empirically to help them achieve their goals."
StickK users can customize their Commitment Contracts to add layers of accountability. Although contracts are free to create, the platform provides an optional monetary element that helps users put a little extra skin in the game.
"During the commitment creation process, users can opt-in to things like inviting a referee to verify their success, inviting supporters to track their journey, and also put stakes on the line," Brown said.
Stakes allow users to wager a predetermined amount of money and choose their desired outcome for the funds if the commitment isn't successful. If the user completes the goal, he or she isn't charged the amount at stake. If they don't, the money is either sent to a friend, a foe, a charity, to stickK, or to the ever-popular anti-charity.
"Anti-Charities" Incentivize Users to Reach Their Goals
The idea behind anti-charities is based on the thinking that people are more loss-averse than they are reward-oriented toward goals. If, for example, you pledge to donate the money you save from skipping that morning latte to your favorite charity if you lose weight — even if you fail, you can still feel good that your charity benefited. But, if the pledge is to donate the money to a charity that is in direct opposition to your beliefs, not meeting your weight-loss goals will have greater consequences in your eyes, said Brown.
The list of 23 potential anti-charities includes the NRA Foundation, House Majority PAC (supporting House Democrats), American Crossroads (a Super PAC supporting the Republican Party), and even a host of popular European Soccer Clubs, including Arsenal, Chelsea, and Manchester United.
"Anti-charities are one of the most popular features on the platform," Brown said. "Those are completely optional, but we've found that people who use the feature have a higher success rate at the end of their goal."

Brown said stickK carefully curated its list of anti-charities to be sensitive to both sides of hot-button issues.
"We don't want to come across as supporting either side of any controversial issue," he said. "We identified the top issues and then selected specific charities that support both sides of the coin."
StickK Communities Provide Support and Information
If risking your own money on the success or failure of your goal isn't attractive, stickK connects users to communities that help them take responsibility for their own progress, while supporting the journey of others with similar goals.

"We've taken all of our commitments and categorized them into communities," Brown said. "People can easily find other users with similar interests and goals to support each other. That's helpful for people who don't have friends or family on the platform or others who may want to keep their journey private to the people in their lives."
Community pages include a running news feed containing real-time updates on commitments of anyone who makes their contract public.
The Money and Finance community features a large group of users who have goals related to saving money, growing a business, or simply curbing their personal spending habits.
"People can check out the feed and see what people are committing to financially and get ideas for their own personal goals," Brown said. "It's a great way to get ideas flowing for what kinds of financial commitments people can commit to and then get them created very easily."
Empower Yourself to Change Your Life Forever
Along with communities, users can invite friends and family members to join the stickK platform to act as referees or support for their mission. Referees confirm progress reports online and keep the user motivated and focused offline.
"These people are really important because, while these goals are personal and a solo mission, you need a good support network to push you along," Brown said.
Over the last decade, stickK has managed to take the task of sticking with a goal — something many people struggle with — and turn it into a scientific process that uses behavioral psychology to help transform lives for the better.
With the proper support and a dash of motivation, there's very little the human mind isn't capable of. More than 400,000 stickK users have proven that with Commitment Contracts that aim to create a better life for everyone involved.