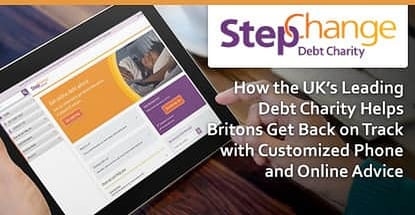 credit card news
Our experts and industry insiders blog the latest news, studies and current events from inside the credit card industry. Our articles follow strict editorial guidelines.
In a Nutshell: While overspending can certainly be an issue, debt problems are often triggered by unforeseen circumstances, like sudden job loss or a medical emergency. According to StepChange Debt Charity, 2.9 million people in the UK are struggling with severe debt problems right now, and more than 9 million others are showing signs of financial distress. With a focus on helping Britons overcome these massive debt issues, StepChange offers advice and provides borrowers solutions online and over the phone. Not only does the charity coach borrowers on how to get out of debt with manageable solutions and repayment plans, but it acts as an agent of change by lobbying for tighter restrictions on financial services and reforms, across a variety of areas, including credit cards.
Credit card debt in the UK has reached record levels and continues to grow at around 10% annually. This shows that more are relying on credit for purchases, but those who can only afford to make minimum payments each month end up paying much more in interest, making it more difficult to catch up and get ahead of debt.
Job loss, below-inflation wage growth, and an overall rise in living costs are just a handful of reasons why Britons are getting into debt. As a result, using credit cards for basic living expenses and taking out loans to make essential purchases because of income loss or reduction are becoming more common in the current economy. Without proper planning and guidance, borrowers can feel like they're on a sinking ship without a life preserver to keep them from drowning in debt.
StepChange Debt Charity, a UK-based debt charity that offers advice and money management information, is ideally positioned to work with borrowers just like these. As an altruistic organization that seeks to help Britons overcome debt, StepChange is also a major advocate for financial reform. The nonprofit even helped pioneer the use of cognitive behavioral therapy to help with debt-related stress.

"We help people who are in serious financial difficulty and in need of advice or support. We provide that advice either online, through our online Debt Remedy tool, or via the phone," said Edward Ware, Media & PR Manager at StepChange Debt Charity. "We don't do face-to-face advice, so borrowers will reach the charity through a number of routes. They may be referred by their lender, they may find us online, or they may have been referred by a partner organization or another charity that has recognized that our knowledge and experience as debt advisors is what the person needs."
As a StepChange client, you receive your own tailored debt recovery solution from a range of debt repayment, debt relief and insolvency, and debt settlements options. All solutions cater to the individual circumstances of the borrower because there's no one-size-fits-all method of getting out of debt.
Free Debt Advice to Determine the Proper Course of Action
If you choose to access the service by phone, the first person you'll speak to will be one of the charity's debt advisors.
"Our advisor will take an initial look at the caller's finances and offer advice based on the information available. The advisor will try to reassure them, and answer any questions they might have, like what lenders or collectors can and cannot do," Edward said. "Hopefully, that provides the borrower with an understanding of what's potentially going to happen, giving them some initial stage advice."
Once you've gone through the first screening processes, StepChange advisors will undertake a full debt advice session, where they'll take a closer look at your unique financial situation. This gives you a bigger picture of how the charity can help, and what tailored solutions it can provide.
"During the full debt advice session, we'll take a very detailed look at the person's finances and get an analysis of all their debts, their income, and their essential costs," Edward said. "At that point, and based on each of the individual circumstances, we'll let people know what their options are and make a recommendation on what we think is the best route for them to go down."
Personalized Debt Management Plans Help You Gain Control Over Your Payments
By providing clients with advice on a variety of topics around debt, along with a broad range of repayment and relief plans, StepChange can offer workable solutions to help you gain control over your finances.
There are a variety of solutions for dealing with debt, including debt management plans (DMPs), bankruptcy, debt relief orders (DRO), and individual voluntary arrangements (IVA). Where you live will determine what options are available. If you live in Scotland, there are a different set of solutions, including protected trust deeds and a debt payment programme (DPP). Regardless of your financial situation, StepChange approaches everything on a case-by-case basis and is likely to find a feasible solution to help you climb out of debt.
"You have informal plans like debt management plans (DMPs), which we provide for free," Edward said. "These are informal arrangements between the borrower and their lenders, where we effectively act as an independent intermediary.
"In the case of a DMP, someone may not be able to afford the full contractual repayments, but they can make some sort of repayment. We may contact the creditor and say, 'This is their budget — this is what they can afford to pay. Will you accept that? And will you agree to stop any sort of interest or additional charges, and stop any enforcement action?'"
Some clients may have limited incomes and few, if any, assets and require debt relief. In this case, borrowers may have access to a DRO.
"DROs are suitable if a person's debts are less than £20,000, they have assets worth less than £1,000, and they have what you call a 'monthly surplus' of less than £50 each month."
But it's critical to get expert advice because the options available to people will depend entirely on their individual circumstances.
If you'd prefer not to speak to anyone, the charity's advice is available via its online Debt Remedy tool. It offers the same expert advice, by helping you build a detailed household budget and taking details of your debts. This information is then used to work out what options you have and give you a personal action plan on what to do next.
Raising Awareness Surrounding Problem Debt and Advocating for Long-Term Change
Debt problems are never intentional. Financial situations can quickly change due to unforeseen circumstances like inflation and unexpected job loss. Getting out of debt alone presents a host of challenges, and StepChange Debt Charity is a great resource to turn to when you need help getting your financial situation and payment schedules back on track.
The charity is also continuously fighting for reforms that will make problem debt easier and less harmful to manage, and to prevent people from falling into debt in the first place.
"In addition to the advice, we're very active on a campaigning front. We're consistently lobbying for reform," Edward said. "We're doing a lot of work to improve the credit card industry and prevent people from becoming trapped in long-term debt."