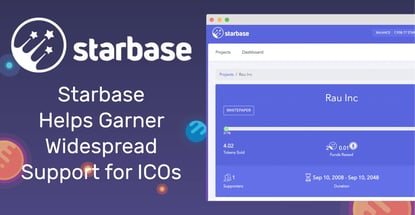 credit card news
Our experts and industry insiders blog the latest news, studies and current events from inside the credit card industry. Our articles follow strict editorial guidelines.
In a Nutshell: Entrepreneurs who have in the past looked to venture capitalists or traditional crowdfunding, such as Kickstarter, to raise capital can now tap into new funding avenues via initial coin offerings (ICOs). Starbase helps to facilitate the ICO process for projects by lowering the barriers to entry into the relatively new funding space. The company also implements strict know your customer (KYC) and anti-money laundering (AML) policies to minimize risks for investors. Starbase is powered by the STAR token, which is used for transactions within the Starbase ecosystem.
In recent years, entrepreneurs and startups have gained access to funding avenues previously unavailable in the pre-digital era.
Crowdfunding platforms such as Kickstarter and GoFundMe led the way by providing an easy method for investors to show their support for emerging companies by pledging funds to see projects and products get off the ground.

Crowdfunding 2.0 took this notion a step further by combining the concept with blockchain technology and trailblazing new and fruitful pathways to funding for numerous startups.
Blockchain-based initial coin offerings (ICOs) allow investors to securely contribute funds while gaining the opportunity for monetary returns via the value appreciation of native crypto tokens they purchase from projects, rather than the various rewards packages of earlier crowdfunding methods.
But, for some entrepreneurs and companies in the finance industry, this new approach to raising capital remains a mysterious and uncharted realm.
Starbase is here to help change that.
"Starbase is a crowdfunding platform that conducts token sales for ICO projects, along with providing them with a suite of supporting services," said Eugene Lee, Starbase's Vice President for Business Development and Marketing. "More than that, though, Starbase skyrockets projects by connecting them to a larger community that can be tapped into to support their project development in a variety of ways, for an extended amount of time."
Starbase Lowers Barriers to Entry for Businesses to Access the Token-Funding Economy
The concepts of raising funds through angel investors, venture capitalists, and, in some cases, simply business loans, are tried and true steps to securing capital for many businesses and entrepreneurs.
For traditionalists, terms like blockchain, ICOs, and crowdfunding can sound intimidating, and companies may feel like technology is passing them by because they don't know where to jump into this new world of tech-driven funding.
The truth is that while the technical details of blockchain technology and cryptocurrency tokens may be incredibly complex, the overall concept is fairly straightforward.
Still, many companies aren't sure where to start.
Starbase provides an array of services to assist businesses from pre-ICO to post-ICO, Lee said.
"These range from token design and issuance, tailor-made marketing campaign and development support, a platform to communicate with/sell to the STAR community and issue bounties, as well as linking projects up with trusted third-party legal firms, and development teams," he said.
Lee said that, given potential technical hurdles, legal ambiguities, and prerequisite blockchain knowledge required to launch an ICO, Starbase is committed to lowering the barrier of entry into the token-funding economy.
"Starbase is also a highly secure platform, evidenced from how development is handled completely in-house," Lee said. "We also conduct third-party verification of community users upon sign up through Onfindo."
Other benefits of using Starbase include the potential to raise funds globally utilizing Bitcoin, Ethereum, and other major cryptocurrencies, according to the Starbase website. Clients can also engage with engineers, entrepreneurs, marketers, and other professionals from all over the world.
Strict KYC and AML Policies Foster a Low-Risk Environment for Investors
Lee said on the investor side, Starbase aims to minimize risks through several company policies and tactics.
"For investors, through an investor whitelist and strict KYC policies, we enforce and protect a low-risk investing environment for our community with a commitment to anti-money laundering (AML)," he said.
Exacting KYC and AML policies are valuable techniques to help companies, such as Starbase, verify the identity of its customers and make sure the money involved is acquired legally and none of the parties are involved in any terrorist or other criminal organizations.
"Apart from that, we also provide avenues for our community to interact closely with projects, such as a built-in Q-and-A function, the Bounty Campaign, blog posts, and frequent podcasts and livestreams on our YouTube channel that address community questions and feature interviews with projects," Lee said.
And not only does the Starbase community have the option to support projects through low-risk investments, but community members may also contribute unique skills through Bounty Campaigns and earn project tokens, Lee said.
One example is Pictosis, a design platform for creatives, that is due to launch a series of bounty campaigns on Starbase prior to their ICO's commencement. By completing tasks such as creating an account on the Pictosis platform to writing a blog post about what Pictosis does, users can claim rewards of varying amounts from a total reward pool of 150,000 PICTO Genesis tokens. Bounty campaigns serve as an easy way for users to support projects and earn project tokens in non-financial means.
In some cases, projects like Bulk Trader — a B2B e-commerce platform — can choose to launch bounty campaigns during their token sale to accelerate the fund-raising process.
Additionally, projects using the Starbase platform can accelerate their timelines by rewarding contributions to an interesting project. "Those that work the hardest, reap the most rewards," according to the website.
"Finally, we also seek to reward community interaction and are developing a referral system that will reward users for helping us grow our community," Lee said.
By generating a user-specific code for each project, any registered user on Starbase can thereafter share it on social media and other platforms. Should a purchase be made using their code, voucher owners and voucher users will each receive a specified percentage of the total amount of tokens purchased — at no cost, and minimal effort.
The STAR Token Serves as the Platform's Base Currency for ICO Investments
"STAR is the utility, rewardable, inflationary token of the Starbase platform," according to the company website. "By using STAR, you can fund other projects, pay for supporters of your project, or exchange them for goods or services as well, through our platform."
The STAR token is the only token supported on Starbase.
"With this approach, collaborating with decentralized exchange protocols like 0xProtocol, Kyber Network, and Loopring, users will be able to purchase tokens on the Starbase platform by executing single transactions to send Ethers directly to a project crowdsale's smart contract on the Ethereum blockchain." — Starbase
The STAR token also provides the basis for the Starbase business model.
"Starbase charges a small percentage fee when a token is issued, when a token is initially sold and when a token is used for rewarding to outsource labor work," according to the company.
Starbase's token also provides the foundation for the platform's Bounty Program, which concluded successfully in 2017 and 2018. The STAR Bounty Program enabled Starbase to garner a solid social media presence on platforms like Twitter and Facebook. It served also as a proof-of-concept of the effectiveness of bounty campaigns for fledgling projects.
"STAR Bounty is the campaign for everyone who supports Starbase. With participation in the bounty campaign, you can be a STAR holder and be a part of the Starbase project," according to the Starbase website.
First, users must sign up for the STAR Bounty Program, then like, follow, or retweet Starbase on social media to get started. According to Starbase, simple tasks like retweeting will be rewarded in a short time, while more complex tasks will be evaluated before they are rewarded.
High-quality contributions, such as writing a blog article or translating a white paper or website, will be rewarded with more STAR tokens than less time-intensive tasks.
Rolling Out a Referral System, Updated Star Bounty Program, and a Revamped Website
Lee said the company is excited to hear about the various businesses that are interested in launching their project tokens on the Starbase platform.
"It is heartening to see that the community members are excited to see us succeed and have given us suggestions and networked us to relevant parties," he said. "In the near future, we will be rolling out a new feature — the stake sale. Through participating in a stake sale, which will take place prior to a project's pre-ICO token sale, users will be able to stake STAR tokens in exchange for bonus project tokens, with a higher amount of STAR and earlier staking rewarded with more tokens via a points system."
In the past month, Starbase has launched its Bounty Campaign system, Voucher Program and has many more updates planned for the platform. Users can look forward to more projects, platform features and even exciting new business partnerships moving forward.
Project owners and cryptoinvestors can find more details on Starbase's features, offerings and business model can be found on their official deck.