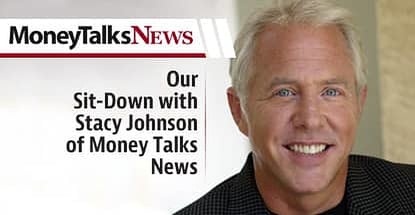 credit card news
Our experts and industry insiders blog the latest news, studies and current events from inside the credit card industry. Our articles follow strict editorial guidelines.
In a Nutshell: As the Emmy-winning host of more than 3,0000 Money Talks News stories syndicated across the country online and on TV, you'd think Stacy Johnson would be tired. Instead his success has only fueled his desire to report on even more relevant personal finance topics for his audience by creating at least three new stories a week for his Money Talks News brand, which can be seen served up by affiliates from MSN and Yahoo to CBS and FOX.
Interviews have a way of being either really great, or really bad, with the outcome largely dependent on the interviewee. As soon as Stacy Johnson answered our call, we knew this would be a great one. He was exactly the amount of energy we needed to power us through the rest of our Friday.
"I'm doing wonderful!" he exclaimed when asked how he was.
Stacy's energy has been seen on screens — from television to computer — for more than 25 years, and his perfect blend of authority and geniality make for an entertaining way to learn about finance (not to mention himself). His segments for Money Talks News, his personal finance journalism brand, appear on broadcast affiliates like CBS and FOX across the country. Through Money Talks News, Stacy reaches approximately 3.5 million people daily thanks to his website and broadcast affiliates.
But don't throw around the word "expert."
"I really take umbrage with the number of experts online," quipped Stacy. "Show me your credentials, and I'll decide if you're an expert or not."
It's safe to say, with his deeply rooted background in the world of finance having worked as an accountant early on, a stockbroker for a time, and serving as a CPA for over 35 years, Stacy qualifies as an expert.
While working as a stockbroker, he broke into TV news as a featured expert, and after soaking up as much of the broadcast business as he could, he went on to create his own content in Money Talks News to help inform the masses with easy-to-digest pieces on personal finance.
From Bean-Counter to TV Personality — Stacy's Trajectory
In 1977, Stacy graduated from the University of Arizona with a degree in accounting, but quickly realized that he did not enjoy working as an accountant. With his interests in math and finance, he went on to obtain his stockbroker licenses and earn his CPA designation in 1981.
Following Black Monday, the epic stock market crash of October 19, 1987, the local news station in Tucson, Arizona, where Stacy worked as a stockbroker, was in desperate need of expert commentary. He volunteered for the job and found his true passion — broadcast.
Over the next several years, Stacy continued to provide industry insights for the news station and transitioned into full-time there by 1991. While he appeared regularly on the local news, he also began producing his own segments and selling them to several news outlets across the country as part of his Money Talks News brand.
"Eventually though, television news became harder and harder to make a living at," he explained. "Everything was moving toward the web, so we were able to make deals with MSN and Yahoo to sell them the Money Talks News content we were already creating for use on their sites."
Those deals proved to be huge for Stacy and Money Talks News. As his brand gained more exposure and reached more people, he hired a team to help the brand keep up with demand.
Money Talks News now boasts several employees who assist Stacy in educating the masses with easy-to-read articles and helpful, two-minute videos that tackle lofty financial topics.
The Booming Success of Money Talks News
However you happen to come across Money Talks News — whether from Stacy's website or any of the 70 outlets using his segments and articles — you're bound to learn something new about personal finance.
Stacy has a way of commanding your attention and making any subject matter come alive, both on screen and off. On our phone call, he was equally as personable, telling his story transparently as though we had been friends for years.
It has always been his goal to help people see through the haze surrounding topics like saving, investing, and retirement. He even goes as far as publicly posting his stock portfolio online to show he really does "put his money where his mouth is."
The Money Talks News YouTube channel dates back to 2007, shortly after YouTube became a Google brand, and its most popular video has nearly 500,000 views. Stacy breaks down difficult calculations in several of his videos, including those analyzing whether it is better to lease or buy a new car and which lightbulb, LED or incandescent, really has a better payoff.
So, which topic is Stacy's favorite to report on?
"Debt," he answered quickly. "I love it so much I wrote a book about it!"
He's referring to his book Life or Debt, which outlines the steps to wipe out debt, live below your means, and begin investing intelligently. He originally wrote the book in 2001, but it has since been updated with more commentary on how the crisis and recession relate to personal finance.
In both editions, the 6-step Life or Debt plan begins by suggesting readers establish a financial goal and a deadline by which to meet it, while the proceeding steps assist readers in realizing their goal.
Ultimately, Stacy wants to help everyone get to a point where they can start earning returns through investments as they go down the path toward financial freedom, whether they read his book or watch one of the three news segments his team puts out through Money Talks News each week.
Story Ideas — Drawn from Real Experience for Real People
The inspiration for a news story can hit Stacy at any time — he started working on a recent post after he discovered his credit score was a perfect 850.
"It will probably only last 10 minutes," he joked. "I've never paid any attention to my credit score at all, and I was only checking mine because it was free through my AMEX card."
He plans to title the post "How to Get an 850 FICO Credit Score Without Really Trying," and it will detail credit-building tips that don't necessarily require the work so many other experts peddle (like constantly checking your credit score).
With a steady stream of content, and an avid following from all of the networks Money Talks News appears on, Stacy doesn't see a finish line. He loves what he does and plans to continue creating captivating news content.
"I'm a Leo, so I like attention," Stacy said, laughing at himself.