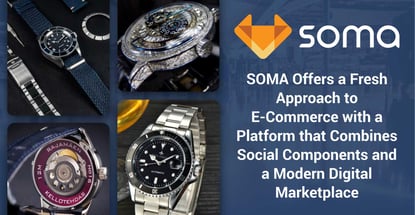 credit card news
Our experts and industry insiders blog the latest news, studies and current events from inside the credit card industry. Our articles follow strict editorial guidelines.
In a Nutshell: SOMA is a platform that combines elements of social media websites and online digital marketplaces to create a fresh take on e-commerce for niche industries. The company will be establishing its use cases and value propositions in the luxury watch industry before rapidly expanding across multiple industries. In addition to highlighting the social and transactional components in specialized markets, the company has developed a blockchain-based provenance tracking system to ensure authenticity and provide insight into an item's history.
Today's e-commerce marketplaces are focused on broad and varied industries and are designed to hone in on the transactional nature of the space. Conversely, reseller markets that have sprung up on social media platforms encompass more specialized niches and bolster collector communities. But, they are often lacking in security and built-in transactional features.
SOMA brings the best of these two worlds together with a fresh approach to e-commerce that also addresses the ongoing challenge of proving the authenticity of items.
Company Co-Founders Joseph al Sharif and Jukka Hilmola were running an import business in Helsinki, Finland, when they observed how niche sellers and enthusiasts were gravitating to Facebook and creating online communities.

These special-interest communities were congregating around specific types of items, and its members were showing off their own items and collections, and buying and selling within the groups.
"People like to be with other people who are in the same niche and enjoy the same passions, whatever that niche may be," said Jacob Andra, another one of Soma's Co-Founders. "Joseph and Jukka quickly hypothesized a marketplace that really integrates this sense of community — where you know the people with whom you're interacting in a social media setting — with the ability to conveniently transact with one another."
Andra said people have a natural urge to be social and to transact with others.
"Everybody knows that we're social creatures and even those of us who like to be lone wolves still desire a certain amount of social validation," he said. "It's a human trait."
People often rely on this type of validation when making purchases. He said that, when consumers remodel their home's interior, they rely on their personal tastes but also research current trends, expert opinions, and solicit feedback from friends.
SOMA's platform enables users to display goods and buy or sell items while garnering feedback and validation from others who share similar interests.
The Luxury Watch Space is Ideal for SOMA's Three-Pronged Value Proposition
The SOMA team decided to build up its first use case around the specialized industry of luxury watches, Andra said.
"It really is a jumping off point. We feel like if we tried to go too broad, we'd probably be killing ourselves before we'd begun," he said. "We'd rather go really deep into one industry and understand the needs of that industry and create a product that works for them."
The company's core business model offers three overlapping value propositions — a social component, a transactional component, and authenticity tracking — represented by a Venn diagram in which SOMA sits right in the center, Andra said.
After conducting research across numerous industries, SOMA determined that those same circles were most clearly delineated in the watch industry. "It seemed logical to start somewhere where all three of those components were heavily at play," he said.
Watch lovers — including manufacturers, buyers, and collectors — like to show off their watches. The market is also rich with consumers looking to buy or sell watches to build their collections or acquire a particular piece.
"I've spent a lot of time really diving into the watch subculture, and it's very rich and vibrant," Andra said. "In these online groups, you quickly learn who the tastemakers are; those who are widely respected for their opinions, which brings a certain amount of social capital."
He said SOMA provides numerous features that make it very easy for that social capital to be leveraged into real capital.
SOMA will hold a limited launch in June, with its Cohort 1 group, which is limited to 100 participants. The new SOMA members will receive exclusive discounts and access to multiple independent watchmakers and microbrands.
"In short, Cohort 1 is a watch lover's dream: a vast selection of amazing watches at prices you won't see anywhere else, with cash incentives to further put these watches within your reach and on your wrist," according to a SOMA press release.
How Blockchain Powers an Item's Digital Provenance
Being able to determine the authenticity of an item is crucial in any collector's market. Knowing the item's complete history is also highly valued.
SOMA uses blockchain to offer provenance tracking for all of the watches on its platform.
"One of the core innovations of SOMA is that items are assigned a digital identity called an Interactive Item Card (IIC)," Andra said. "The IIC can receive likes, shares, and comments just like a Twitter post. But how do you prove that a watch is really the watch the digital identity says it is?"
SOMA incorporates blockchain technology into its platform to answer that question.
"In addition to the IIC acting as a social entity and storing all its interaction information, it retains the history of the item," Andra said. "We have some clever ways of being able to prove conclusively that the digital identity is tied to a specific item."
He said this is all made possible because of the inherent nature of blockchain technology.
"The blockchain is individually verifiable, and it's immutable, which means no one can go in and tamper with records," he said. "So it creates a sense of communal trust. If you see that a group member bought a watch on a particular date, you know that it can't be backdated. Once it enters into the distributed ledger, it's there forever."
SOMA hopes to be able to work with manufacturers to create an IIC for new watches to track their history from their origins, Andra said. Used watches would be inspected by an expert to receive a stamp of authenticity, and the IIC would be established beginning at that point.
Andra said the IIC serves as a virtual trading card with a watch's basic information contained on the front of the card for anyone to view. Then, the back of the card contains the watch's detailed history, which is reserved for SOMA members.
Expanding to Other Specialized Industries
Andra said that although SOMA is starting in the watch industry, the company has plans to quickly expand to other areas and eventually offer its backend technology to other businesses.
He said SOMA just received 1.1 million euros primarily from Business Finland, an arm of the Finnish government, in a bridge funding round that also included some private investments. He said the funds should carry the company into early 2020.
"The plan is to have a very solid use case built in the watch marketplace by then — a thriving ecosystem, transactions, revenue flow — that shows that the technology really works," he said.
Once SOMA's use case is proven and a Series A round of funding is complete, the company plans to scale rapidly across multiple industries. "We feel like after getting a solid foundation in a single industry, we don't need to slowly grow into another industry too," Andra said.
Another important step in SOMA's road map is to roll out software as a service (SaaS) products for specific niches. The products will be provided as a paid subscription service for companies, Andra said, which will be very specialized for each industry and save companies substantial amounts of time.
"This could be watch collectors, this could be automotive dealers," he said. "We have a number of industries we're looking at and continue to explore new options because SaaS products are going to be a big thing for us."
In the meantime, beginning June 1, watch enthusiasts can be among the first industries to take advantage of SOMA's unique combination of social media, e-commerce, and blockchain-based provenance tracking.