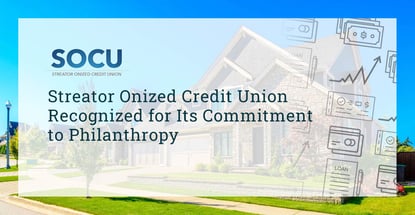 credit card news
Our experts and industry insiders blog the latest news, studies and current events from inside the credit card industry. Our articles follow strict editorial guidelines.
In a Nutshell: Streator Onized Credit Union (SOCU) is an Illinois-based credit union with branches in four cities. Like most credit unions, it offers numerous financial and educational benefits to its members. But the credit union's pledge to serve includes its active participation in philanthropic work with a wide variety of national and local charities, and why we're recognizing SOCU with our Editor's Choice Award™ for Community Commitment.
If you happen to believe that banks are cold, unfeeling institutions, you may want to consider opening an account at a credit union instead. Credit unions are member-owned nonprofit organizations that usually offer a warm, welcoming attitude and a generous approach to their communities.
Indeed, the Streator Onized Credit Union (SOCU), recognized for its financial health, service, and commitment to philanthropy, is a case in point.
"We do keep highly active in our communities," says Dana Stillwell, SOCU Marketing Director. "We believe in word-of-mouth marketing while giving back to our communities. We started in 1939 inside of the Owens glass factory, so we are deeply rooted in our original branch's community. We have expanded our locations to surrounding towns and have taken the same proactive approach to be present and participate in community events where we can."
Credit unions are mutually owned by their members who vote on important matters and elect a board of directors made up of volunteers. Their mission is to serve their members, not generate profit. You usually must belong to some association or meet other membership requirements to join.
These may include where you work, live, or worship. You pay a one-time fee to join and have to open a small deposit account. Federally insured credit unions like SOCU belong to the National Credit Union Association (CUNA), which insures depositors for at least $250,000.
Credit unions do not have to pay dividends to outside stockholders, and because they are not-for-profit, they don't have to pay taxes. Any excess of income over expenses is plowed back into credit unions by way of better interest rates, generous reward programs, and free services. In addition, credit unions like SOCU spend some of their income on worthy local charities.
From an Office in a Glass Factory to a Growing Powerhouse Serving 4 Cities
SOCU was founded in 1939 to service the employees and families of the Owens Illinois Glass Company. Over the years, the credit union has grown to include five branches in four cities covering more than 45 select employee groups and residents in 16 counties.
As the credit union grew, so did its commitment to worthy causes. SOCU has sometimes fulfilled that commitment in inventive ways. For example, in 2011, it opened a student-run branch in the local high school to help provide financial literacy to students. That same year, SOCU was named the Community Credit Union of the Year, in part for its proactive support of the area it serves.
2019 was SOCU's 80th anniversary. "We wanted to make a big donation to our city park," said Stillwell. "We poured concrete and a sidewalk for a splash pad that had been recently donated to the park. We added more concrete to provide additional space for people to have picnics and a sidewalk to the other play equipment. We even installed a bronze medallion in honor of our 80th anniversary." When finished, the total expenditure for the park was about $16,000.
Another regular recipient of SOCU support is Streator's annual Taste of the Town event, which was started in 2007 by SOCU and U.S. Foods, a food service distributor based in Rosemont, Illinois. Through 2019, the event raised $456,100 for a variety of philanthropic causes, including the March of Dimes, the Illinois Valley Brain Injury Clubhouse, and Streator Ramp Builders.
Due to the Covid-19 pandemic, the event was made completely virtual in 2020, but the auction proceeded on June 12. The organizations that benefitted from SOCU's donations this year were the Streatorland Community Food Pantry, the Streator Lions Club, Streator Girls Softball, and the Streator Family YMCA.
"Our Lions Club is working on a project to install handicap-accessible fishing docks at our local park because there's not one in the area for people who need wheelchair access to enjoy fishing," said Stillwell.
In further response to the pandemic, SOCU gave away gift cards to frontline workers and new high school graduates. The gift cards to local merchants and restaurants were meant to help those businesses during this financially challenging period.
SOCU Supports Local Charities Year-Round
SOCU is very careful when choosing the organizations that will receive their donations. Selections depend on the need.
"We look at each request on an individual basis as to what we can support and what we can't," Stillwell said. "Sometimes, donations represent a multi-year commitment. We do get a lot of solicitations. And because we are so community-focused, we have to pick and choose who we donate to as we try to help everybody."
The credit union tries to help various sports and educational activities, especially those relating to STEM. Larger donations, generally $5,000 or more, require board approval. Multi-year events usually involve gifts of $10,000 or more. SOCU also works with various local co-sponsors, including OSF Medical Group, U.S. Foods, and Vactor Manufacturing.
"For big events, potential recipients must fill out an application explaining why they need the funds and what their financial goals are," Stillwell said. "Obviously, the success of the event depends on the whole group's commitment to getting sponsors and items for an auction. The harder they work, the more money they get. In some cases, informal requests are granted based on the need and how it fits into our mission."
One recent recipient was Streator River Rescue, a newly formed organization established in response to a child who lost his life kayaking on a local river. The purpose of the donation was to purchase equipment for the local fire department and for emergency personnel to help them search the river in an emergency.
SOCU Members Enjoy Many Benefits
SOCU is constantly looking for innovative ways to help its members and the surrounding communities. Employees and members often pitch in. For example, there is the SOCU Casual Dress Program.
"We do casual days every day of the year for the most part," explained Stillwell. "Employees can dress casually any day of the week by paying (i.e., donating) for the privilege. Monthly contributions go to a local charity or cause. We do set aside Fridays and Saturdays for 100% employee participation in the United Way."
In part due to the Casual Dress Program, CUNA has recognized SOCU's generosity by giving it the Dora Maxwell Social Responsibility Community Service Award for outstanding social responsibility projects in its communities.
SOCU uses some of its revenues to provide extra benefits for its members. For example, the Skip-a-Pay Program allows qualified borrowers who use payroll deduction or other automatic deductions to pay their loans to skip a month's worth of loan repayments. Instead, the payment amount normally applied to their loan is diverted to their primary savings account each pay period in the month they are skipping.
Another member benefit is the annual SOCU Scholarship Awards. Eight members are randomly chosen to receive scholarships in the amount of $250 or $500.
Like most credit unions, SOCU offers everyday benefits to members, including favorable interest rates, low fees, easier access to credit, and financial education opportunities.

"We like our members to feel like they're part of the community and they can walk in and feel comfortable," acknowledged Stillwell. "We have a big philosophy on people helping people. We try to find solutions. Sometimes we take on the role of dream fulfillers."