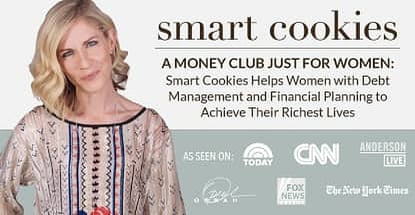 credit card news
Our experts and industry insiders blog the latest news, studies and current events from inside the credit card industry. Our articles follow strict editorial guidelines.
In a Nutshell: When five women founded a money club more than a decade ago, they could not have foreseen it inspiring a movement to get out of debt and live overall richer lives. However, that's exactly what Smart Cookies has evolved into. Employing a sense of community, transparency, and responsibility, these founding members have shared their lessons with the world through a series of books and courses that have helped hundreds of women better manage their finances through more sensible decision-making. We recently spoke with founding member and CEO Sandra Hanna about the group's genesis and gratifying successes.
Living in New York City with tens of thousands of dollars of debt and a job she didn't really like, Camille knew it was time to make a change. Within a year, she moved to Chicago, found her dream job with a higher salary, and paid off her debt. Through a series of behavioral changes that initially felt like sacrifices, she learned she could forego spending $1,000 on fancy clothes, and, instead, buy a couple of pairs of cut-offs.
The inspiration behind Camille's financial transformation came when she plugged into a powerful network of like-minded women: her fellow "smart cookies."
Founded more than 10 years ago by a group of women ready to take responsibility for their financial futures, Smart Cookies has grown its community through a series of courses and books that share the knowledge these friends discovered for themselves through trial and error.
Here's how founding member and CEO Sandra Hanna describes her company's genesis a decade ago: "I sat down at my computer and Googled 'smart money advice for women.' I scrolled through hundreds of links — there wasn't one I could relate to. That's when I thought, 'Wouldn't it be awesome to create a fun, inspiring, beautiful spot that women would actually look forward to visiting to learn and talk about money?'"

Sandra and a few of her friends went on to start Smart Cookies, which now has over 600 members throughout the US and has been featured widely in the media, including appearances on
The Oprah Winfrey Show, CNN, and The Today Show
.
Over the years, Sandra said, the content of the courses Smart Cookies offers has changed due to evolutions in the financial market itself, but one thing hasn't changed.
"The concept of women coming together to discuss financial goals has stayed the same," Sandra said.
Importantly, the Smart Cookies act on those goals. In the first year of its existence, the original five founders of the group collectively paid off more than $50,000 in debt and increased their earnings by more than $100,000.
"Getting smart about money wasn't about becoming obsessed with spreadsheets and budgeting," Sandra said. "It wasn't about skipping out on a daily latte. It was about having a crystal-clear vision about what a truly rich life looks like, setting a plan, and making small, smart strategic actions every single day."
Creating Camaraderie Through Fun, Educational Courses
The success of the Smart Cookies also required a secret ingredient: a sense of community.
"Be surrounded by positive, smart, supportive friends who truly see you and want you to live your richest life," Sandra said. "The community is key to how women like to learn together."
This focus on women helping women goes beyond the group's initial demographic.
"Women work less, but our life expectancy is longer," Sandra said.
Life expectancy for women in the US is 81, compared to men, who live to 76, on average. About 47% of US workers are women, a statistic that has been on the rise over the past several decades, and there is evidence women are increasingly taking the lead in financial planning, whether it's because they've become more prominent in their family's financial lives, or on the contrary, on their own; or because they are more open to financial education, and more trusting of each other when it comes to seeking and taking financial advice.
As one expert writes in the aforementioned article, women's naturally more intuitive nature allows them to consider the "big picture" as far as finances are concerned, which is good, since financial decisions involve a lot of "gray areas."
That's where Smart Cookies comes in. Apart from being a community of women committed to similar goals, the company provides financial courses for women in areas such as debt and saving for family planning.
As the group's foundational course, the Money Club is a one-year commitment covering topics, including "what your richest life looks like," (not just in financial terms), analyzing your own spending habits, creating a one-page blueprint of financial and other goals, and how to make more money. Everyone creates weekly, monthly, annual, and three-month goals, Sandra explained, and weekly money club meetups take place on Facebook.
"We start out every meeting with celebrations," Sandra said. "Then, we look at what we need to do the rest of the week to stay on track with the rest of our goals."
The Ditch Your Debt Bootcamp is another course Smart Cookies launched a couple of years ago. This six-lesson, step-by-step program to become debt-free has helped women collectively pay off more than $750,000 in debt and also includes a social media support group.
Another course, called The Lift, is designed to help new and expecting parents save more than $5,300 during the baby's first year of life (essentially halving what most parents spend). The course also covers how to make the most out of registries, accrue savings, and create a one-page financial plan.
Getting the Word Out Through Books, Media Mentions, and Talk Show Appearances
The success and energy of the founding group of Smart Cookies quickly attracted media attention. It all started when they shared their story with Oprah, who now has a partnership with Smart Cookies. They also wrote two books: "The Smart Cookies' Guide to Making More Dough and Getting Out of Debt" and "The Smart Cookies' Guide to Couples and Money."

One reviewer of the latter said, "The book goes well beyond how to avoid bickering over bills and includes tools, techniques, and strategies — such as the Perfect Day exercise — that couples can use to realize their dreams, whether it's buying a home, starting a family, or planning for retirement."
The New York Times said of the first book: "Theirs is a story of guts and grit. … Their example ought to be enough to inspire others to form or join money clubs."
The first book, which was published in 2008, is essentially the story of the five founders of Smart Cookies, Sandra explained. But their stories resonated with thousands of readers and other women, who subsequently became Smart Cookies" themselves.
Today, the average Smart Cookie is in her early 30s to mid- to late-40s, but Sandra told us, there is also a niche of women in their 50s and 60s.
"Geographically, they are all over the place," Sandra said. "They are split pretty evenly between the East and the West Coast. One woman, a nurse, is stationed in Dubai, and there are several women in Canada, where it started."
Empowering Women Around the World to Make Smarter Financial Decisions
One important theme in the first book that continues to define the company's cornerstone philosophy is that Smart Cookies is helping women lead richer lives.
"One of our core focuses was about leading a rich life, and that doesn't necessarily have to do with money," Sandra said. "It means pushing yourself to be around people who celebrate you. And then, oftentimes, you reach your financial goals."
Smart Cookies' online community provides that support and helps women find it on their own terms, wherever they may be located. That self-empowering approach has worked for a lot of women.
As one 23-year old said, "I have just purchased my first condo with more than 20% down, graduated university with enough money in the bank to pay for three months traveling in Europe, plus teachers' college, and have just started my first-year teaching with a permanent full-time job! I can attribute so much of this to Smart Cookies. … I've never felt more capable, independent, and satisfied with my life!"