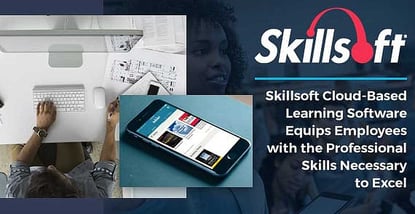 credit card news
Our experts and industry insiders blog the latest news, studies and current events from inside the credit card industry. Our articles follow strict editorial guidelines.
In a Nutshell: A standout in e-learning, the Skillsoft learning software platform gives organizations a means to create highly tailored training programs to improve skill sets within their workforces. By equipping team members at all levels with everything from a deeper understanding of marketing analytics and sales techniques, to in-depth training on demonstrating business acumen, organizations run more efficiently as a whole. Using Skillsoft to curate specific training programs for different departments allows organizations to serve up the most appropriate content for individuals across all departments. Additionally, with Skillsoft's diverse portfolio, companies and individuals in nearly any industry can benefit from its programs.
A healthy organization is one that never stops evolving. That means continually training the workforce so employees keep up with new trends, emerging technologies, and an ever-growing needs of customers. The challenge comes in tailoring the training to particular skills and functional departments.
We recently spoke with Heide Abelli, VP of Business Skills and Leadership Content for Skillsoft, who told us how businesses benefit from workforce training, whether the course covers general information meant for all employees or targets a specific set of skills.
"Through Skillsoft, everyone is getting the same training, and you can roll out standardized programs at scale," Heide said. "You can also design custom programs using a combination of all of our content."
Skillsoft e-learning software contains one of the largest content portfolios in the learning space, and its modular content can be highly targeted.
"It's a best-in-class course experience for our users," Heide said. "It's very engaging content designed for the 21st century learner."
Facing a decline in golf participation numbers, the Professional Golfers' Association (PGA) partnered with Skillsoft to design an intuitive online curriculum that also supports workforce certification and career objectives, according to a case study with Skillsoft. The PGA, a $65 billion-a-year industry that supports 1.5 million jobs, launched "Golf 2.0," an educational initiative that provided certification programs aimed at enhancing player development and the career paths of PGA professionals, including general management, golf operations, teaching and coaching.
One of the challenges the training initiative tackled was a generational gap in golf. To ensure the future of the sport, Skillsoft recruited veteran PGA members, including marquee names to add credence to the content, and encouraged them to share their knowledge with a younger generation of golfers. For every dollar invested in this initiative, the PGA saw a $5.14 return, and overall golf income increased by more than $1,000 per participant.
"With a great partnership and a careful blend of relevant content, technology, and clever program designs, you stand a better chance of engaging your labor force and improving their performance," said Dawes Marlatt, Senior Director of Education & Employment for the PGA.
Resources Provide Training Tools for Any Level Employee
When it comes to training the workforce, some companies simply don't have the time or budget to provide a highly curated training program for every department in the organization. Even for those with ample resources, companies want to be assured that a tailored educational solution will be worth the investment.
"Our content, specifically in respect to business, is the most robust in the industry," Heide said.
Skillsoft provides organizations with a means of efficiently providing employees the same quality of training across all departments, from back-office employees to those in leadership roles. Skillsoft's diverse portfolio means training programs can be customized to any level of employee. Companies can curate programs so that, for example, the IT department is provided with content that's IT-specific, while project managers can have their own set of courses.
Having access to Skillsoft's diverse portfolio allows organizations to put together relevant programs across all departments. This enables them to train at scale, deliver the most appropriate content, and drive a strategic agenda.
Best Practice Training for Digital Literacy Designed to Bring Teams Up to Speed
Nearly every organization uses digital technology in some capacity, and most employees rely heavily on this technology to do their jobs. Retail is a standout in this regard because technological advances can have a very direct impact on sales. One big challenge organizations face, however, is how to develop employees' digital literacy skills and help them maintain those skills as technology evolves.
"Retail is an industry that's very challenging," Heide said. "Not only are the margins in retail very thin, but there's a pace of technological advancement in that industry that other industries haven't had to grapple with in the same way."
Through Skillsoft's digital literacy training programs, employees are taught how to develop their skills as they apply to various devices, operating systems, and applications. They also learn how to overcome problems encountered throughout the course of their working day. All of this is done through learner-centric content — which helps employees develop and maintain their skills through expert-led videos and training material for industry-standard programs like Adobe, Excel, Google Analytics, and Quickbooks.
Customizable Content for Companies to Build Out Employee Learning Programs
Because Skillsoft possesses such a large content portfolio, employees in a wide range of industries can benefit from its use. From companies that just started to those reaching Fortune 500 status, retailers with online and brick-and-mortar presences all have something to gain from Skillsoft's courses.
These organizations can create highly customized learning programs for their employees and partners, and Skillsoft provides the tools to customize the look and feel of the platform specifically to match their brand.
Sprint, the popular communications services company, is a big believer in education. That's why it has an entire Learning and Development branch it calls Sprint University dedicated to training its more than 37,000 employees
With a disconnect between its business requirements and targeted educational programs, Sprint turned to Skillsoft for help in improving its educational content and the way it measures performance.
After partnering with Skillsoft, Sprint University implemented the KnowlegeAdvisors measurement platform, which automated its learning analytics and helped its investors get a better sense of how the program measured up to industry benchmarks. Through the Metrics That Matter™ SmartSheet process, learners evaluate the educational content based on application, business impact, ROI, and other factors.
Sprint reported a 5 times cost-benefit ratio over classroom training and more than tripled the industry average with a 14% annual rate of program improvement through Skillsoft.
Empowering Employees to Learn and Grow Leads to Long-Term, Lasting Company Success
Skillsoft successfully supports 6,700 customers and more than half of Fortune 500 companies by providing them with best-in-class resources to enhance the skillsets of their workforces. Training employees how to demonstrate business acumen, adapt to evolving technology, and maintain healthy boundaries in the workplace, all contribute to the overall health of an organization.
Skillsoft's content is available in 29 languages, accessible in 160 countries, and offers the type of localized training that enables global employees to work together more effectively. By partnering with Skillsoft, organizations like the PGA, Sprint, brick-and-mortar stores, Fortune 500 companies, and other businesses, can benefit from optimized performance.
Through the Skillsoft platform, global organizations across a range of verticals offer employees the right training, providing them with the skills necessary to adapt and thrive in a work environment. Skillsoft's service-oriented mission means the company is available to assist customers using the software, mapping them through the whole process from the beginning stages of developing a program, to its implementation and customization.
Skillsoft is a valuable resource for any business that wants to remain competitive in its respective industry, and this type of immersive, quality training is a big win in terms of the long-term success of an organization.