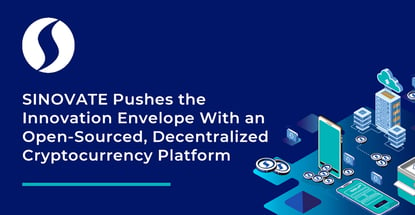 credit card news
Our experts and industry insiders blog the latest news, studies and current events from inside the credit card industry. Our articles follow strict editorial guidelines.
In a Nutshell: SINOVATE is an open-source, decentralized, and peer-to-peer cryptocurrency platform that prioritizes security and anonymity. With the use of Infinity Nodes — a revolutionary masternode structure type — the platform plans to achieve mass innovation, including its potential landmark offering, Incorruptible Data Storage (I.D.S.).
Those in the financial services industry know that innovation is slow-moving. It's hard to revolutionize an industry that's done things the same way through the same legacy systems for decades.
That's why there's so much intrigue and curiosity surrounding cryptocurrencies, stablecoins, and decentralized finance in general. Most consider the blockchain and the varying tokens that travel across it every second as the first big innovation in finance of this century.
But projects like SINOVATE want to push the envelope even further.
SINOVATE is an open-source, decentralized, and peer-to-peer cryptocurrency platform that is committed to developing cutting edge innovations based on blockchain technology.
Its early projects, including Incorruptible Data Storage (I.D.S.), may just pave the way for a future where the blockchain and cloud storage provides even more security than your local bank or credit union.
"SINOVATE blockchain is dedicated to being one of the major players in decentralized cloud services and solutions," said Tamer Dagli, Operations Manager at SINOVATE. "Data is the 21st-century oil, and giving control of data back to users is the primary goal."
Dagli understands the space as well as anyone. The technology veteran has dabbled in hardware, software, and games since his early childhood. He also began mining and investing in crypto around 2015.
The SINOVATE project originated in the middle of 2018 under its original name SUQA. The project's developers forked the codebase from the original Bitcoin core, with no working project copied. The team also built the SIN custom code upon the raw Bitcoin core code. SINOVATE launched fairly just as Bitcoin did, without an ICO or pre-mine.
"It offers a truly decentralized experience — with more than 1,250 nodes continuously connected to the blockchain," Dagli said. "The project also offers a LWMA difficulty retargeting algorithm and a Reorg fork reject solution that's merged with P.O.B. to establish 51% attack protection."
To date, the blockchain boasts more than 960,000 wallet installs and over 27,000 daily users. The rapidly growing community flocks to a backbone that's scalable and capable of processing more than 500 transactions per second.
In June 2019, SINOVATE continued to reinvent aspects of the blockchain with its revolutionary masternodes structure type, called Infinity Nodes. These introduced a concept called the Proof-of-Burn (PoB) alongside the Proof-of-Services (PoSe) of masternodes.
Infinity Nodes became so synonymous with SUQA that the project changed its name to SINOVATE — with the "SIN" part of the name standing for Secure Infinity Nodes. This technology, an extension of the traditional masternode, is the backbone of the SINOVATE platform and ensures continued network integrity.
But it's the security, along with cutting-edge processing speeds, that could help SINOVATE become the gold standard for retailers and crypto traders alike.
FlashSend Allows Users to Send SIN in < 2 Seconds
Crypto miners direct processing power to successfully find block hashes and confirm transactions. That's how miners receive incentives and rewards for their participation. As the number of transactions increases, so too does the time it takes to find the next block.
For a premium fee, users can use FlashSend (also known as IX, or instant send) to irreversibly transfer SIN in less than two seconds using Infinity Nodes.
FlashSend enables the connected nodes to vote by transaction-locking without waiting for the confirmation. If any nodes do not agree to vote a FlashSend request, it will take two minutes to complete, similar to a standard transaction.
Due to its speed, merchants and other users can also leverage FlashSend as a mobile payment solution. By transacting using SIN, customers can instantly pay for goods or services without having to wait for a transaction to complete. Recipients also won't need a central authority to observe or validate transactions.
Thanks to FlashSend, merchants can also use mobile devices to transact, instead of using traditional, centralized point of sale (PoS) systems that increase overhead costs. And, for added peace of mind, the instant, irreversible SIN transactions maintain the same secure and reliable blockchain infrastructure as traditional transactions taking place around the clock on the SINOVATE blockchain.
Incorruptible Data Storage Keeps Files Safe in the Decentralized Cloud
As several industries move to the blockchain to track and record everything from the origin of fruit and vegetables to the purchase of virtual kittens, there's a growing need to make sure that data remains secure and decentralized.
Incorruptible Data Storage (I.D.S.) is SINOVATE's upcoming decentralized cloud and private network mechanism that's used to send, store, and verify encrypted data files. I.D.S. uses the Mini Sin Infinity Node Layer and blockchain architecture to process and store data files. The data's owner uses his or her public key to store and encrypt the data.
When it comes time to remove the data, the user's transaction ID and proof of authenticity (a private key) will grant access to the Infinity Nodes data. While I.D.S. currently only works for Infinity Node owners, the SINOVATE team has plans for third-party logical access controls that will allow third-party nodes that are not Infinity Nodes, such as data centers, private companies, or any other home user, to connect to the decentralized storage platform without an infinity node.
The use of I.D.S requires a SIN fee, which cuts down on blockchain bloat. The total cost of your storage will depend on the size of your data and the level of encryption you need.
Still, the use of decentralized storage can vastly outperform centralized storage options when you factor cost, security, privacy, and uptime concerns. Once storage fees are paid, the blockchain burns and removes all transaction fees from the SIN coin circulation supply.
Forthcoming Updates Maximize Security and Features
In mid-June 2020, the SINOVATE team plans to release a new pure code of Infinity Node 1.0. The code includes popular features, such as Schnorr MultiSignatures, Node Driven DAO, no more sync of masternode info, and less network communication.
But those updates just begin the team's push of the technological envelope that will span throughout 2020 and into 2021. According to Dagli, SINOVATE will soon release new blockchain innovations that include:
SIN Messenger (private direct messaging without any servers storing the data)
Proof-of-Integrity
Proof-of-Inheritance
With such lofty goals and high expectations, it's no wonder SINOVATE is one of the most-watched blockchain projects on the web. As new innovations roll out and developers begin to build upon this tremendous platform, the rest of the world will certainly learn the group's name.

And financial services may come to understand that moving into the next age of technology and security will not only help them keep up with the competition, but it will also give customers the service and security they demand.