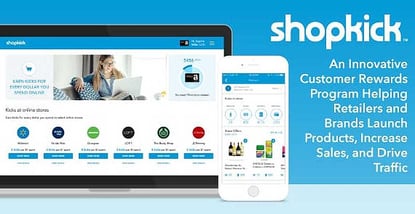 credit card news
Our experts and industry insiders blog the latest news, studies and current events from inside the credit card industry. Our articles follow strict editorial guidelines.
In a Nutshell: Silicon Valley-based Shopkick launched in 2009 as a rewards program designed to drive foot traffic to retail stores. Shopkick quickly emerged as a leader in the industry thanks to a model that rewarded customers for browsing across a wide variety of participating retailers and brands, regardless of whether they make a purchase. As technology has continued to transform retail, Shopkick has stayed ahead of the curve by rewarding customers for in-store and online activity, including mobile app engagement. With Shopkick's pay-for-performance model and customizable product campaigns, retailers and brands that partner with the company have seen a significant return on investment.
From a team of just five people working out of a California basement in 2009, Shopkick has grown into a powerful customer rewards program with close to 30 million downloads
While other rewards programs struggled — American Express announced in April it was ending its Plenti frequent shopper program — Shopkick has continued to thrive.
CEO Adam Sand said users, revenue, and the number of retailers and brands joining the program are all on the rise.
The Shopkick app was initially designed to drive customer traffic to brick-and-mortar retail stores like TJ Maxx and Best Buy. Later, name brands partnered with the program to gain exposure for both current and new product lines. Shoppers earn points, or "kicks," for actions like walking through the door, scanning an item's barcode, shopping at online stores, and making purchases.
It's a model that's proved effective for Shopkick and its partners. Adam said that, while digital advertising typically has a 0.1% conversion rate for each impression, the rate soars to nearly 25% when you get a potential buyer in the store to engage with a product firsthand.
"There is certainly a much higher likelihood it will work than traditional advertising," Adam said. "Our business is growing because we're able to offer a pretty incredible ROI. If we get someone to look for a product and physically hold it, they are far more likely to buy it."
Cosmetics company Rimmel London partnered with Shopkick to drive awareness of a new line and encourage shoppers to sift through the clutter of the beauty aisle to seek out Rimmel. Shopkick leveraged in-app content to grow awareness, used proximity messaging to push customer traffic to a store, and launched its "trial in aisle" program to increase engagement. The campaign produced a 5:1 return on Rimmel's marketing investment, with 38% of the purchasers buying a Rimmel London product for the first time and 14% stating they had previously preferred a competing brand.
Instead of resting on its laurels, Shopkick continues to add innovative features to meet and reward customers where they choose to shop. In August 2017, Shopkick became the first company in the industry to reward customers for browsing and buying with a mobile app. In April, a new program started offering rewards for shopping and buying online at 17 merchants, a number expected to grow over the rest of 2018.
"Ultimately, we want to be wherever our users are," Adam said. "Certain segments are more comfortable learning about and purchasing products on the web instead of a phone, and we want to offer a true omni-channel solution."
Offering Customers "Kicks" at a Wide Variety of Merchants
While many rewards programs frustrate consumers with restrictions and limitations, Shopkick offers flexibility and variety. There are currently several ways to earn kicks that redeem for digital gift cards. Walking into a store, scanning a product barcode, making purchases, and through Instant Surprises, an in-all scavenger hunt in lookbooks.
For in-store browsing, geolocation technology within the Shopkick app guides users to the nearest store location where a partner's products are available. And shoppers gain even more kicks for purchases at partner retailers and brands accessed through the Shopkick site.
Consumers find the kicks quickly add up, often redeemed within a single week for digital gift cards at leading national brands. Nike, Disney, Old Navy, Amazon, Target, Walmart, Lowe's, The Cheesecake Factory, Uber, and Tiffany&Co. are among the diverse selection available.
Adam said the majority of Shopkick's audience are women, primarily middle-class mothers. For that reason, Shopkick emphasizes offering gift cards from the retailers and brands where that demographic tends to shop. Customer testimonials on the website drive that point home. One mother recalled cashing in earned kicks for $100 in Target gift cards to buy essentials for the family's second baby. Another mom said she was well on her way to earning another Walmart gift card, which she planned to use on a birthday gift for her son.
While other programs have a narrow selection of stores and brands where consumers can earn and redeem points, Shopkick consistently looks to add to its array of partners.
"We're going for ubiquity of merchants," Adam said. "We're trying to sign up as many as we can to offer shoppers more options."
Brand Partnerships Reach a Broader Audience & Boost Sales
Brands often forge partnerships with Shopkick to gain exposure for their products, particularly if there is a new line set to launch.
"There is no set formula for our brand partnerships," Adam said. "These things often start as tests. Here's a budget, and it's not a huge budget, let's test a solution. Let's be able to measure it."
The campaigns are customized and dynamic for each brand relationship. For example, Shopkick can offer more kicks to a specifically targeted audience based on a brand's goals. In this era of analytics, Shopkick has data on the number of shoppers who visit a store or website, engage with a product, and purchase. And, if the numbers show a strategy is not working, Shopkick is able to make adjustments mid-campaign.
Pasta-maker Barilla engaged Shopkick to increase awareness for the launch of a new product offering, Pronto. Shopkick's solution encompassed every step of the consumer journey. In-app video content introduced Pronto and encouraged shoppers to seek the pasta out in stores. Consumers then earned kicks for going to a store, finding the product on the shelf to scan the barcode, and making a purchase.
The results were significant — 66% of users first became aware of Pronto through Shopkick and half of the customers who watched the video purchased the product. There was also a 68% increase in the intent to purchase in the future.
Committed to helping brands increase their ROI, Shopkick follows a pay-for-performance business model. For brick-and-mortar retail, that means Shopkick only gets paid if customers are visiting the store, scanning a product, or buying. Likewise, with in-app content, a user needs to watch the full video or swipe through all the necessary content for Shopkick to get paid.
Continued Innovation in the Rewards Program Space
Shopkick entered the rewards program industry and quickly carved out a space for itself by helping brands gain exposure and offering consumers greater flexibility in how they earn and redeem awards. To date, the Shopkick app has had nearly 30 million downloads in less than nine years.
As technology continues to transform how consumers shop, Shopkick has introduced new features that reward users for actions such as purchasing items online and across mobile devices and apps.
This year will bring continued innovation as Shopkick recently entered an agreement with PayPal to allow consumers to redeem their kicks for cash. On the partner side of the business, a new dashboard feature will give brands and retailers access to campaign data, including conversion rates.
The Shopkick app will also soon include image recognition technology so product promotion campaigns can encourage shoppers to view and scan specific areas of the package that brands feel will spur interest in a purchase instead of just the bar code.
"Being based in Silicon Valley, it's all about innovating at a good clip," Adam said. "We're continuing to work on different levels of personalization and targeting. If there is a specific type of user, whether it's behavioral or based on demographics, that our brands and retailers are interested in, we are developing new and interesting ways to reach that targeted audience. At the same time, we are constantly trying to find ways to get great deals for our users."