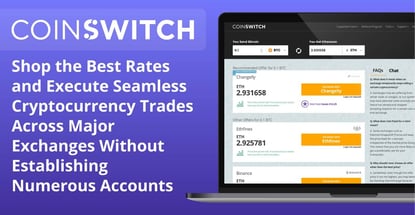 credit card news
Our experts and industry insiders blog the latest news, studies and current events from inside the credit card industry. Our articles follow strict editorial guidelines.
In a Nutshell: With more than 200 active cryptocurrency exchanges to choose from, keeping up with multiple accounts, searching rates across numerous platforms, and learning different user interfaces can be challenging. CoinSwitch eliminates these hassles by aggregating crypto rates across numerous exchanges and facilitating purchases and trades. CoinSwitch users can select from more than 500 cryptocurrencies and 45,000-plus exchange pairings without having to juggle crypto exchange accounts. The platform prioritizes responsive customer service and helps to bolster its reputation with a rewarding referral system. CoinSwitch also offers its API to developers to implement in their own companies at a shared revenue rate.
Over the past decade, cryptocurrency exchanges have proliferated across the internet. As of 2018, Forbes estimated more than 200 exchanges supported active trading.
For a new crypto trader, deciding which exchange or exchanges to use can be daunting. I faced this challenge a couple of years ago when I first began dabbling in the world of digital currency.

I made my first purchases on a large, well-known exchange — no problem — but when I decided to purchase some lesser-known alt-coins, things got more complicated. At the time, there was not a fiat pairing for the smaller currencies. I had to take Bitcoin or Ethereum to a different exchange, then trade it for the smaller alt-coins I was interested in acquiring.
Simple, right?
Unfortunately, that wasn't the case. I created an account on a supposedly well-established platform and attempted to go through the know-your-customer process but was met with errors and platform issues nearly every step of the way. The user experience was terrible.
I didn't even realize I had made it through the whole process until the company emailed me three months later with a message stating they were ready to verify my account. Thanks, but no thanks.
CoinSwitch eliminates these headaches from the cryptocurrency trading process. The platform aggregates cryptocurrency prices across numerous exchanges and allows users to execute purchases and trades on CoinSwitch without having to establish accounts on other exchanges.
"You want to know where you'll get the best price, and, even when you find out that information, you might not have an account with that particular exchange," said Sharan Nair, CoinSwitch's Senior Vice President for Business. "And each exchange has a different user interface. With CoinSwitch, you don't have to worry about any of that."
Comparison Shopping and Facilitating Trades Between More Than 500 Cryptocurrencies
Consumers shouldn't have to go through the hassle of establishing accounts across multiple exchanges and learning to navigate numerous user experiences just to purchase or exchange cryptocurrencies, Nair said.
"We make it so you don't have to do all that," he said. "With CoinSwitch, you don't have to create an account, you don't have to do KYC. We don't have to know who you are. We don't really want to know who you are."
Instead, CoinSwitch simply aggregates rates from across multiple platforms and serves as the conduit through which consumers can make the purchases and trades of their choosing.
The platform currently lists more than 500 coins with more than 45,000 exchange pairings available, Nair said. The company partners with leading global exchanges, including Binance, Ethfinex, KuCoin, and Idex.
"One of the main goals in launching CoinSwitch was to support a lot of different cryptocurrencies," he said. "Pretty much every exchange is going to have a Bitcoin or an Ethereum. But there are a lot of smaller coins out there that people are interested in."
He said there's a good chance that traders will find the lesser-known coins they are looking for on CoinSwitch.
Since CoinSwitch is a noncustodial exchange, Nair said, security issues are not a concern.
"You send and receive funds from your own wallet," he said. "In terms of getting hacked or funds stolen, that's not something CoinSwitch users need to worry about."
The company makes money through small transaction fees, which Nair said are never higher than 0.5%, and are built into the displayed exchange rates.
High-Quality Customer Service and User Referrals are Major Drivers in the Platform's Growth
When CoinSwitch was gearing up for launch two years ago, Nair said that the company leadership was pondering how to make the platform stand out in the world of cryptocurrency.
"We said, 'How are people going to know they can trust us?'" Nair said. "Back then, the cryptocurrency world was rife with all sorts of scams, people trying to steal money, all kinds of stuff."
He said the CoinSwitch team decided early on that providing high-quality customer service was going to be a key component to the platform's strategy. And the company has followed through on its strategy, which has contributed to its positive reception among users.
"We saw that one of the biggest issues users had with exchanges was that the customer service was really terrible," Nair said.
With CoinSwitch, he said if a user runs into any kind of problem, the issue is usually resolved within 10 minutes. "We quickly established a benchmark," he said. "Irrespective of who you are at CoinSwitch — the CEO or whomever — if a customer comes to you with an issue, you stop whatever you're doing and resolve that problem first, before anything else."
Nair said its proactive customer service approach has also been a major contributor to CoinSwitch's successful referral program.
"If you refer your friends to CoinSwitch and they sign up, when they make their first $100 transaction on the platform, you get $5 worth of Bitcoin and so does your friend," he said. "And for each of their transactions from then on, you share in 25% of the revenue, forever."
CoinSwitch's top referrer has earned around $700 worth of Bitcoin, according to the website.
Nair said CoinSwitch also relies on user feedback — informally and through user questionnaires — to help make improvements to the platform.
Businesses Can Implement CoinSwitch's API to Better Serve Their Customers
While most users will only interact with CoinSwitch's public-facing platform, Nair said the company also maintains an active B2B component to its business model.
CoinSwitch allows for other companies to implement its platform to facilitate cryptocurrency exchanges for their customers. "Launch your own personalized cryptocurrency exchange in less than two minutes with zero code and let your users trade directly from your website," according to CoinSwitch. Companies earn 50% revenue — which is paid out in Bitcoin — on all completed transactions through the custom instant cryptocurrency exchange.
For a more in-depth integration, CoinSwitch also makes available its API Developer Hub: "You'll find comprehensive guides and documentation to help you start working with CoinSwitch API as quickly as possible, as well as support if you get stuck," according to the website.
Companies earn 25% revenue share for all exchanges using CoinSwitch's APIs. The revenue share rate is flexible for high-volume partners. Customers can also access a "real-time dashboard with your transactions, their status and BTC commission details."
Companies that are currently integrated with CoinSwitch's API include Trezor, Exodus, Guarda Wallet, and Nem.
Additionally, CoinSwitch offers a service that allows companies to accept payments from 400-plus cryptocurrencies. "CoinSwitch automatically converts user currency into merchants' accepted currency at a fixed rate," according to the website.
Company payment is immediately sent to the payout wallet address.
Just as CoinSwitch offers fast, responsive customer service for crypto traders, the company provides high-quality developer support as well. If a developer can't find the solution to an issue in the extensive CoinSwitch API documentation or FAQs, the company encourages users to get in touch for a quick resolution.
Leveraging CoinSwitch Technology to Erase Barriers Between Different Blockchain Ecosystems
Nair said the future of cryptocurrency will rely on decentralized exchanges, such as CoinSwitch, that offer a quality user experience. "Today, people don't use decentralized exchanges because the user interfaces aren't any good, and people don't know how to go about using them," he said.
Another challenge to the widespread adoption of cryptocurrency is competing blockchains, such as the Bitcoin blockchain and the Ethereum blockchain vying for transactions.
"We're trying to build a payment system where you would be able to pay for an Ethereum-based application with any other form of cryptocurrency," Nair said. "I think that's going to be really important going forward. People will be able to move between different blockchains and not have to worry about whether this token or that token is going to work."
As the cryptocurrency ecosystem continues to evolve, companies like CoinSwitch are making major strides in breaking down barriers to entry for newcomers and creating a better experience for seasoned pros as well.