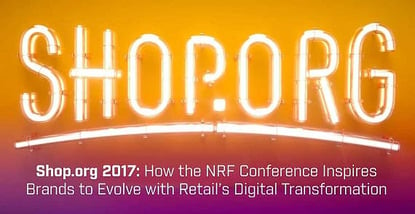 credit card news
Our experts and industry insiders blog the latest news, studies and current events from inside the credit card industry. Our articles follow strict editorial guidelines.
In a Nutshell: The digital transformation in retail is well underway and has already changed the way customers shop, and the way businesses engage with them. Shop.org is an annual conference organized by the National Retail Federation that centers on all things digital, providing attendees an opportunity to gain inspiration, knowledge, and practical tools to adapt their businesses to current trends and prepare for the future. Attracting CEOs, entrepreneurs, and thought leaders from the diverse fields of entertainment, technology, and business, Shop.org 2017 is designed to inspire, educate, and connect attendees in ways that encourage transformation on both a business and personal level.
As the retail industry continues to evolve, businesses that want to stay on the leading edge are seeking out the tools and knowledge that will enable them to roll with the changes. In January, 84 of the top 100 retailers in the US attended what many consider the premier conference focused on the retail industry: The National Retail Federation's Big Show in NYC, which annually draws over 34,000 industry professionals from across the globe.
Each September, the NRF holds Shop.org, a conference that expounds on the Big Show with a deeper focus on digital applications for retailers — featuring innovative business solutions from hundreds of exhibitors. Attendees also gain actionable insights from industry leaders, broaden their network, and stay on top of industry trends and the future of retail — which is the overarching purpose of the event.
"Shop.org has always been focused on delivering insight into the future of digital retail and demonstrating how that's applicable today and in our near future marketplace," said Cristina Ceresoli, Senior Vice President at NRF." It's about digital everything."
With more than 2,400 professionals projected to be in attendance and representing more than 560 retail companies, Shop.org focuses on the evolution of digital retail, exploring trends like VR technology, AI, automation, the rise of the omnichannel shopping experience, and emerging markets, along with standard retail topics like payments and conversions.
Delivering professionals the same level of inspiration, education, and networking opportunities, Shop.org 2017 will expand on a big topic from the Big Show earlier this year: digital transformation and how it impacts the way retailers gather insights and interact with consumers.
Technology is becoming the differentiator in the rapidly shifting digital retail landscape. With a broad lineup of speakers, hands-on sessions, and new layouts and exhibits designed with input from 2016's event, Shop.org 2017 aims to show retailers how to embrace technology to see not only digital but also personal and leadership transformation.
Focusing on Digital, Personal, and Leadership Growth
Transformation is the key theme of Shop.org 2017, and it reflects what the NRF is witnessing in the industry, as a whole.
"We, the retail industry, are at a point of transformation," Cristina said. "I don't believe the industry is dying; I believe it's growing. It's transforming while it grows. If you think of transformation as the key target of every conversation, then it can be small — like transforming your conversion or maybe even your payments. It can also be as big as changing your approach to customers or your competitive partnership."
Shop.org 2017 aims to create an environment that encourages transformation through conversations and interactions, starting with retailers' approach to technology. Historically, many retailers have viewed technology as a utilitarian business expense, but in the new digital market, technology is gaining recognition as something that can make even a small business stand out from its competitors.
To encourage greater engagement with technology, and understanding of its implications for retail, Shop.org 2017 will feature a new interactive Tech Lab. With 25 hand-selected innovations from startups representing the entire scope of the purchase process, Shop.org 2017 creates a vision of the retail experience of the future.
"It's a place where shopping comes to life in a near-future state. It's exciting because it makes it more tangible," Cristina said.
The conference seeks to motivate all levels of digital change. The greatest catalyst for this is a powerful lineup of keynote speakers and session leaders who will inspire attendees with personal stories of innovation and success.
"Now that technology is a competitive differentiator, it's a whole new and broader group of people coming to the table," Cristina said. "For us, it's that remarkable blend of players in retail, but also players in technology, entertainment, and a broader scope of business. They're converging — and have to converge — to serve the customer. It can't just be about a retailer anymore; it's the retailer and the whole ecosphere around them."
Speakers Share Real-Life Success Stories and Insights
Attendees pointed to the inspiration of experienced and insightful business and brand leaders as one of the most notable takeaways from the 2016 conference, and Shop.org 2017 brings yet another great lineup of movers and thinkers.
Based on the growing connection between retail and the wider digital sphere — especially as it relates to customers' expectations for an integrated shopping experience — Shop.org 2017 is bringing together a much more expansive group of leaders than it has in the past.
"Just by the nature of the changing landscape, this show has more focus on inspiration and how to pull many groups of partnerships and businesses together in ways that weave through transformation," Christina said. "We're letting them lead the way in terms of how digital technology is transforming businesses and helping all these retailers engage the customer."
The 2017 event's scheduled speakers include celebrity entrepreneurs, high-profile CEOs from established companies, startup founders, and top business school professors from not only retail, but a range of technology, entertainment, and business fields. An excerpt of Shop.org 2017's keynote sessions below shows how each one features speakers from diverse industries and backgrounds with inspiring stories:
L.A. Stories: Remarkable Reinventions features the stories of entertainment industry successes Tyra Banks and Disney SVP and CTO Michael White.
Act Like a Startup No Matter Your Size, featuring Marc Lore, President and CEO of Walmart E-Commerce US, will share digital commerce success stories.
Creative Conversations offers the insights of celebrity entrepreneurs like Kobe Bryant and Omar Miller.
Women Rule: Entrepreneurial Inspiration looks at the stories of five women and their startups, including theSkimm, founded by Carly Zakin.
"The number of incredible stories is almost beyond imagination," Cristina said. "If you're in an operating role where you're dialed in, it's eye-opening to realize that there's so much incredible leadership and transformation around you. The transformation is driven by the expansion and participation of so many leading thinkers, retailers, and people who strive for the satisfaction of the customer."
More Networking Opportunities and Accessible Education
Two other aspects of Shop.org 2016 that hit the mark for conference attendees were networking and education. In response, the NRF has designed the 2017 event to provide more streamlined opportunities for retailers and professionals to connect with their peers and gain insight they can implement in their industries.
"Not only is the show slightly smaller and more focused, but we did something different to spur engagement, networking, and a heavier focus on innovation," Cristina said.
First, this year features a new floor layout that promotes a connected, educational atmosphere.
"Within the exhibit hall, the stages, keynotes, breakouts, and exhibitors are all in one area so you can flow freely — different areas aren't partitioned off from each other," Cristina said. "This encourages networking, and the chances to consume content and education will also be easier and more spontaneous."
Beyond networking opportunities on the conference floor, Shop.org 2017 offers exclusive retailer networking events, including luncheons, dinners, and an Executive Afternoon. The Retail Innovation Lounge, first launched at SXSW 2016, will also be a popular feature. This fun, comfortable space integrates networking and learning into one "lounge-and-learn" experience, and features a lineup of sessions that give retailers the opportunity to mingle with not only their peers, but innovators, thought leaders, and experts in various fields.
With over 200 business solutions on display in Shop.org 2017's exhibition hall and dozens of new technologies in the Retail Innovation Lounge, attendees may find it hard to decide what's right for their business. Shop.org 2017 will help retailers with the selection process through a free program called NRF Engage. Participants have the opportunity for one-on-one consultation with solution providers to discuss their unique challenges and get expert recommendations for the right products and services.
With these and other educational opportunities at Shop.org, retailers can walk away more prepared to meet the challenges of their businesses.
"If you come to this show looking for the answer on how to compete, stay ahead, and make these two days worthwhile, then you're going to get that," Cristina said.
Actionable Content to Help You Compete in Today's Market
Events like the NRF's Big Show and Shop.org provide retail industry leaders with inspirational stories, networking opportunities, and education. But none of this is useful unless they leave with clear takeaways to share with their companies in a way that sparks transformation. Thus, the content presented at Shop.org 2017 workshops is designed to be hands-on and applicable to the everyday retail world.
"The feature stage and the breakout groups are places where a lot of interactive, tangible conversations will take place," Cristina said. "You can sit for half an hour and learn as much as you can about the consumer in a way that allows you to walk back into the office and make something happen for your brand, having gained insights from digital retailers doing it well and what partners they're working with."
As in 2016, the NRF will provide recap videos and materials with key takeaways to help leaders with the sharing process. And, for those who can't attend the event in person, there's also a podcast studio where the NRF will be capturing and broadcasting content from the event's speakers.
In addition to the Big Show and Shop.org, the NRF also hosts other annual events where retail industry leaders can continue to learn and grow — NRFtech for CIOs, CMOs, and digital leaders, NRF Protect for retail and restaurant loss prevention, and regional NRF Digital Dinners throughout the year.
"The NRF serves the retail industry. That is our goal — to deliver the best, newest, most helpful, and enlightening information. This is the most exciting organization I've ever worked in," Cristina said. "To be able to look at the entirety of the retail industry and operate in service of that scope is an honor and a responsibility."
As digital transformation and consumer expectations continue to drive change in the retail industry, NRF events like Shop.org show that retailers are leading that transformation, as well. And retailers that use Shop.org to learn from industry leaders, keep an eye on trends, and enact new digital strategies within their companies will continue to stay competitive and successful.