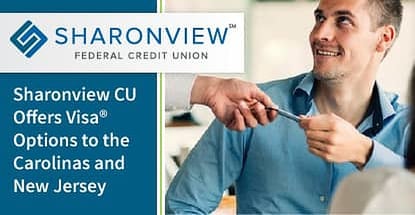 In a Nutshell: With so many options for obtaining lines of credit in the bank-heavy Carolina market, it's important that your card issuer offer competitive rates and terms that meet your specific needs. Whether you carry a balance from month to month or you're looking to build up a stockpile of rewards points to put toward a sizeable purchase, Sharonview Federal Credit Union's offerings feature top-shelf interest rates and reward options not found at many competing institutions.
As member-owned institutions, credit unions pride themselves on putting the word "service" first in their approach to delivering financial services. Thriving credit unions don't concern themselves with making decisions to help the bottom lines of third-party investors. Instead, any successes manifest in improved products, rates, and technology that help members' bottom lines.
Since 1955, Fort Mill, South Carolina-based Sharonview Federal Credit Union has prided itself on being about more than financial transactions. Its member-centered approach has earned the company awards as a top credit union in the country, and growing membership numbers in Charlotte's competitive banking market allow the nonprofit to offer products at rates many of its competitors won't come near.
This concept is most evident in its Visa credit and debit card options, available to all members through its 17 branch locations in North Carolina, South Carolina, and New Jersey.
Whether you regularly carry a balance and want to take advantage of low interest rates, or you're habitual in paying off your balance and want to be rewarded for it, Sharonview's array of card choices rank among the best in their respective classes. The Sharonview Rewards Program, which is free to join for certain Visa cardholders, allows members to earn reward points that can be redeemed for statement credit, merchandise, or other perks.

Traditional lines of credit are available through the Visa cards, as well as the HomeLine credit offering, which uses the equity you have in your home to create a revolving line of credit with no annual fees and variable rates for up to 15 years.
It's nearly impossible to make it through today's financial world without a credit option in your wallet. From shopping online to booking a trip through various comparison sites, you can't get far without plastic. However, it's important that you not only have a card that is dependable, but an issuer you can trust. Sharonview's lengthy track record and extensive list of happy members shows that it's risen to the challenge of its competitive surroundings and is looking to set the bar even higher.
The Affordable Rate Visa® Card is Ideal for Cardholders Who Carry a Balance
If you're one of the millions of Americans holding debt on their credit cards ($8,377 on average per American family in 2016), then you know how much it stings each month when interest charges are added to your existing balance. Minimum payments just won't cut it, and if your interest rate is as high as many cards on the market today, you may be paying off that recliner you ordered last week for the next three years.
Now, more than ever, it's important to know your interest rate — and work within your credit limitations to get that rate as low as possible. A lower rate decreases your monthly payments and limits the overall interest you pay on a balance, so a higher portion of your payment goes to paying down your principal. Many consumers sign up for new credit cards with low introductory rates for balance transfers. This allows you to carry the balance over from another card and use the introductory period to eliminate as much debt as possible before the regular rate kicks in.
Sharonview's Affordable Rate Visa® Credit Card is a card primed to help you pay off your existing balance. With an ultra-low 1.90% introductory rate for the first year of membership, and APRs as low as 10.24% after that, this card can help you eliminate your debt faster. Other highlights of the card include the 90-day product protection for purchases made with the card and the range of perks offered by Visa — all with no annual fees.
Keep the Great Intro Rate & Earn Cash Back with the Unlimited Rewards Visa® Credit Card
For those who tend to pay off balances each month, rewards credit cards are an excellent way of getting something back, like cash back or travel miles, for purchases you're already making. However, these cards often come with high interest rates to offset the expense of the rewards for the issuer.
With this in mind, rewards cards are not often worth pursuing for anyone who carries a balance, because any perks you'd earn would practically be canceled out when interest rates are levied. Depending on your future financial plans, however, Sharonview's Unlimited Rewards Visa® Credit Card may be the exception to that rule.
With the same 12-month, 1.90% intro rate as the Affordable Rate Visa® Card, the Unlimited Rewards Visa® Credit Card gives you plenty of time to pay off current debts under a stellar interest rate, while accumulating one point for every dollar spent. Ongoing rates vary between 11.74% and 18% after the first year depending on creditworthiness.
Your earned points can be redeemed for statement credit, gift cards, name-brand merchandise, and travel discounts. Sharonview also allows members with a loan to use their rewards points to lower the interest rate on the loan. All of these perks come with no annual fee, boosting your savings even more.
Sharonview Rewards & Concierge Service Add Convenience
Members that hold the Unlimited Rewards, HomeLine, and Visa Debit cards are eligible to be enrolled in Sharonview's Rewards program. Rack up one point for every $3 spent on Visa Debit Card transactions that require signature or PIN use. Also earn one point for every dollar spent on the Unlimited Rewards Visa Card, and a point for every $3 spent on the HomeLine card. The rewards options are vast, including everything from electronics and sporting goods to tickets to popular events and restaurant gift cards.
All offerings also include the Visa Concierge service, with 24/7 customer representative access through a dedicated line. The reps are on hand and able to help you with many of your potential needs, such as:
Restaurant recommendations and reservations
Travel information and assistance, including visas and passports
Hotel recommendations and reservations
Travel information and services for major cities and countries
Car rental, car service, and limousine service recommendations and reservations
Health club recommendations and reservations
Tickets for sports and entertainment
Business services, arrangements and foreign protocol information
Gift arrangements
Specialty gift research and shopping
All of these items are included at no extra charge and are included automatically with enrollment into eligible card products.
Learn to Use Credit Responsibly & Other Financial Lessons from Sharonview U
As Sharonview has grown to more than $1 billion in assets, it has looked to improve the lives of its members through different offerings. After all, the credit union wants to not only issue your credit products, but see your credit score thrive with their usage.
Among the products the credit union offers online is the Sharonview U financial education program. With links to outside e-resources on understanding your credit score, budgeting basics, home buying, and other important topics, the institution looks to help guide you through the early stages of wealth building into retirement. The program also offers articles, e-courses, financial games, and webinars through partner institution, GreenPath, Inc. Self-study learning lab courses are free to all Sharonview members.
"Better than any other financial institution I have experience with; Sharonview understands customer service. About 3-4 years ago, I received 'updated terms' in fine print on a bank credit card that I was using for most of my transactions. Buried in fine print was notice that foreign currency transactions would include a 5% surcharge. I could not find the equivalent rate for my SV card. After emailing my question, I had the answer the next day … 1%. I canceled the bank card and the SV card now gets 90% of my transactions." — Marty, member since 1987
Whether you're a seasoned credit card user or just starting to build your credit history, Sharonview's products offer competitive rates and terms that help it stand out from other financial institutions. The company dedicates a lot of its resources toward building strong financial knowledge that allows members to use the wealth of products to their advantage.
With so many options for financial institutions in the Carolinas and New Jersey, it's important that you trust your choice to not only have your best interests in mind, but also offer you the strongest products with the best rates for the long haul. Sharonview has built its reputation on doing just that.
Advertiser Disclosure
CardRates.com is a free online resource that offers valuable content and comparison services to users. To keep this resource 100% free, we receive compensation for referrals for many of the offers listed on the site. Along with key review factors, this compensation may impact how and where products appear across CardRates.com (including, for example, the order in which they appear). CardRates.com does not include the entire universe of available offers. Editorial opinions expressed on the site are strictly our own and are not provided, endorsed, or approved by advertisers.