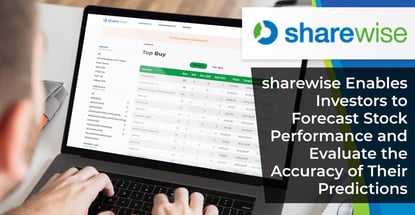 credit card news
Our experts and industry insiders blog the latest news, studies and current events from inside the credit card industry. Our articles follow strict editorial guidelines.
In a Nutshell: Advice on buying and selling stocks is easy to come by — the problem is figuring out which sources to trust. That's why sharewise was developed to make the process easier through a transparent, crowdsourced advisory model. The platform includes a forum where enthusiasts trade tips and develop strategies. Its predictions function takes investment advice a step further by enabling users to publish forecasts for others to consider and analyze. By allowing investors to serve as analysts for each other, sharewise uses the power of crowdsourcing to bring more data and analysis to stock evaluations.
It's never been easier to invest in stocks, with alternatives to traditional brokers and new online options popping up all the time. And when it comes to paying commissions on online trades, zero is the new normal.
Commentary on what to buy and sell can also be found in abundance. And as more investors have entered the field, the market for investment advice has grown.
Online and on television, celebrity analysts tell followers what to buy and sell. Experts with impressive professional qualifications compete for business, and anyone with an internet connection can offer an opinion.

Getting the performance you want out of your investments is ultimately about cutting through all that clutter. Especially in uncertain times of market volatility, success depends on building awareness and wisdom.
That is something sharewise figured out more than a decade ago. And today, the idea behind the sharewise platform is more relevant than ever.
At its core, sharewise is a social platform for stock tips. In forums, members of the sharewise community discuss stocks and current market trends. Users can also keep track of their favorite stocks on watchlists and find out which companies are currently paying dividends.
The true wisdom in sharewise, however, comes from the crowd. Users express what they think about the stocks they're interested in by issuing predictions about their performance that are recorded on the site. And users that build a record of successful forecasts on sharewise are often assigned more credence by investors.
"That was the original idea, and still is the main idea, at sharewise," Owner and Managing Director Stefan Nothegger told us. "This is the place where it is transparent how good someone is as an analyst."
A Platform for Investor Predictions & Building Consensus
As it stands in 2020, sharewise serves a primarily German-speaking community. Part of the platform is devoted to an English-speaking audience, but most of the activity in the forums originates on the German side.
But the site still monitors all the major stock indices, and translation software makes sharewise data and predictions available to everyone. Anyone can sign up to participate in the forums and use all other aspects of the site for free. Stocks that garner predictions run the gamut from Amazon to Zynga.
Nothegger, a native of Austria, founded sharewise to serve his private investor peers. The 2008 financial crisis led to the platform partnering with a European broker. Then, in 2012, sharewise joined forces with the Japanese platform Minkabu.
In 2019, Nothegger was offered the possibility to buy the platform back from Minkabu. Because of the support of the most active participants he immediately took it.
And gathering momentum on the English-speaking side is a matter of resource allocation. The platform plans to find a partner to establish it in the American market.
"We're interested in partnering and are in early discussions with some potential partners in the U.S.," Nothegger said. "From what I hear from my German users, they're really happy with the functionality, because this fresh start allowed us to focus again on the core product."
It has also simplified predictions. Now, users find a stock via search or in the markets area, select buy or sell, add a target price, and submit. There's also an option to add a detailed description in a forum thread for the stock. Users establish the runtime of their predictions and can update them at any time.
Friendly Competition Drives Engagement and Helps Users Earn Rewards
Platform users can filter data according to index, vertical, and market cap to reveal performance tops and flops. What's more, Germany requires specific classes of trading professionals to report their investment activity to the government, and generates data on insider transactions that sharewise makes available.
All of that insight goes into tables displaying the community's top buy and sell predictions. Drilling down from there reveals a dedicated page for each stock.
"For example, you can see how many of the recommendations fared in the last month and how much potential you have in terms of current price versus target price," Nothegger said.
Given the volatility of markets, investing is, in some ways, ultimately a game of chance. It's easy to understand why professional stock analysts might be incentivized to downplay their failures.
But on sharewise, predictions are all on the record. Users can track their own performance and test different strategies without investing real money. And predictions help all members of the community benefit from the wisdom of the crowd.
sharewise also drives engagement on the platform by running stock-picking contests. Friendly competition helps users test their skills and promote themselves to the community. Winners earn gift cards or the option to donate the proceeds to charity.
The contests are known as "Catch the Monkey" because on the first version of sharewise, back in 2008, one of the platform's co-founders would dress as a monkey to make his stock selections. The monkey has been replaced with a random generator, but the tradition remains.
"Our users find that it's sometimes tough to be better than the monkey," Nothegger said.
"Especially after you play several times, you can compare and see how often the monkey wins and how often you win."
Crowdsourcing Makes Investing a Social Enterprise
The sharewise platform offers more than just predictions and fun; it's a learning experience. And the information on the site can help users make informed decisions about their investments.
"Users can close a prediction anytime they want, but what we see is that some of our predictions run for a very long time," Nothegger said. "I would say that, especially for the long-term predictions, very often users have those stocks in their own portfolios."
And a key focus remains building out engagement on the English side.
"We want a partner in the U.S. somewhere who wants to add our capabilities to its offering, and we can accomplish that together," Nothegger said.
The potential is there because site analytics reveal that a substantial American and international audience visits sharewise to access its coverage of German stocks. The same thing could certainly happen in other global communities.
Meanwhile, sharewise continues to generate valuable user data while providing a large group of users more power than they would have on their own.
"We have professional hedge funds that are interested in our data," Nothegger said. "They all have their Reuters feed, their Bloomberg feed, and their fundamentals, but what they don't have is info on the behavioral or social aspects of private investors like we do. That is something very unique that we offer."