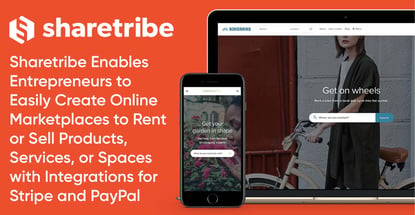 credit card news
Our experts and industry insiders blog the latest news, studies and current events from inside the credit card industry. Our articles follow strict editorial guidelines.
In a Nutshell: Sharetribe enables entrepreneurs and businesses to join the growing crowdsourced services industry by helping them launch their own online marketplaces. With Sharetribe Go's plug-and-play platform, there's no need to hire expensive developers to build an online store from scratch. For established businesses that need more customization or a personalized frontend, Sharetribe Flex offers options for nearly any marketplace scenario. The company maintains industry standard security practices and continually seeks user feedback to refine its product.
When Mike Williams sketched out an idea for the "Airbnb of recording studios," he was sure such a business already existed. But when he explored the market he found, much to his surprise, that nobody had jumped on the idea.
"That is the moment when I committed to building Studiotime," Williams wrote about the process. "Sometimes you have an idea that you know has to be built or someone else will."

Williams was looking at launching Studiotime as a side project and with essentially no budget. So, he built some parameters around launching the project, including not trying to reinvent the wheel when it comes to developing a marketplace for his project.
When he came across Sharetribe, he knew he had found just what he was looking for to help make Studiotime a reality.
"Our core mission is helping entrepreneurs and businesses to create their own online marketplaces," said Juho Makkonen, CEO and Co-Founder of Sharetribe. "We realized a lot of people had great ideas for the next Airbnb or Etsy, or some other special niche, who didn't know how to code."
Makkonen said these people were forced to hire developers to build code from scratch to launch their ideas, but the coding was all very similar in that it just created a marketplace for the business ideas.
Williams used Sharetribe to set up his online marketplace on the same evening he conceptualized Studiotime. Within hours of posting his new site to Product Hunt, more than 1,000 people had signed up for Williams' new service. Today, about 5% of all recording studios in the world are on Studiotime.
We recently had a chance to sit down with Makkonen to learn more about Sharetribe and how it is helping many other companies achieve success just as it did for Studiotime.
Sharetribe Go Provides a Convenient Plug-and-Play Solution to Easily Do Business Online
"We have a really wide range of customers," Makkonen said. "On one hand, there's the individual who hasn't even founded the business yet. They have a day job and they dream about becoming the next Airbnb or perhaps a smaller, local business."
Sharetribe Go was designed for these entrepreneurs, Makkonen said. Customers can sign up for a 30-day free trial of Sharetribe Go and see how their new business is initially received. After the first month, it costs less than a $100 a month to continue the service, he said.
Makkonen said the company realized early on that it would need to focus on certain types of marketplaces, and today that means catering primarily to services and rentals. He said these areas were largely offline when Sharetribe launched and were the most underserved markets with great potential for growth.
With Sharetribe Go, users without any technical developer skills can have their very own online marketplace up and running within five minutes, Makkonen said. He compared it to launching a new blog using the popular platform, Squarespace.
And the data and code are the user's to keep.
Sharetribe Go is also easy to monetize. Makkonen said the company uses Stripe and PayPal, and providers can receive money straight to their bank account as well as accept all major credit cards and PayPal.
He said the company is exploring ways to allow users to work with the payment provider of their choice, so they are not limited to Stripe or PayPal.
The platform works in more than 190 countries and 20-plus currencies. And Sharetribe Go users are able to charge a fee from each transaction and hold funds up to 90 days.
Sharetribe Flex Allows Greater Customization and Integrates with External Front-End Code
"Sharetribe can really be used for a variety of marketplaces, depending on the businesses' needs," Makkonen said. "The idea is that a business has a life cycle and it is going to start small. Then you're going to grow and mature, and need additional options and solutions. We can provide that through the entire life cycle."
Once the business needs those additional options, they can gain access to more customizations through Sharetribe Flex.
"Sharetribe Flex is a headless marketplace solution in the sense that you can build your own frontend fully from scratch, and we just offer the backend and APIs," Makkonen said.
He said Fortune 500 company Canon implemented Sharetribe Flex earlier this year to launch a P2P camera rental marketplace to allow customers to rent cameras from each other so they could try different models before purchasing.
"Sharetribe Flex provided the backend, and they had their own development team who built heavy customizations and design changes on top of that," Makkonen said.
The offering is ideal for those service and rental marketplaces similar to Airbnb, UrbanSitter, or Fiverr, according to Sharetribe, as Flex offers all of their features right out of the box.
"Sharetribe Flex is the most flexible platform solution on the market," according to the Sharetribe website. "Get the complete marketplace feature set at a fraction of the time and cost. Customize freely."
Interested individuals or businesses can currently request a free trial of Sharetribe Flex on the company's website.
Makkonen said Flex is an ideal solution for many growing service- and rental-based businesses that deal with some form of calendaring and booking because their needs can vary widely. The customizable nature of Sharetribe Flex allows companies like Studiotime to scale smoothly as it grows.
Top Security and Responsive Customer Support are at the Core of the Platform's Philosophy
"We consider support to be an integral part of our product," Makkonen said. "We try to make it as easy as possible to launch a marketplace, including automating processes whenever we can."
Still, some people are not attuned to technology, perhaps they are retirees launching a part-time business, he said.
"We promise that they will be able to use Sharetribe, even if it means lots of chatting with our support team," Makkonen said. "Ideally we can solve most peoples' problems in less than an hour."
Last year, the company released "The Lean Marketplace," a how-to book on building a successful online marketplace business. The book is an extension of Sharetribe's ongoing Marketplace Academy website. Through numerous tips, guides, and articles, the site can tell you "everything you need to know about running a marketplace." Users can join the 60,000-plus member Marketplace Academy email list to have new guides and tips delivered directly to their inbox for free.
Sharetribe also prioritizes providing a safe and secure user experience.
"We have a number of security experts on our team that implement best industry practices, especially as they relate to the General Data Protection Regulation," he said.
Makkonen added that, like Sharetribe, Sharetribe customers do not need to be PCI-compliant thanks to the company's partnerships with Stripe and PayPal. The compliance is built into each of those payment providers.
Makkonen said Sharetribe solicits feedback from customers to learn what they need, what they want to see, and how to make the Sharetribe experience even better.
"We can only succeed if they succeed, so we need to do our very best," he said.
Take note from Williams and his Studiotime idea; if you come up with a great idea that you think must surely have been done by now, or if you don't think you have the expertise or time to pursue your big idea, turn to Sharetribe. It might be able to make your idea a reality.