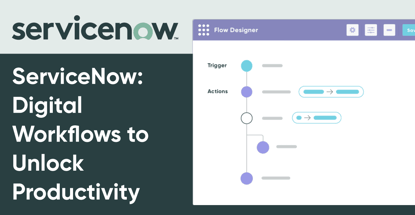 credit card news
Our experts and industry insiders blog the latest news, studies and current events from inside the credit card industry. Our articles follow strict editorial guidelines.
In a Nutshell: Thanks to digital transformation, the backend needs of financial institutions and that of other businesses are much different than they were in the past. ServiceNow delivers a modern enterprise solution with its cloud-based computing platform. The agile, AI-driven Now Platform is at the core of ServiceNow's functionality across many different industries. ServiceNow is currently used by 80% of the Fortune 500 to improve operations, including delivering more responsive customer service and reducing costs. And the company's customer success program and attentive customer support makes transitioning and staying up to date on the platform simple.
To the average customer, the products and services offered by banks and other financial institutions — including savings and checking accounts, mortgages, and small business loans, among others — may not look much different than they ever have.
But the way these institutions function behind the scenes is drastically different than at any point in the past thanks to ongoing digital transformation.

Institutions are faster, more responsive and better able to help and support their customers because of the growing use of technology. Computers take on massive tasks that were once done (much more slowly) by humans, freeing up employees and customers to focus on the areas that they excel at — strategic and creative thinking, unpredictable work, and customer interactions. However, the benefits of automating large portions of financial services cannot be seen unless institutions have a solid infrastructure and modern software solutions in place.
That's where ServiceNow comes in.
The cloud-computing company delivers a software-as-a-service solution to digitize workflows, and in the company's words "make work, work better."
ServiceNow was founded in 2004 by Fred Luddy, an enterprise software veteran, said Holly Simmons, who works in Global Product Marketing for the company's Customer Service Management solution.
"What he really wanted to do was create this cloud-based platform that would enable regular people to route work effectively through the enterprise," she said. "(The idea) sounds simple, but, obviously, it's not so simple to create that."
In creating the platform, the questions always returned to exploring how to really improve productivity and customer experiences while connecting all business processes, inside and outside the organization, Simmons explained.
The Now Platform and Its Native AI Technology Powers Solutions Across the Enterprise for Numerous Industries
At the heart of ServiceNow's technology is the Now platform which serves as a single foundation for delivering enterprise-wide digital workflows across a wide range of industries, Simmons said.
"Simplify how work gets done and deliver intuitive experiences using a powerful workflow engine with native artificial intelligence," according to the company. "Transform your enterprise with a single cloud platform."
Simmons said the company also maintains a single data model, which enables a lot of flexible building options and configurations, allowing companies to do what they need to do for their specific business.
"Every ServiceNow solution is underpinned by the Now Platform. That is the technology that allows us to connect everything with digital workflows," she said. "It really acts as the glue that enables companies to design end-to-end internal and external everyday business processes, enabling productivity and improving customer experiences."
The company facilitates the ability to connect ways in which customers engage with the delivery of a service, Simmons said, which could be through a self-service portal, by connecting a bank customer with an agent or connecting a business with a client services person.
"The second part of this is — in a customer support scenario — connecting all of those agents with other people in your organization," she said. "That could be billing departments, it could be operations departments if there's technology involved, it could be legal, or it could even be third parties."
It's all about taking the broken processes and manual activities that happen behind the scenes, and connecting them all, Simmons said, so that customer engagement is connected to the delivery of the service itself.
With the rising expectations of customers and the need for businesses to retain and grow revenue, companies need to be able to provide an end-to-end service experience that proactively resolves complex customer issues.
How ServiceNow Delivers Responsive Customer Service and Reduces Costs for the Financial Industry
Simmons said that ServiceNow hows always been a platform company, but the first use case and application of this platform was in the IT service management space, where it is now a market leader.
"What ended up happening next was kind of interesting — a lot of our customers started taking the platform and building applications for other purposes," she said. "HR is one of those areas. Customer service is also one of those areas. They started building customer service applications and a lot of those were financial service companies."
This organic shift toward ServiceNow's offerings happened because the platform is able to support extremely complex processes and it is able to alter them very quickly as well, Simmons explained.

"Your customers deserve nothing less than the best," according to the ServiceNow financial services page. "We'll help you tirelessly innovate, deliver amazing service experiences, and reduce cost and risk — all on a single platform. Our business is all about yours."
The platform can help improve customer experiences by empowering agents and advisors to be able to make the right decisions and act faster by digitizing the customer service journey, according to the company. All while making the company's products and services more secure.
Additionally, businesses can cut costs by unifying multiple systems on a single cloud platform.
In addition to American Express Global Business Travel, other familiar names in finance that have benefitted from ServiceNow include Moody's, GE Capital, and the Royal Bank of Scotland.
"We have 80% of the Fortune 500 using ServiceNow today," Simmons said. "And we tend to focus on mid-market and up rather than SMBs, so more on the enterprise side of things. And, we've got a lot of customers taking advantage of our solution across financial services — so it's wealth management, insurance, commercial banking, retail banking, and so on."
Onboarding, Certification, and Staying Up to Date with ServiceNow's Platform
While the prospect of leaving old, familiar systems for a new approach can be intimidating (even if the new system is far superior), ServiceNow eases the transition with an abundance of support materials for new and longtime clients.
The company provides support 24 hours a day, seven days a week through a variety of channels and makes onboarding easy for those who are new to the platform.
"Getting everyone on board with a new ServiceNow implementation is easier with excellent communications, solid governance, and tried-and-true training methods," according to the company website.
ServiceNow provides navigational tools on its site to help guide new clients toward best practices on the platform.
"We spoke to hundreds of customers and distilled our findings into four Success Pillars. Each pillar has activities to guide you on the path to success," according to the website. "Not sure where to start? Use our Success Navigator for a personalized plan to fast-track your journey."
The four pillars of success consist of stating and measuring your business goals, actively leading your business transformation, getting your technology foundations right, and creating user excitement to drive adoption.
Overall, the pillars guide users through 19 clearly laid out steps to success with ServiceNow's Now Platform.
The HI Service Portal helps clients get the information they need quickly, whether it's acquiring documentation, connecting with the ServiceNow community, or finding pertinent articles.
Financial institutions don't have to be left in the dark when it comes to digital transformation. With ServiceNow, companies can integrate many processes into one convenient, cloud-computing platform, positioning clients and their customers for success.