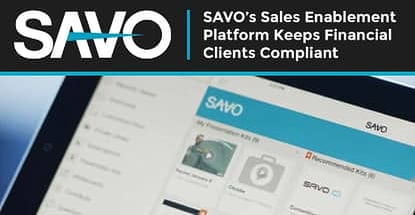 credit card news
Our experts and industry insiders blog the latest news, studies and current events from inside the credit card industry. Our articles follow strict editorial guidelines.
In a Nutshell: Financial services firms face an ever-changing scope of compliance regulations and content management issues in today's digital landscape. To help clients maintain control over their data, the SAVO Group offers a suite of sales-enablement products that include solutions for content management, customization, and engagement. The products are fully customizable to any size organization and assure the most up-to-date and compliant data is being used in sensitive documents like pitch books and sales presentations.
Most people can understand the tension that comes before, during, and after a job interview. Even the best preparations — making sure you're wearing the right outfit, having a good understanding of the company's culture, and being equipped with great answers for any potential questions — can go out the window when the actual interview begins and the stress levels rise.
Now imagine an entire company and all of its employees are depending on the outcome of that interview. One slip-up and profits, jobs, and future growth can all be at stake.
That's the type of stress that client-facing members of a sales team face every day. Whether through a one-to-one sales channel or in a large pitch meeting, having the right answers and information can mean the difference between a big deal or a big dud. Many companies invest millions each year to solve compliance issues during these meetings. A pitch book must have the most up-to-date information. Salespeople must have access to only the information needed to do their jobs.
The SAVO Group's software solutions address these problems while helping clients transition from a product-focused sales strategy to solution selling. The company's suite of sales-enablement products include solutions for content management, customization, and engagement.
"The solutions are designed to help internal content owners who are responsible for enabling your client-facing teams — wealth managers, sales agents, or whoever it is — to have the right conversations in front of customers," said Chris Tratar, VP of Strategy at SAVO.

Those conversations can make or break potential sales, or determine the compliant nature of the information being shared — both of which are vital components of any financial institution's operations.
Chris said about 30% of SAVO's clients fall within the financial services space. That number grows as firms better understand the usefulness and scalability of the SAVO platform.
"We work a lot in the commercial banking space, as well as treasury management, investment services, insurance services, and wealth management," Chris said. "We also work with credit card transaction clearinghouses."
When a client's content is ingested into the SAVO platform, content managers can customize documents to ensure the latest data is being displayed, inject interactive tools and calculators to promote customer engagement, or restrict data access for employees without viewing permissions.
"If you're a treasury representative selling card service, you're actually not allowed to see the other products you may potentially sell in treasury," Chris said. "If you sell a specific set of insurance lines, you don't see the content for the other lines. It keeps the sellers from getting themselves into trouble because they never know the content is there in the first place."
Chris said the content restriction feature is a large part of SAVO's success because it allows salespeople to focus on what they were hired to do — sell — in a personalized, more attentive way.
Sophisticated Workflow Solutions for Content Management
SAVO's solutions are available in 23 language capabilities across Europe, Asia, and North America. Content managers are given tools that allow them to instantly update employee permissions and data access at any time from anywhere in the world.
"There are several things built into our product that keep up with our clients' compliance needs," Chris said. "We have very granular ways to segment content so people who shouldn't have access to that content can't stumble upon it."
SAVO also tracks different versions of documents – monitoring when the documents were uploaded, when they were modified, and by whom. Reverting to, or viewing, previous versions of a document, make certain that client-facing teams are always presenting the most up-to-date information.
"From a compliance perspective, we think about the personas that interact with our software — whether they be administrators, content creators, or the front-line people doing the selling," Chris said. "We craft a solution around those personas so that they only get as much access to content as they're allowed."
Customizable security levels make accessing documents nearly impossible for someone without the proper permissions.
"It can be as open or locked down as you choose," Chris said. "Many of our financial services customers are very particular about their compliance and workflows."
Automatic Integration Makes Document Customization Easy
Most of SAVO's clients come from the financial services, high-tech, and manufacturing industries. The wide range of needs and compliance issues each face make it important that the software being used is scalable to the size and scope of each clients' operations.
"We have credit unions that use our software, we also have large commercial banks and medium-sized credit clearinghouses," Chris said. "The software is scalable across just about any size organization."
SAVO's platform also offers automatic integration of content and company-specific information that make creating data-sensitive materials like pitch books easier and more accurate.
"Compliance is very important for things like pitch books because you have a legal obligation to provide the right disclaimers and the most up-to-date fund information so people can make the right decisions," Chris said. "Our software handles that for our clients."
SAVO's scalability not only adjusts to the size of a client organization but also adapts to the type of data being presented or stored.
"We do a lot of fund automation applications as well as being able to integrate into different types of data sources — whether internal data sources or public fund information," Chris said.
Scalable Resources for Financial Clients of Any Size
In today's fast-paced world of financial services, firms are forced to adjust to a growing number of compliance requirements, while also providing customers with a sales experience that is personalized and productive.
SAVO covers both territories with a sales-enablement platform that is scalable to any size operation and maintains compliance with content management, engagement, and customization options.
"We are definitely an enterprise-class solution," Chris said. "We have very rigorous security and compliance controls for our software and infrastructure — things like SOC 2 compliance and CSTAR."
SAVO's dedicated itself since 1999 to improving the sales experience and helping clients retain control of their content while maintaining control over security and compliance standards that are constantly changing.
The company's growing list of clients includes many of the largest commercial banking entities in the US. Integration into the software is fast, with a 6- to 8-week onboarding process that takes new clients from contract to being fully online.
Clients also get the peace of mind that their content management solutions are safe and secure, with minimal downtime to the suite of products.
"We have very rigorous standards around uptime for our solution," Chris said. "We do penetration and security tests on a regular basis. It's not just the software functionality, but the infrastructure and cloud computing elements that it sits on top of."