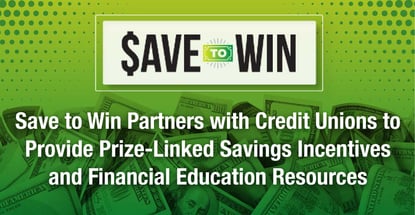 credit card news
Our experts and industry insiders blog the latest news, studies and current events from inside the credit card industry. Our articles follow strict editorial guidelines.
In a Nutshell: Prize-linked savings (PLS) programs are shown to incentivize wealth building without any risk. Save to Win, one of the longest-running national PLS programs, gives credit union members in 25 states — and counting — opportunities to win cash prizes as they save. Its long-term share certificate accounts offer higher interest rates than those for typical savings accounts, and deposits can earn entries into member, state, and national prize drawings. Save to Win also offers educational resources and tools to help credit union members make the most of their money.
Finding the motivation to save money typically means denying immediate gratification for the promise of long-term goals. It also takes years of discipline, consistency, and self-control to make those financial dreams a reality.
But one savings method has become widely popular because it provides a chance at a short-term reward while incentivizing people to deposit money into their accounts.
It's called prize-linked savings (PLS), and it differs from raffles and lotteries in a significant way: participants enter drawings based on how much they save rather than how much they spend. In fact, it's sometimes called the no-loss lottery.
"It's not gambling because you get to keep the money you're investing," said Andre Mello, Project Manager for Save to Win, one of the longest-running national prize-linked savings programs in the U.S. "It's a savings account that's tied to a raffle, and it gives you the chance to win prizes as you save."
Save to Win, which is offered exclusively to credit unions, is based on the research of Commonwealth founder Peter Tufano and was launched in Michigan in 2009 in partnership with the Filene Research Institute and the Michigan Credit Union League. In its first year, members saved $8.5 million across 11,000 savings accounts, demonstrating the incredible potential of incentivizing consumers to save money and build healthy financial habits.
After launching successfully in other states, Save to Win expanded into a national program in 2015. Today, Save to Win is managed by Credit Union Solutions group, an affiliate of the Michigan Credit Union League, and is available to members of 125 credit unions in 25 states — and counting.
12-Month Shared Certificates Help CU Members Save Longer and Win
Several unique features make Save to Win accounts effective at helping members maximize their savings while earning prizes.
The accounts are insured, 12-month share certificates, which means they take a full year to reach maturity. The initial deposit and minimum monthly balance must be at least $25, and account holders can make only one withdrawal each year — for a fee of $25. But this rigidity pays off.
"There's typically a higher interest rate in a shared certificate than in a regular savings account, but you don't have as much flexibility with withdrawals because the goal is to make sure you're building an investment," Mello said.
At the end of the 12 months, a 30-day grace period allows account holders to withdraw their funds without penalty. As long as there's a minimum of $25 in the account, certificates automatically renew and stay active from year to year.
Meanwhile, deposits are typically unlimited and encouraged as they are critical to both saving and winning. Members who increase their account balance by $25 each month earn one entry in both a monthly and quarterly prize drawing.
"We set it up that way because we didn't want people to have to deposit $25 at a time to get an entry. If someone has $5 to deposit at the beginning of the month and then $20 at the end, they still get an entry because they're going to have a $25 higher balance month over month," Mello said.
The program also places a cap on drawing entries to avoid giving an unfair advantage to those who make numerous or high-dollar deposits, according to Mello. "You're allowed a maximum of 10 entries per month and 30 entries per quarter. So that allows you to maximize your entries by saving $250 a month," he said.
Save to Win conducts a drawing on the 14th of each month, while quarterly drawings are held in January, April, July, and October, for the previous quarter's qualifying entries. Credit union members can win prizes at multiple levels — credit union, state, national — in the same month and can also win multiple months or quarters in a row. Prizes range from $25 to $5,000 and are deposited directly into the winner's share account within 14 days of the drawing.
"The way it works is that we're incentivizing people to save. The more money you save, the more chances you have to win," Mello said.
Prizes Funded by Credit Unions and State CU Leagues
Save to Win is available exclusively to credit unions located in states that allow prize-linked savings programs. Once a credit union joins the program, its members are free to open a Save to Win account.
Credit unions play a vital role in the program, as they fund its cost, as well as all cash prizes.
And all Save to Win states are eligible to participate in its multi-state prize program. In certain states, credit union leagues also contribute toward state-level drawings. Recently , Georgia, Ohio, and Utah have all passed Prize-Linked Savings legislation, joining the 32 states in which PLS programs can be run.
"In those states, credit union members who earn entries into the national drawing have the chance to win prizes in the state drawing," Mello said.
Individual credit unions may also decide to set up a drawing exclusively for their institution, increasing the chances for their members to win rewards for saving money. And any credit union that would like to learn more about how to join Save to Win can contact Mello at savetowin@cusolutionsgroup.com.
Tools and Resources to Help Build Healthy Financial Habits
Save to Win's ultimate mission is to help people who might not otherwise be saving money find the motivation to kickstart a healthy financial habit — and learn how to manage their finances as their savings grow.
"Save to Win was created to incentivize savings and financial responsibility. The idea is that you're not only saving, but also saving for a purpose. We want to get people accustomed to saying, 'Since I have a 12-month certificate account and I'm going to be saving every month, what can I save towards?'"
The site offers numerous resources alongside its savings program to further educate consumers on money management skills.
In the Financial Resource Center, visitors can browse through a library of articles on practical financial topics — from booking cheaper flights to the ins and outs of insurance and IRAs. In its Savings Toolbox, Save to Win offers free financial calculators that can determine an affordable auto loan, the best payoff schedule on a credit card, and a monthly budget, among other areas. It also includes a tool for creating savings goals.
"Many times, we hear people say they don't have enough money to start saving. There are plenty of things you can do to start building that, whether trimming spending or avoiding credit cards with high interest rates. So, the page gives a bit of advice about how to create a savings plan. There's also a savings calculator within the savings goal and some helpful tips as to how to develop a budget," Mello said.
Encouraging Legislation to Bring Prize-Linked Savings to More States
Thanks to the participation of credit unions and credit union leagues, Save to Win has awarded nearly $3 million in prizes to more than 35,000 credit union members nationwide. Through its website, marketing efforts, and work with legislators, Save to Win continues to spread the word that saving money is not only possible but also fun — especially when you combine short-term rewards with the long-term benefit of financial security.
Save to Win operates in 25 of the 32 states that allow prize-linked savings programs, and it aims to expand into more states. Since legislation is the first requirement, Save to Win regularly reaches out to state governments to educate them on prize-linked savings, its history in the U.S., and its proven benefits to citizens and state economies — information also included in the financial education section of its site.
"We work with state legislators to increase understanding," Mello said. "In states that do not have prize-linked savings, we check in with legislators yearly. We provide support by supplying different templates of what the bill could potentially look like and help them present it to their government."
Credit unions in PLS-friendly states can visit Credit Union Solution's marketing page, where they can download a brochure or request a quote. And credit union members interested in finding a Save to Win-participating credit union in their state can use the search tool on the site to find a local program.
As Save to Win continues to grow nationwide, so will the bank accounts of credit union members around the U.S.