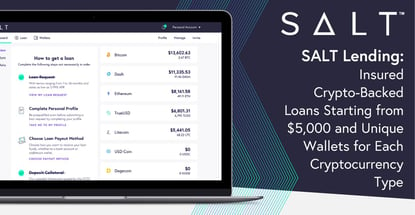 credit card news
Our experts and industry insiders blog the latest news, studies and current events from inside the credit card industry. Our articles follow strict editorial guidelines.
In a Nutshell: The founders of SALT Lending created the company after realizing the cryptocurrency space needed a way for crypto holders to leverage their digital assets for fiat loans. And since its launch in late 2017, the platform has been doing just that. SALT Lending provides insured, crypto-backed loans starting from $5,000. The company strives to deliver a transparent, user-friendly platform by maintaining a scholastic approach to development and holding integrity as a leading company value. With its top security practices and high-quality customer service, SALT Lending is positioned as a forward-thinking platform that can effectively preserve the value of borrowers' cryptocurrencies.
Since the earliest civilizations, salt has been used as a form of currency. The abundant spice contains essential minerals needed for life and is also an effective preservative — an extremely valuable use for sodium chloride in the days before refrigeration was readily available.
In fact, ancient Roman soldiers were paid in salt. And the word salary comes from the Latin word salarium, which translates to salt money.

The founders of
SALT Lending
were aware of the importance of salt in the history of world economies, and that's why they selected the name for their crypto-backed loan company in 2016.
Originally, the company's founders were coming together to establish an entirely different business, said Rob Odell, SALT Lending's VP of Product and Marketing. But when the team of early cryptocurrency adopters reached out to banks for funding using their crypto holdings as collateral, they were shot down.
Of course, this made clear to the group of crypto enthusiasts that there was a void in the finance market. Surely, they couldn't be the only ones who have looked for a way to leverage their digital assets as collateral for fiat loans?
"That's when they started working on the original white paper," Odell said. "By early 2017, we were doing test loans with friends and family and launched our first beta version in December 2017."
Odell said SALT Lending's crypto loan platform has evolved since its earlier iteration to become increasingly more convenient, user-friendly, and secure.
Crypto Holders Can Leverage Digital Assets for Fiat Loans
The originating concept behind SALT Lending — which remains the company's central value proposition — was simply to provide a way for those who hold cryptocurrency to use their holdings as collateral for loans.
"SALT was founded in 2016 by a group of Bitcoin enthusiasts who aimed to prove that people didn't need to compromise their lifestyle or forego their needs in order to pursue a long term outlook on cryptocurrency," according to the website. "We introduced asset-backed lending to the cryptocurrency marketplace, providing a new level of versatility to digital asset holders."
Borrowing money against stocks and bonds has been a tried-and-true practice in the world of traditional finance for years, and now SALT Lending has helped deliver a parallel tactic to the world of decentralized digital currencies.
SALT Lending customers can take out loans starting as low as $5,000 with interest rates from 5.95%. Loan terms range from three to 12 months, and borrowers pay nothing in origination or prepayment fees.
The platform's loan-to-value (LTV) ratios range from 30% to 70%, which sets them apart from some other crypto-backed lenders.
"We're one of the only lenders that allow people to start with a 70% LTV," Odell said. "Which means that if you have $100,000 in crypto, you can take out $70,000 in a loan. Most of our competitors don't go above 40%, depending on the asset."
Borrowers can use a single cryptocurrency as collateral on their loan or a combination of multiple cryptocurrencies if they hold multiple digital assets. Cryptocurrency SALT Lending currently accepts Bitcoin, Ethereum, Litecoin, Dogecoin, Dash, USD Coin, Bitcoin Cash, Paxos Standard, and TrueUSD
A Scholastic Approach to Development with In-House Wallets and a Transparent User Experience
Besides simply providing a platform for crypto-backed loans, SALT Lending also sought to make the process and platform as transparent as possible, Odell said. Part of the whole concept of cryptocurrency is transparency, and the SALT Lending founders wanted to stay true to that ideal.
"We wanted to be able to respect that transparency and wanted people to be able to see their transactions on-chain, and to be able to see their deposits on-chain," he said. "Our whole platform was originally built around this idea that, if you're depositing Bitcoin with us, we're not lending it out the back door. We're trying to be as transparent as possible."
The platform also strives to be a leader in innovation through its approach to development and company decisions.
"Continually growing, all challenges are met with a scholastic approach, bringing intelligence to each product, design, and procedure," according to the website. "We pursue our mission and make decisions with conviction. Upholding integrity in every action is in the DNA of our organization."
To that end, SALT Lending developed its own wallet infrastructure that doesn't rely on a third party for the custody of assets, Odell said. "That's one of the things we've done that no other lender has done, that I know of," he said.
And besides transparency, Odell said one of the company's other high priorities is usability.
"We realized that although we're building something for people with some familiarity with crypto, that doesn't mean they necessarily know how all of it works," he said. "So we spent a lot of time early on to build an experience that was similar to something you would already find in the real world."
SALT Lending Prioritizes Security and Customer Service
"We're a customer-first business. We wouldn't exist without customers," Odell said. "That's why we focus on our loan operations team and our customer support team — which is on the front lines with our borrowers talking to them every day, fielding any issues, and working through problems they might have."
Odell said the SALT Lending leadership team also meets with the loan operations team once a week to hear about any new feedback coming in from customers or any issues that need to be addressed.
"We basically prioritize feedback that's affecting the customer experience or that we think will improve the customer experience, and we validate that across multiple users and multiple sessions," he said.
SALT Lending also strives to provide a safe and secure experience and goes a step further by providing comprehensive insurance for their loans.
"Crime insurance protects your digital assets held in cold storage on our platform in the event of theft, fraud, or other crimes committed against our infrastructures," according to the website. And cyber liability insurance is "SALT's protection as a company in the event of Internet-based risks to your personal information due to a third-party breach or cyber threat."
Borrowers can also monitor the health of their loan in real time, according to the website. And customers can choose to be notified for pertinent information related to changes in their loans.
"We monitor your account, every moment of every day," according to the company. "Choose the notification triggers that work for you and get free, personalized account messages in real-time via SMS, email, phone call, push notifications."
Odell said SALT Lending is continually aiming to improve its offerings for customers through innovative technology, as well as partnerships with other companies. He said SALT currently has some exciting partnerships and other developments on the horizon. Readers can check back with the SALT Lending website for the latest news.
So, while you may scoff at the idea of your employer paying you in salt today, remember the important role that salt played in the history of money, and think of SALT Lending when it comes time to preserve your digital assets.