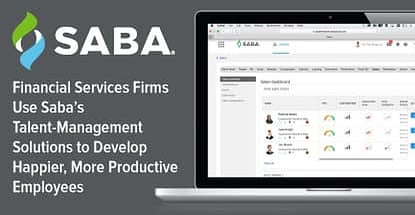 credit card news
Our experts and industry insiders blog the latest news, studies and current events from inside the credit card industry. Our articles follow strict editorial guidelines.
In a Nutshell: Financial services companies are in heavy competition to attract and retain top talent. Employee turnover rates have increased thanks to a combination of factors — including a surge in retiring baby boomers and millennial professionals chasing high salaries — prompting companies to ensure that each worker feel engaged and fulfulled in their job. Saba for Finance offers a cloud-based suite of products that helps companies find the talent they need and, once they're hired, keep their employees satisfied. The solution allows companies to push out compliance or other professional training and track completion, while letting employees set goals that provide opportunities for communication with management. Clients have attributed their higher employee engagement and customer satisfaction scores to the implementation, rollout, and adoption of Saba's solutions.
My parents come from a generation of workers who stayed with the same employer for 30 years. They put in countless hours on (and sometimes off) the clock and slowly saved their way to retirement. On my father's last day on the job, after 36 years of near-perfect attendance, the company gave him a mantel clock as a thank-you gift for his service.
By his fourth month of retirement, the clock had broken.
If anything, the clock is a symbol of the modern workforce. Many workers today feel their efforts aren't appreciated or compensated properly, which causes some to switch jobs — and sometimes professions — multiple times over a career.
US workers remain at their current job a median of only 4.2 years. Today, the onus is on businesses to retain the most talented workers for longer than that and employ them all the way to retirement. But there's no manager talented enough to assess an employee's level of satisfaction with their job based on sight alone.
Like most problems in today's business world, technology provides multiple solutions for this issue — and Saba's talent management software suite is a top option for financial service firms nationwide.
The cloud-based software helps companies attract, retain, and develop top talent, keeping each firm's best employees in-house and in positions that best suit their strengths and interests.
"We integrate several traditional functions of talent management into our platform," said Anita Bowness, Global Practice Leader in Saba's Strategic Services. "Users get the end-to-end capability of creating employee experiences from the time you go out to attract a candidate, to onboarding them, and through aligning their employee expectations, their personalized learning and development plan, and then measuring their engagement or satisfaction with the organization over time."

Saba Software's talent management system is designed to create high-performance cultures, deliver the experiences employees will love, and provide insight to talent leaders to elevate HR's impact on business success.
Employees can establish, or respond to, performance goals in their personal online interface, which is also viewable by management. Everyone involved can leave comments to create a smooth channel of communication between employees and upper-level executives.
"We also support succession planning and career planning," Bowness said. "So, really, our entire focus is to get the right people at the right place at the right time in your organization and grow individuals to help them get to where they want to be in their career."
The solution, which is specifically architected to meet the strict needs of financial service providers, can add, track, and record compliance training modules and maintain staff certifications. Bowness said Saba's clients range from small credit unions to insurance companies and large enterprise institutions.
"From a financial services point of view, it is a very flexible and scalable solution where we work with our customers in that space to understand the unique needs of their business, their organizational priorities, and how to align with their talent development strategy," she said.
Learning Opportunities Promote Growth and Compliance
Saba can deploy compliance training, whether in a classroom or e-learning setting, to help companies stay on top of their ever-growing certification demands. The employee interface displays everything required of a user, and employees can select which classes they want to take at the moment.
Saba's intention is to configure each company's learning experience to match its goals, needs, and culture.
"There are interfaces for employees, managers, and administrators," Bowness said. "Employees have access to their personal pages through Saba Cloud. When they log in to the solution, they can set or manage their goals — which can relate to performance, development, or for specific assignments."
Employees can also leave notes related to their progress, which can be read and responded to by managers. Bowness said that is an underrated benefit of the solution.
"Many organizations use this as a conduit to facilitate better manager-employee conversations," she said. "This makes the manager a performance coach who can talk with employees about goal progress, goal attainment, or what challenges and obstacles the employee may be facing."

Customers also use the platform to deploy important notes or learning materials to employees without the need to send mass emails and wait for replies.
"For financial markets, there are going to be times when you want to push out learning," Bowness said. "You may want to push out compliance training or industry-specific training or other training that you want to make sure employees stay current on to maintain licensing or certification."
Saba gives its customers the ability to push out, track progress, and report on the completion of all training modules by employees, location, branch, and sector.
"A lot of the issues financial services companies face deal with making sure their employees have the necessary training to meet compliance initiatives, and that the employees can demonstrate the industry-specific skills required under the various areas of compliance," Bowness said. "We help them do that."
A Cloud-Based Solution that Updates and Patches Itself
Since Saba for Financial Services is a cloud-based solution, users don't have to install the software on-premises and can onboard remotely in very little time.
"We have a professional services team that supports clients that are onboarding on the solution and configuring it to their organization's unique requirements," Bowness said. "We know the system inside and out, and can work with the customer to identify their objectives and where they want to begin — whether that's performance, learning, recruiting and onboarding, or all three at once."
The first step in creating a successful implementation for Saba clients is to make sure the product is tailored to meet its intended purpose and objectives. To achieve that, Saba's team curates the product in unique ways for each client.
"After the goals are established, we configure the program to do whatever the customer needs so they can take ownership of the solution," Bowness said. "Since it's cloud-based, any system updates are automatically pushed out to every customer, so they aren't responsible for keeping on top of versioning and patches."
Scalable Software for Organizations of Any Size
Bowness said Saba's solution has no typical client. Instead, the company scales the product to the needs of financial service providers of all sizes.
"There's a real variety to our customers in the financial space," she said. "We have a broad product suite, with some products more tailored to small and mid-range organizations, while other products are more scalable to the larger enterprise."
As an example, Bowness pointed to a credit union that directly attributed its higher employee engagement and customer satisfaction scores to the implementation, rollout, and adoption of the Saba solution. Employee engagement, she said, is key to improving business operations and office atmosphere.
"Engaged employees tend to be those employees who are happy at work and have high satisfaction," she said. "That satisfaction comes when the expectations of what they want to get out of their job are met or exceeded."
Engaged employees are also the ones who stay longer at their jobs and build careers that are productive and satisfying at the same time — and often lead to retirement celebrations at the conclusion of 30-plus years of service at the company.
But this time, hopefully, their clock will work longer than four months.