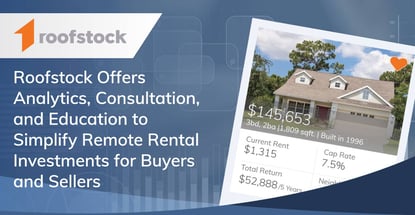 credit card news
Our experts and industry insiders blog the latest news, studies and current events from inside the credit card industry. Our articles follow strict editorial guidelines.
In a Nutshell: Roofstock is revolutionizing the process of buying and selling rental homes — allowing buyers to purchase with confidence no matter their geographic location or experience level. The company certifies properties and tenants for rentals transacted on its platform and gives sellers access to a worldwide market of potential buyers. Roofstock eliminates the guesswork and management hassles associated with buying rental homes and has facilitated the transaction of over $1.6 billion in real estate assets since its launch in 2015. And the company continues on its mission to bring greater efficiency, transparency, and certainty, and change to its home transactions.
Since the start of the 2006 housing market downturn, the number of Americans living in rental properties has increased by nearly 40%, according to census data. And, over that time, the number of owner-occupied homes has declined.
Purely economic factors — including rising student loan debt, stricter lending terms, lagging home inventory, and higher home prices — provide a partial explanation for those trends. But many potential homebuyers seem to be making a conscious decision to opt out of ownership.
All that data translates into higher demand for quality rentals — not just for individuals but also for families. In fact, single-family homes were the fastest growing type of rental in the U.S. in 2016 outpacing the country's apartment construction boom.
It may be easy to visualize an apartment complex as an investment vehicle that would capitalize on those trends. But Roofstock has built a platform that makes investing in single-family homes simple for everyone.
Roofstock presents carefully vetted single-family properties with attractive investment profiles and cash flow potential to a global audience of potential buyers. It is also committed to conducting transactions without interrupting cash flows or disrupting tenants.
And the platform is transforming these rental properties into a desirable investment class.
"Think of Roofstock as a two-sided marketplace," said Zach Evanish, Roofstock Director of Retail. "Landlords can sell their tenant-occupied investment property in a frictionless way at a low cost. And buyers everywhere gain access to a managed marketplace where they can come in and invest with confidence."
A Data-Driven Platform that Surfaces Suitable Properties in Attractive Markets
Roofstock Co-Founder Gregor Watson had extensive real estate holdings through his investment firm and found himself needing to sell about 20 tenant-occupied single-family units in the Dallas area. He presented a local real estate agent with the opportunity, and the agent said he would need to get the tenants out and the homes staged before they could move forward.
"Gregor wondered why," Evanish said. "He'd spent money renovating the units and putting quality tenants in place. The buyer wasn't going to be someone who wanted to move in; it was going to be someone who saw the investment value."
Watson realized that the traditional approach to selling a single-family property viewed tenants as a negative. That's when the idea for Roofstock was born.
"Roofstock flips that, and markets the fact that there's a tenant in place to investors, not as a negative, but as an added value," Evanish said.
Sellers gain distinct advantages with Roofstock. The process occurs entirely online, with no showings, no open houses, and no signs in the yard. Tenants stay in place and sellers continue to generate income through closing. And Roofstock handles all the marketing duties by presenting the property to a global network of real estate investors. Homes sold through Roofstock spend 77% fewer days on the market as compared to listing on the MLS and earn more profit on the sales through lower fees and continued rental income generation.
And buyers around the world can leverage Roofstock's data-driven approach, tailoring searches by list price, desired investment return, and location. They can view photos and floor plans, look at property inspection and valuation documents, review leases and tenant details, and even consider local property management options.
"The investor can look at the numbers and make an educated decision. Our data-science team has evaluated markets in 31 states and determined they're a great place for cash flow, appreciation, and long-term rent growth," Evanish said.
Resources, Consultation, and Guarantees Help Buyers Invest with Confidence
Roofstock removes as much of the uncertainty as possible from the homebuying process. That simplifies the acquisition of a remote rental property into something similar to a stock purchase.
"After you register for free, you build your investor profile," Evanish said. "There, you set your risk tolerance and how much and where you're looking to invest. That will direct you toward a couple of different paths."
One is Roofstock Academy, where new buyers participate in interactive, on-demand lectures and coaching sessions and gain market insights through networking with other investors.
"If you want to invest in real estate, but don't understand the terms or what to look for, we offer a way to educate yourself before jumping in," Evanish said.
For those a bit further along, Roofstock's team of advisors offers personal consultation to answer questions about how the service works and dive into the details of property comparisons.
"We want people to invest with confidence," Evanish said. "We're here to help you use the site, talk through your goals, and show you markets and properties that may be the best fit for you."
The company's most reliable source of new buyers is word-of-mouth referrals, which is why Roofstock also backs up its sales with guarantees.
"When you buy a vacant property through our site, we offer a rent guarantee so you're still getting cash flow out of the gate," Evanish said.
But Roofstock goes even further by backing up the entire purchase.
"With the Roofstock money-back guarantee, you can let us know within 30 days that you want to back out," Evanish said. "We'll put that property back up for sale on our site for free. If it doesn't sell within 90 days, we'll buy it back from you."
Roofstock Turns Single-Family Rentals into Stable Assets that Generate Income
As the market for single-family rental homes continues to grow, Roofstock has emerged as a way to leverage that expansion to the benefit of both buyers and sellers. Since 2015, it has fostered more than $1.6 billion in transactions and demonstrated consistent quarter-over-quarter growth by removing the legwork traditionally associated with the home buying process.
"Before a home makes it onto our marketplace, it goes through the Roofstock certification process," Evanish said. "We certify the home by doing an inspection and reviewing the tenant, the lease, and the tenant's payment history. If they're too far behind, they're not going to make it onto our site."
Roofstock also connects buyers with vetted property managers.
"We find the best of the best," Evanish said. "Instead of you having to spend the time as an investor in California learning about managers in Orlando, Roofstock does that."
Roofstock inspects Better Business Bureau and Google reviews and assesses operational details to vet local property managers.
And the platform continues to innovate. With Roofstock One, the company is taking home investment to a new level, allowing SEC-accredited investors to purchase fractional shares of home equity instead of entire properties.
"Roofstock provides the property and asset management, so it's a very passive way to invest and diversify in real estate," Evanish said.
For anyone interested in real estate investment — particularly those who live in expensive markets and want to invest in more affordable properties — Roofstock presents a complete package of tools, services, and resources.
"We enable people with disposable income to invest in homes outside of their local markets," Evanish said. "Before Roofstock, that would have been nearly impossible."