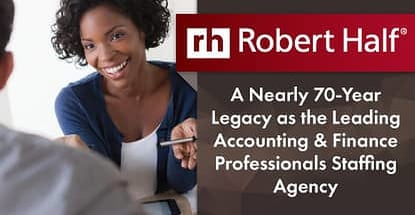 credit card news
Our experts and industry insiders blog the latest news, studies and current events from inside the credit card industry. Our articles follow strict editorial guidelines.
In a Nutshell: In today's job market, employers face fierce competition when it comes to hiring and retaining top talent. Many companies rely on generic employment websites to connect with job seekers, but these resources inundate hiring managers with so many unqualified applicants, they often prove more trouble than they're worth. Rather than advertising jobs from hundreds of career fields, Robert Half streamlines the process by providing staffing services for the accounting and finance industry through its Robert Half Finance & Accounting division. After nearly 70 years in business, the company's commitment to specialization has proven to be a winning business model. With hundreds of locations across the globe, $5.5 billion in annual revenue last year, and a reputation for quality, Robert Half has earned CardRates' designation as the Leading Accounting & Finance Professionals Staffing Agency.
Job seekers have a massive selection of online job boards and employment websites to choose from today. These digital platforms have vastly simplified job hunting; one can literally apply for dozens of different positions in just a couple of hours.
This technology should be a major boon for employers, too, as it allows them to quickly connect with a large number of candidates. But, as with many technological advances, innovation often presents a new set of challenges. While web-based job boards have greatly increased the quantity of applicants, they have actually led to a decrease in the overall quality of candidates.
Brett Good, Senior District President at Robert Half, said the problem is that most of these websites are too broadly focused. They advertise positions across hundreds of different career fields and allow anyone with online access and a résumé to apply.
"Many organizations find that it's so easy for candidates to respond to these generic online job postings; they're being inundated with applicants — but not applicants with the skills that companies need," Brett said.
Brett notes that the key to attracting the most qualified candidates is specialization. Rather than posting jobs in different career fields, Robert Half provides specialized staffing services for the accounting and finance industry. This limited focus significantly improves an employer's ability to find top talent in the shortest amount of time.
"Employers contact us because we specialize in the specific skill sets they're looking for and offer a rich database of candidates, which greatly expedites the hiring process," Brett said.
The company's founder and namesake, Robert Half, pioneered the specialized staffing concept. Launched in 1948, the agency was the first to offer exclusive staffing services for accounting and finance professionals — and this business model has proven to be a recipe for success.
While Robert Half started with one small office in New York City, the company now boasts hundreds of branches across the globe. With nearly 70 years in business, Robert Half has developed a wealth of valuable industry connections and amassed an equally deep pool of highly skilled candidates, making it our choice for the leading accounting and finance staffing firm.
Specific Projects and Market Churn Create the Need for Specialized Workers
In today's highly competitive job market, employers are finding it increasingly challenging to attract and hire highly skilled professionals. A 2016 CareerBuilder study found that nearly half (48 percent) of employers can't find the talent they need to fill vacancies. The study also found that a large number (76 percent) of workers who are currently employed are either actively looking for another job or open to new opportunities, making it difficult for employers to retain their best people.
Given the tight and tenuous labor supply, the competition for talent can be fierce, leading many companies to turn to Robert Half for an edge.
"With such significant market churn, employers frequently find themselves with key vacancies that need to be quickly filled," Brett said. "Because there's so much crowd noise for talent right now, many of these organizations are reaching out to us to plug those vacancies."
To fill those vacancies as quickly as possible, Robert Half operates three separate divisions dedicated to accounting and finance staffing. Each division focuses on a different type of employment: Robert Half Finance & Accounting staffs full-time positions, Accountemps fills temporary positions, and Robert Half Management Resources provides senior-level professionals on a project and interim basis.
Since today's employers frequently take on projects that require a certain skill set for a finite period of time, these separate divisions allow for increasingly flexible and efficient hiring. As Brett likes to say, "Why hire a full-time person if it's not a full-time job?"
"Perhaps an organization needs a systems upgrade, which requires increased staffing, but once the upgrade is complete, those people are no longer needed," Brett said. "Companies come to us because they know we can find the particular skill set needed for that particular time period."
Matching Talent with Company Culture
Robert Half is not only dedicated to finding candidates who possess the appropriate skills and experience, it also works to ensure job seekers fit with a company's culture. A good cultural fit is a vital factor in maintaining an engaged and productive workforce.
"In this day and age, matching a candidate's personality with the employer's culture is equally as important as matching their technical skills with the job requirements," Brett said.
To this end, a University of Iowa meta-analysis revealed that employees who fit well with a company's culture had greater job satisfaction, were more likely to remain with the organization, and displayed superior job performance. Conversely, the Society for Human Resource Management found that turnover due to a poor cultural fit can cost a company between 50 to 60 percent of an employee's annual salary.
To ensure the best fit, Robert Half's staffing professionals work to clearly define a company's culture and work environment, and then they use this knowledge to narrow down the list of suitable candidates. This highly personalized level of service is one of the agency's most valuable attributes.
"So much of what we do is to try to ferret out what the organization's culture is like," Brett said. "Is it a strictly blue-suit, white-shirt-and-tie-type of company, or is it more of a khakis-and-polo-shirts-type of place, where people can play ping pong? Some candidates fit well within certain environments, and others don't, so it's up to us to understand both sides of the equation in order to make the most effective match."
How an Ethics-First Philosophy Led to $5.5B in Revenue
From the beginning, Robert Half has demonstrated a steadfast commitment to an "Ethics First" philosophy. The agency seeks to maintain the highest levels of honesty, integrity, and professionalism in all of its operations. In 1963, the company's founder testified before Congress against staffing agencies that were engaged in unscrupulous practices, such as allowing applicants to pay to have their names listed higher up in the candidate rankings.
And when it came time to turn the company over to new leadership, Robert Half's decision to select Harold "Max" Messmer to succeed him as CEO was largely based on their shared ethical values.

"The two discovered they shared a common commitment to ethics, and it was this bond that led Mr. Half to sell the enterprise to Max," Brett said.
Since Max became CEO in 1986, Robert Half has experienced explosive growth. The agency's annual revenues have increased from $7 million to $5.5 billion, and it currently boasts more than 325 staffing locations in 20 countries. The company has broadened the number of industries it serves as well. In addition to its accounting and finance divisions, it owns business units specializing in staffing for the administrative, information technology, legal, and creative fields.
In its nearly 70-year history, Robert Half's specialized focus, high ethical standards, and attentive customer service have made it one of the world's most powerful and respected staffing firms. As such, the agency is uniquely positioned to connect employers with the most highly qualified applicants, while ensuring that job seekers find a company that allows them to truly thrive.