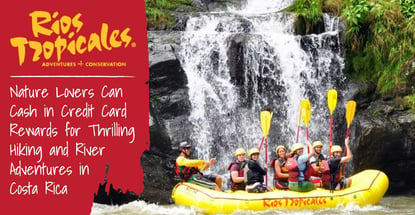 credit card news
Our experts and industry insiders blog the latest news, studies and current events from inside the credit card industry. Our articles follow strict editorial guidelines.
In a Nutshell: Much of the world is on pause right now due to the coronavirus epidemic, but we remain hopeful for the days when life returns to normal. And when it does, we know a lot of people will be more than ready to travel once again. When that time comes, Rios Tropicales with its array of eco-adventures awaiting in Costa Rica, will be ready. The company was founded in 1985 with a whitewater rafting trip on the Sarapiqui River and has since expanded to offer adventures all over the country. From rafting and kayaking to snorkeling and horseback riding, Rios Tropicales offers something for everyone. The company offers travel packages ranging from one to four days including family-friendly excursions and plenty of up-close encounters with Costa Rica's diverse wildlife.
One of the many great things about credit cards is the rewards you can rack up simply by using them. Credit card issuers often rely on offering perks to gain an advantage over their competitors, and consumers benefit from the competition.
These perks come in many forms, including dining discounts, gas points, or — one of our favorite — travel rewards such as hotel and flight discounts.
Needless to say, we here at CardRates watch with glee as our credit card points accrue, and we count the days until we can cash in our travel rewards and strike out on our next adventures.

And some of the coolest adventures we've seen lately can be found at
Rios Tropicales
in Costa Rica. The company offers a fantastic array of hiking, biking, kayaking, and rafting eco-adventures in every area of the Central American country known for its natural beauty.
We recently spoke with Rafael Gallo, the President and Co-Founder of Rios Tropicales, to learn more about the outdoor adventure packages they offer travelers — from family-friendly jaunts to white-knuckle whitewater rafting.
Right now in early 2020, we understand that people are staying safe in their homes and isolating to help prevent the spread of the devastating coronavirus. But we're optimistic for better days ahead and we know that a lot of people will be looking forward to getting back out into the world and taking vacations as soon as it's safe for everyone.
I have fond memories of a trip to Costa Rica, taking in the breathtaking beauty of a picturesque beach in the Manuel Antonio National Park. I'd love to go back, and next time I'll likely be calling on Rios Tropicales to make my family's trip even more memorable.
Guiding Adventures in Costa Rica Since 1985
Gallo said that he grew up in Central America, but it wasn't until he attended college at the University of Tennessee — located near the southern portion of the Appalachian Mountains — that he learned to run rivers.
"I ended up having an opportunity to come down to Costa Rica in 1983 to see one of the rivers that became my favorite and started my own business — Rios Tropicales — in 1985," Gallo said.
He said Rios Tropicales' first offering was a whitewater rafting trip down the Sarapiqui River in the northern part of the country near the Arenal Volcano because he had become familiar with that region the previous year.
"At the time, we were the only company offering those kinds of trips on the Sarapiqui," Gallo said. "Then we progressively moved on to different rivers in the country like the Pacuare and the Reventazon. And then pretty much the whole country."
Pretty soon, Rios Tropicales had gone from offering just whitewater rafting trips to offering biking, hiking, sea kayaking, nature safari tours, and more.
But the company isn't just about immersing people into the natural beauty of Costa Rica. Practicing sustainability and being a good steward of the environment is also a key part of Rios Tropicales' mission.
"Rios Tropicales is consistently recognized by National Geographic Adventure as one of the best adventure companies in Costa Rica and one of the top rafting companies in the world," according to the company website. "Our conservation, reforestation, ecopreneurs, education, and community efforts have earned us numerous national and international recognition and awards."
The company has planted more than 30,000 trees since 2000 and mitigates more than 17,000 tons of carbon each year, according to the website.
Offering an Array of Options for Travelers of All Kinds to See the Beauty of Costa Rica
Travelers come in all shapes and sizes, and with varying preferences for how active — or relaxed — they want their vacation to be.
While Rios Tropicales' whitewater rafting origins may not sound appealing to those less inclined to seek out adrenaline rushes, the eco-adventure company really does have a package for tourists of all stripes.
Gallo said the most popular option among visitors is a one-day trip down the Pacuare River. And for those staying longer, the company offers two, three, and four-night trips where visitors stay in the Rios Tropicales eco-lodge in the middle of the river.
"We built the lodge in 1990, and it's a pretty classic eco-lodge," Gallo said. "Composting, clean energy, sustainable materials used to build it — you name it. And while you stay there you can do zip lining, you can ride horses. And there are plenty of waterfalls and other places to go hike. It's a pretty magical place."
Of course, the Pacuare River is just one of many locations across Costa Rica where tourists can book an eco-adventure.
Travelers can peruse the Rios Tropicales website and search activities by region or type of activity. Whether you're looking for a thrilling whitewater rafting adventure, a scenic sea kayaking excursion, or just an up-close look at Costa Rica's fauna and flora, there's something for everyone.
Gallo said during the two-night flat-water paddling trip into Tortuguero National Park, visitors can see three types of monkeys, crocodiles, and all kinds of birds.
"We see everything as we're passing down the river since we're in a quiet, non-polluting means of transportation," he said. "All the animals are out. And we try to go to the right places at the right times to see the most wildlife."
Rios Tropicales offers several family-friendly packages as well, with options that include rafting and snorkeling.
Navigating New Waters During Coronavirus
As are so many other individuals and businesses around the world, Gallo and Rios Tropicales are learning how to adapt during the COVID-19 pandemic.
"We all want a short term solution, but I don't think it's going to be short term," he said. "It's so difficult to predict but we're just hoping for the best and that people will be able to recover their economic status. Until they do, they can't travel. So we need the economy to re-establish itself so people can have spending money."
In a statement released by Rios Tropicales, Gallo related the current scenario to his experiences on the water.
"It's like the first descent of a river," he said. "We've never navigated this before. Our map is very vague, only giving us comparative scenarios from other similar experiences, and a little advance information from those a bit ahead of us."

Rios Tropicales temporarily shut down its operations in mid-March until the Costa Rican government decides it is safe to re-open such businesses.
"None of us are sure where this journey of living through a global pandemic is taking us or where it ends. There's no horizon line in sight," according to the company. "We know you are concerned about the health, safety and financial well-being of you and your loved ones. We are too with our families and employees. You can count on us to be with you."
Gallo said Rios Tropicales has weathered all kinds of situations over the past 35 years and came out stronger each time.
And just as the company has brought joy to so many people over the years through its eco-adventures, Rios Tropicales continues to spread light during a dark time.
"We encourage you to reflect on the fun adventures you've had and to dream of those to come. Think of the places that take your breath away. Where would you like to go when we're free to roam the planet again?" according to the announcement. "We look forward to meeting again soon in the wild places that fill our hearts and souls with joy."