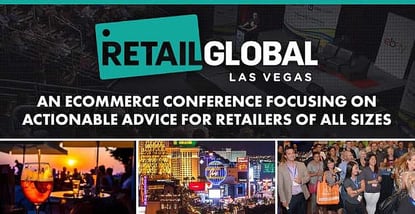 credit card news
Our experts and industry insiders blog the latest news, studies and current events from inside the credit card industry. Our articles follow strict editorial guidelines.
In a Nutshell: Phil Leahy, whose Australian-based eBay store became an international success, found value in attending conferences for many years. After not seeing one focused enough on global e-commerce, he founded one himself — Retail Global. Following a decade of success with his conference in Australia and years of research and planning, he started Retail Global Las Vegas to bring the event stateside. The Las Vegas conference has plenty of networking opportunities plus lots of fun mixed in, but the retailer-focused content is what really helps the event stand out in the crowded conference space. Retail Global provides actionable advice for global e-commerce businesses of all sizes and helps retailers make worldwide connections.
Conferences can be whirlwind affairs. From the moment you get an ID badge until the applause for the closing speaker dies down, the experience is exhilarating but can also feel fleeting. Scattered throughout your memories of the event are speeches, parties, handshakes, and business cards. Besides those memories — and maybe some new friends — the most important thing an attendee will leave with is knowledge.
After the frenetic few days are over, you want to be able to implement what you've gathered from the event. Learning about business trends can be one of the biggest takeaways from a conference, but acting on that advice is paramount.
Attending an industry conference and learning from others can be an effective way to produce some big material returns for a business. Phil Leahy knows the feeling well. As an e-retailer based in Australia, he would make the trip to America for conferences twice a year, and he started seeing the dividends immediately after.
"It changed our business," Phil told us. "Within a couple of weeks, we had implemented some of the things we learned in America and we became a market leader."
While he loved how conferences were helping his business, he also saw a void. None of the conferences he attended were focused on global e-commerce — and conferences for retailers weren't offered in Australia at all. So, in 2005, he started his own conference: Retail Global. He spent a decade traveling the globe — attending nearly a conference per month — to help make Retail Global better each year.
"It took us, basically, attending every other conference held in America during the year," Phil said.
Phil has been to so many conferences, he's essentially an authority on what makes them great. He wanted to incorporate all the best aspects of his favorite events: networking, inclusiveness, and knowledge. And he knew to stay away from the aspects that make them less powerful: barriers, abstract talk about the future, and disengaged speakers.
A decade later, and his Australian event continues to exceed his standards. He brought the e-commerce conference to America in 2015 and is proud to present the second annual Retail Global Las Vegas, which begins September 20. Phil describes it as a conference by retailers for retailers, but there is also plenty of fun mixed in. He wants to make sure everybody has a chance to network and connect, but also depart with advice they can act on. Retail Global is the inclusive, comprehensive, retailer-focused conference that Phil dreamed of … because he designed it that way.
Building on 10 Years of Success to Bring the Conference to the United States
Retail Global has taken Australia by storm, becoming one of the country's biggest conferences in its decade of existence. The 2016 conference in Gold Coast, Australia is considered the best one yet by many attendees. In a survey of this year's attendees, 87% reported an increase in business after attending; 96% rated the quality of content as good to excellent, and many of them even say so in the conference's highlight video.
Phil understood the importance of helping other retailers gain access to information about expanding their businesses worldwide. He also knew well the precarious position Australia was in.
"Australia is so isolated, and we only have 22 million people," Phil said. "So, for us to survive, we have to be exporters."
Just because Retail Global was a massive success in Australia didn't mean it would translate well to the U.S. That is why an American version was only a dream for a long time. But then, Americans started coming to his Australian show and telling him they would love to see his conference in the U.S.
"They hounded me for years, and it became a dream of mine to get it off the ground," he told us. "It has been a long, long, long time building those relationships with major executives, but my credibility as a retailer helped that." Phil also realized that U.S. businesses might need a conference like this just as much as Australian businesses did.
"One of the interesting things about America is how few businesses are exporting," he said. "There is an incredible opportunity for American businesses outside of the country. All retailers need to do is embrace that."
Phil Leahy's Path From Successful Online Retailer to Helping Others Connect
An easy way to identify with retailers is to have been one yourself, and Phil was an incredibly successful retailer on a global scale. He has been the top eBay seller in all categories Australia, a top 5 seller in the U.K. and even a top 20 seller in the U.S.
His eBay business was so successful he graced the cover of Internet Marketing Magazine, right next to the headline: Secrets of a #1 eBay Seller. His business was doing so much volume that he could have gone head-to-head with some of the bigger retailers, but Phil wanted to help other people gain that success. He stepped back from his own business and began mainly focusing on researching and planning conferences.
His persistence certainly paid off, and it all started with the idea of making Retail Global accessible for those who needed it.
Making Ticket Prices Half That of Competitors' Fosters Inclusivity
Phil didn't want Retail Global to be out of reach for the people who could benefit from it most, so ticket prices needed to be more accessible to retailers than those to many competitors' conferences.
He saw many conferences that were focused on the number of attendees they could attract and how much money that translated into. Phil vowed his conference would be different.
"We try to make our ticket prices accessible to the smaller retailer, and that is really important," Phil said. "Having gone to all of these shows, the price of conference tickets is pretty expensive. We really look after our customer, but we want to keep that ticket price low so we can be inclusive."
Currently, Retail Global's ticket prices are half that of its competitors, and Phil wants to make sure that attendees still get the most for their money.
Retailer-Focused Content Makes Retail Global Stand Out in the Crowd
Retail Global takes pride in being a conference that doesn't just present abstract ideas about the future. Instead, they strive to offer practical, actionable advice to help businesses grow immediately. This begins with workshops conducted by some of the biggest retail-centric businesses in the world: Amazon and eBay.
The conference also has four streams of focus that businesses can take advantage of:
Marketplace: The backbone of the conference, focusing predominantly on Amazon and eBay.
Cross-border: This stream highlights opportunities outside of America, and focuses on the different methods a retailer can use to be successful in global business.
Marketing & Social Media: This section of the conference is aimed at getting more traffic to a retailer's website, with experts from around the world giving advice.
Retail tools: Retailers can learn about new offerings to the marketplace from Retail Global's partners.
The streams can help businesses of all sizes focus on exactly what they need to grow.
Another observation that irked Phil about other conferences was how restricted they could be.
"We don't like barriers," Phil said. "You go to some conferences, and they won't let you in the room unless you're a big brand. It can be very exclusive." That kind of disconnection wasn't what Phil had in mind. At Retail Global, everyone has a chance to mix, without roped-off or inaccessible areas. That makes it easier to talk about your business knowing you are on the same footing as everyone else.
"We love to be inclusive, and we all share the same customers so we can all be in the same room together," Phil told us.
While Phil thinks smaller retailers can learn from industry giants, he also wanted a more personal approach: speakers who have had success with their own e-commerce companies.
Extensive Research & Preparation Translates to Useful Content for Attendees
One reason the U.S. version of Retail Global was so long in the making is because Phil and his team are so thorough. He knew that to have a successful conference, he needed to spend a good amount of time making connections, creating partnerships, and looking for the right speakers.
Attending 11 conferences a year, on average, helped bring those relationships along.
Retail Global Conference Director Helena Stylman usually attends, too, making connections with exhibitors on the floor while Phil tries to find speakers with the right message for his conference.
"I spend my time at conferences attending sessions and looking for great speakers," he said. "I might go to 40 sessions and hear two that I think would be great for our show." That is why out of over 50 speakers at this year's event, 44 of them are e-commerce retailers focused on helping their peers.
Away from the conference center, Retail Global has plenty of other opportunities for networking, and, of course, a little fun.
Charity Pool Party Brings Fun and Networking Together
One event that was a splash hit at least year's Retail Global Las Vegas was the pool party that benefited Retail ROI — a clever play on "Return on Investment" that actually stands for "Retail Orphan Initiative." The charity's purpose is to bring awareness to the enormous needs of orphans worldwide.
"The pool party is a charity event, fun, and networking all in one," said Phil. "That's exactly what it's designed for."
Retail Global has raised over $400,000 for charity during its existence, and last year's Las Vegas pool party helped raise $12,000 for Retail ROI. What does Phil think they'll be able to raise this year?
"We're going to raise a lot more than that," Phil responded.
Retail Global is Growing Thanks to Organizers
Helping retailers take their businesses global is very important to Phil. After all, he has been in their shoes. Instead of waiting for an e-commerce conference focused on worldwide connections to come around, he founded Retail Global, which had 350 attendees last year.
In 2016, Phil expects that number to reach well over 500. That growth is a direct result of the work Phil and his team have invested in the event. Realizing the value in businesses attending conferences, Phil and his team know the importance in finding the right mix of content and making connections. His dedication over the years has allowed Retail Global to blossom, and as the conference nears, the workload doesn't get any lighter.
"It is a lot of organizational work," Phil admitted. "One of the big challenges is sleep." But once the conference begins and people start networking and making connections, it feels worth it.
"Some of the best moments at a conference can actually happen through these human connections, maybe even with a drink in hand," Phil said.
When the whirlwind of Retail Global Las Vegas dies down, Phil knows that attendees will leave with more than a few contacts and a bag of swag. They will have a plan to enact as soon as they get back to their offices.