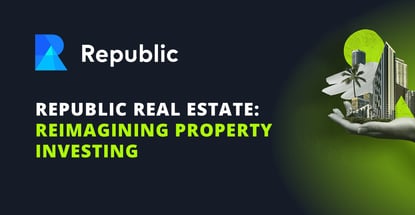 credit card news
Our experts and industry insiders blog the latest news, studies and current events from inside the credit card industry. Our articles follow strict editorial guidelines.
In a Nutshell: For decades, real estate investment opportunities have been limited to high net worth individuals and accredited investors. But with companies like Republic Real Estate — formerly Compound before its recent acquisition by Republic — nearly anyone can invest in real estate. The platform offers a convenient and straightforward way — similar to purchasing an item online — for individuals to invest small or large amounts of funds into properties. Republic aims to be the Amazon of real estate investing with a global marketplace that brings in multiple alternative investments under one umbrella.
Investing funds can be as straightforward or as complex as an investor wants it to be. There's a whole world of investment strategies, industry jargon, and internet debates one could spend years learning how to navigate.
On the other hand, with today's investing apps and exchanges, the average person can easily drop a few bucks into some stock and let it (hopefully) grow over time.

But no matter how involved you want to be as an investor, one piece of advice comes up over and over again — diversify your portfolio. Don't put all your eggs in one basket, and definitely don't count your chickens before they hatch.
All clichés aside, it's sound advice. But diversifying your portfolio into the world of real estate used to be largely a pipe dream unless you were a high net-worth individual or accredited investor, .
Real estate as an investment strategy has been out of reach to the common investor for decades. But with rapid advances in the fintech world and innovative startups like Compound, real estate investing is an option for nearly any investor, big or small.
Compound was launched in 2018 by Janine Yorio and Jesse Stein. The platform was recently acquired by Republic and is now known as Republic Real Estate (more on that later).
"We created a financial product that enabled all investors, including non accredited investors to invest in real estate," Yorio said.
The premise was straightforward — tear down access barriers and build a new American dream by allowing anybody to participate in the growth and prosperity of the cities and neighborhoods they are helping to build.
We recently spoke with Yorio about how the innovative investing platform works, Compound's acquisition by Republic, and the benefits of real estate investing.
Giving Investors at All Levels the Opportunity to Invest in Real Estate
"We're not just leveling the playing field," according to Compound. "We're changing how the entire game is being played with an idea that stands to fundamentally reshape the ownership fabric of every city in the world."
And this is the platform's biggest differentiating factor, Yorio said.
"There are already platforms that allow high net worth investors to make direct investments into real estate, but where we see really big opportunities is to let everybody else invest in real estate," she explained. "It's all the non-accredited (investors) which are like 92% of Americans."
Yorio said getting started on the platform and entering the world of real estate investing is simple and convenient.
"It's like setting up a bank account and providing information to do standard KYC and AML," she said. "And we have different ways that people can make an investment. It's a fairly straightforward process and very similar to what you would experience when you're buying something online."
The company offers individual properties as investments as well as plans to offer funds. Real estate funds, like stock ETFs, are convenient for those who don't want to pick and choose for themselves whether it's due to not having time to spend learning about each investment or simply wanting to take a more passive approach.
Investors also gain the advantage of the platform's skilled team of experts that vets each investment opportunity before it goes up on the marketplace.
"If you did a fix-and-flip with your friends, you'd be investing in your friends not to get things wrong," Yorio said. In this case, the scenario is similar except people are investing in the skills and experience of a seasoned team of real estate professionals.
Aligning Forces and Technologies to Transform into an Even More Impactful Platform
While the founders of Compound were building out the platform's infrastructure and planning its entry into the world of real estate investing, another company called Republic was growing its user base in a different realm of investing.
Republic's innovative model was similar to Compound's, but it helped lower the barriers to investing in startups, making it accessible to the average investor.
Yorio said it only made sense to combine forces with Republic.
"We're excited to announce that Republic has acquired Compound, a real estate investment platform that lets everybody invest in real estate around the world in small dollar increments," Republic announced in June 2020.
The result of the acquisition is Republic Real Estate.
"Republic already had about 700,000 users on their platform, so, for us, the decision to join forces with them was really serendipitous because they have a huge in-house legal team, and legal is one of our biggest expenses," Yorio said.
Additionally, the technology needed to implement Republic and Compound were virtually identical, she said.
"There are a ton of synergies," Yorio continued. "We can invest more in technology to make it more sophisticated and more seamless because we now have the economies of scale."
But one of the most compelling reasons for the two platforms joining forces was the potential to make it easy for investors to access their assets from a single place.
"What we saw was the bigger opportunities to kind of be the place where everybody's investments are consolidated," Yorio said. "They can monitor their portfolio across different alternative investments, and do it with the seamlessness that you hope for when you're managing your own money."
Passive Income, Stable Cash Flow, and Tax Advantages in the 'Amazon' of Investing
"The whole vision is to be an Amazon-like marketplace for real estate investing that's searchable by place and type," Yorio said.
Real estate is the world's largest asset class and has historically generated strong, uncorrelated returns, according to Republic Real Estate.
Just a few of the potential benefits include the ability to generate passive income, stable cash flow, numerous tax advantages, capital appreciation, inflation protection, and, of course, diversification.
"It's totally passive," Yorio said. "You're a passive investor, and that's why so much of the emphasis on the website is on who the principles are for that sponsor so you can see the team and see what their experience is."
With its aspiration to become the Amazon of investing, Yorio said the team hopes to help Republic Real Estate become a global, direct-to-consumer marketplace where people can find the right real estate investments for themselves.
"Literally every city in the world has real estate," she said. "The size of the opportunity is truly uncapped. And the CEO of Republic — his vision is to build out a completely encyclopedic array of alternative investment offerings all under one umbrella."
Republic Real Estate launched with three investment opportunities right off the bat, condos in Austin, Nashville, and Miami.
"Voted the #1 best place to live by U.S. News & World Report, Austin has seen impressive growth in recent years, which is just one of the many reasons this one bedroom one bath condo in the heart of the city's Historic Rainey Street District is an attractive investment," according to the company.
Each investment opportunity has already been funded over 100% and has between 600 and 1,440 investors.
Republic Real Estate is moving forward to bring real estate investing to the masses through diverse opportunities and a convenient marketplace.