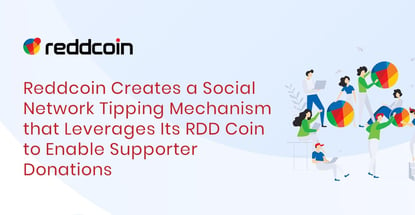 credit card news
Our experts and industry insiders blog the latest news, studies and current events from inside the credit card industry. Our articles follow strict editorial guidelines.
In a Nutshell: Reddcoin is the web's original social tipping cryptocurrency. Using the project's Redd-ID browser extension and the Reddcoin wallet, users can tip their favorite content creators on just about any social media or posting platform. Tips and other transactions process immediately and require no fees.
Most social media platforms have the same business model, and it may not be what you expect. While users are busy sharing pictures of their meals, vacations, and friends and family, most social media platforms are busy collecting the information its users provide and selling it to advertisers and other companies that profit from that info.
Data is the new oil: a commodity that's only as finite as we allow it to be. But how do you benefit when someone else is profiting from your data and content?
That's the question Reddcoin's founders asked when developing the first social cryptocurrency in 2014. Following years of leadership changes and an explosion in social media usage, the solution Reddcoin created has even more potential value today than when it was first announced.
Reddcoin is a social network tipping, content creator, and microdonation cryptocurrency. If readers enjoy someone's post, they can skip the "like" button and instead tip the writer any amount of Reddcoin.
The coin also works as a donation mechanism, with users leveraging their accounts to raise money to pay for an emergency or other need.
Since Facebook, Twitter, YouTube, and other popular platforms don't yet provide an option for tipping users, Reddcoin holders can use the Redd-ID browser extension to register a unique ID/username that connects to a Reddcoin address.
With the Redd-ID browser extension, a user can validate someone's Tweet or use the Reddcoin in their wallet to tip the content's creator. Some Reddit articles already include a tip button to send money to the author or contributor.
"You can use it in any way that you like," said Jay Laurence, Project Leader at Reddcoin. "There's no limit in the amount or value of the coin that you can send."
Reddcoin (RDD) was originally forked from Litecoin in 2014. The Redd-ID extension added to the coin's utility and allowed users to independently register a coin name on the Reddcoin blockchain with only a few clicks.
"It further ties that name to a lite wallet that contains your coins and links that wallet to your social IDs across Facebook, Reddit, Twitter, and other social platforms," Laurence said.
The idea of social tipping isn't new, but what sets this platform apart is how simple Reddcoin makes instantly transferring coins as a form of gratuity. It also helps content creators take control of their money-generating abilities, without forsaking their personal privacy, data, or creativity.
"It's a very cheap, easy, lightweight way to send value back and forth and to monetize the likes, follows, and hearts that are ubiquitous in social media," Laurence said. "Those clicks otherwise have no value, other than the intrinsic, feel-good value."
"You Can't Pay Your Rent with a Like" — Until now
Part of Reddcoin's charm is its strong, ever-growing community of "Reddheads" who believe in the platform and volunteer their time and talents to help further the cause.
Most of the Reddcoin staff consists of volunteers who work to advance the technology and spread the word. As Laurence said, they aren't doing this in hopes of earning a profit, but because they believe in the product.
"We've built a special community around protecting the users," he said. "You can call us the anti-company. Every social media platform's business model is to monetize the user as much as they can by packaging and selling their data. We've taken that approach and turned it on its head by protecting the users from that with an alternative that isn't censorable or restrictable."

What's left is a way for anyone who posts on social media to retain ownership of their content without giving up all of their rights, data, and sensitive information to the platform's creators.
"This is a simple reward-for-content model that's meant to level the playing field for folks whose other options are PayPal, Patreon, or other solutions that take a big bite out of their profits," Laurence said. "Those platforms are also typically very restrictive on what's said."
The concept and execution remain simple. Users can use their Reddcoin wallet or Redd-ID extension to find a content creator by searching for their Redd-ID. Once found, they can choose the amount to tip the person.

The transfer is immediate and doesn't require the long wait users experience with other tokens.
Many YouTube content creators also include QR codes at the end of their videos that a user can easily scan to find their Redd-ID. These micro-transactions don't require a fee for either user.
Instead, the recipient gets to keep the entire tip without sharing a percentage with the platform. Some complicated transactions that require large transfer amounts may charge a fractional fee.
"You can't pay your rent with a like," Laurence said. "You could certainly pay your rent with Reddcoin."
Overcoming the Unforgiving Nature of Cryptocurrency
The crypto world can be likened to the old Wild West as seen in black-and-white movies and TV shows. It's a world where rules are loosely interpreted and security is only as strong as the technology it's built upon.
Reddcoin wants to change those rules and make it easier for anyone to jump into the crypto game — even if it's just to tip their favorite social media influencer.
"Things in crypto won't catch on if they remain as unforgiving as Bitcoin and Ethereum can be," Laurence said. "Not only do you pay for every transaction, but God forbid you transpose a coin and type the wrong number, or you drop your computer and lose all of your coins and assets. When that happens, no one is there to help you."
That's not the case with Reddcoin, which further protects its user's assets through the Reddcoin Restitution & Recovery Fund. This fund essentially reimburses coins that are lost or stolen. "While the nature of blockchain is such that without keys, those coins would be gone forever; the Reddcoin R&R Fund will allow a measure of Hope for such swindled users by, as appropriate, providing them with replacement RDD as a valued and valuable member of the community."
As with any startup project, Reddcoin needs capital to grow and continue to revolutionize the ideology behind social media tipping. The development team spoke with many potential investors but decided that financial backing wasn't worth compromising its ideals.
"We spoke to a bunch of venture capitalists, private money people, and others on the financial side of these types of projects, and realized that every single person who wanted to put money into this project had an ulterior motive," Laurence said. "They wanted to turn this into the next Facebook, the next Twitter or whatever. They wanted to monetize the users, exploit the system, and regain their money, with interest, within 18 months."
So instead of hitching their wagon to an investor, the Reddcoin team decided to forge its own path and find a way to bring its ideas to the masses, while still allowing users to protect their privacy and rights.
"Instead of taking those funds, we reengineered the way the blockchain works, with an eye toward solving problems," Laurence said. "A big one was the development funding problem. We put our own money and time into this project over the years for the love of making it happen."
And, as the platform grows and new users continue to sign up every day, the team's vision becomes clearer and more gratifying.
Protecting Users without Silencing Their Creativity
As with all blockchain and cryptocurrency projects, security remains at the forefront of every current or potential user's mind. Laurence said the platform has had no major disclosures or security issues since its inception.
New security measures will protect users even further with the impending release of version 3.10.0, and after multiple third-party audits, the new version shows no flaws or potential security issues.
"As a proof-of-stake coin, the idea of a 51% attack doesn't exist in our lexicon," Laurence said. "To perform such an attack, you need to own 51% of the stake and not just have a ton of hashing power. If you own that much Reddcoin, you aren't going to have the incentive to ruin the value of your coin."

Those security measures — and the ability to receive tips without censoring or altering content — are why Reddcoin could become the future of social media.
"We've built Reddcoin into a community of like-minded people across cultures and geography," Laurence said. "They all share the same sense of support and giving. We even created a bot in our chatroom that allows you to rain Reddcoin on the users of the chat. That has engendered active contributions and a real community feel."
Laurence said Reddcoin represents both a labor of love and a mission to help people take back ownership of their personal data. That's not to say he's not having a little fun along the way.
"I've been in the crypto world for a long time," he said, "and this community has a feel unlike anything I've ever seen before."