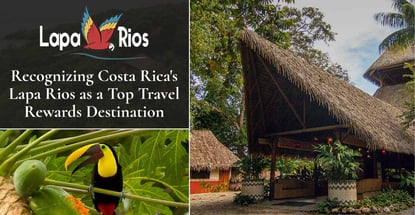 credit card news
Our experts and industry insiders blog the latest news, studies and current events from inside the credit card industry. Our articles follow strict editorial guidelines.
In a Nutshell: Almost 30 years ago, a former Peace Corps couple from Minnesota sold everything they owned, bought a thousand acres of Costa Rican coastal rainforest, and enacted a sustainability project on that land. Enabling that project to this day is Lapa Rios, a 17-bungalow lodge where guests immerse themselves in a unique and pristine natural environment. Guests will experience authentic traditional ways of life and learn the inspiration of sustainability on a property where conservation and education go hand in hand. Lapa Rios is perfect for romantic getaways, family adventures, and everything in between — making it a perfect destionation to redeem your credit card travel rewards.
Back in the early 1990s, John and Karen Lewis were pioneers in ecotourism — and the wild, locally rooted guest experience they created at the Lapa Rios Ecolodge on Costa Rica's Osa Peninsula helps sustain the brilliant natural environment of the Osa to this day.
Lapa Rios is a collection of 17 casual yet luxurious bungalows nestled in a thousand acres of pristine coastal rainforest. Home to the last remaining ecosystem of its type in Central America, some say the Osa Peninsula supports 2.5% of global biodiversity — although given the number of undiscovered species in the world, there's really no way to know for sure.

What's certain, however, is that guests at Lapa Rios experience all the nature and culture the Osa has to offer — and are often inspired by the Lewises' original vision of everyday sustainability to make changes for themselves back home.
For the past 20 years, Lapa Rios has been part of the Cayuga Collection of luxury sustainable hotels and lodges located throughout Central America. As Cayuga Co-Founder and President Hans Pfister put it, Cayuga properties are all small, sustainable, and high-end, and offer an experiential luxury that goes way beyond "the traditional 'marble and gold faucets' kind of luxury."
"Lapa Rios is an interesting story because it's among the first luxury ecolodges in the world," Pfister said. "John and Karen really were way ahead of their time. They were former Peace Corps volunteers from Minnesota who sold everything they had, came to Costa Rica, and bought a big piece of rainforest to do nature conservation. They even built a primary school because they were very clear that without education, there is no conservation. And so on that platform of conservation and education sits this wonderful ecolodge."
An Authentic Rainforest Guest Experience
For all its uniqueness, Lapa Rios is accessible to everyone. While the lodge is perfect for adventurous types who want to get out and explore a beautiful and challenging natural environment, it also offers an ideal respite for those in search of contemplation.
Whatever experience guests dial-up, it'll come in some combination of nature, luxury, and local culture. Families can observe wildlife up close and learn conservation in a teaching setting. Honeymooners and others with romance in mind, on the other hand, can experience the rainforest luxury of Lapa Rios in perfect privacy. Adventurers will find a spectacular natural environment to explore.
"You're really able to immerse yourself in the rainforest experience, into interpretation of the rainforest," Pfister said. "You're living that dream of being next to a tropical ocean in a tropical rainforest, seeing incredible wildlife, and really feeling a little bit of that Indiana Jones thing in you."
At the end of the day, however, just the right kind of luxury awaits. "But then, of course, you're coming back to a very nice room, with high-thread-count linen and fine bathroom products," Pfister said. "Everything is nice and comfortable — great food, wine list, cocktails, craft beer, and more."
Lapa Rios is also rooted in its place. Staff and guides at Lapa Rios are local. The property's design and architecture reflect local traditions. The cuisine is local. The indigenous peoples of the Osa are prominently featured.
As Karen Lewis put it in an article she authored, "Sustainable tourism is not just how you sustain the environment through the conservation that we've set aside, but also how you sustain the local people and their culture."
See the Rare and Beautiful Creatures of the Osa Peninsula
"Lapa" is the Costa Rican name for the magnificent bird also known as the scarlet macaw. When John and Karen Lewis first visited what would later become Lapa Rios, they saw a group of macaws flying together across the jungle, forming a river of red. In English, "Lapa Rios" means "river of scarlet macaws."
But at Lapa Rios, the scarlet macaw is just one beautiful bird among many. More than 360 avian species have been sighted in the area, along with hundreds of other animal species and a panoply of coastal rainforest flora.
"Four species of monkeys are native to the area, and in a three- to four-day stay, you'll probably see all four," Pfister said. "You'll also see sloths, other mammals like the pizote and coatimundi, and, of course, lots of birds, including toucans."
"If you're really lucky, you might see a puma," Pfister added. While puma sightings don't happen very often given the wild cat's stealthy ways, wild pigs called peccaries are commonly seen, and reptiles and insects abound.
The Lapa Rios wildlife experience is about more than simple observation, however. As the Lapa Rios website puts it, guests return home "with a deep understanding of our ecosystem and an appreciation for the importance of its conservation."
Local expert guides impart knowledge and appreciation gained from a lifetime on the Osa. Guests learn how the Osa wildlife interacts to form a self-sustaining ecosystem, how revenue generated by the lodge sustains the preserve surrounding it, and what's at stake in protecting the region's biodiversity.
When it comes to experiencing the Osa, guests have ample opportunity to walk the walk. A popular guided hike called Wild Waterfalls, for example, allows guests to "walk down the river and take a bath in the tidepools, and jump off the waterfalls into the pool that forms below," Pfister said.
On the Medicine Walk, guests learn how indigenous people used different plants from the rainforest to treat their illnesses "before there was a pharmacy around," Pfister said.
Or, you can take a longer, more strenuous hike deeper into the private reserve — or a boat tour to observe dolphins, whales, manta rays, and other marine species.
"What makes Lapa Rios special is that it's a combination of rainforest and ocean," Pfister said. "It's great to have that option of going walking along the beach, where you're likely to meet only birds and monkeys."
Lapa Rios Teaches the Ways of Everyday Sustainability
It all adds up to what Lapa Rios calls "meaningful travel." Eco-sustainability is integral to the guest experience, the manner in which the property is operated, and its mission to inspire.
Lapa Rios embeds "everyday sustainability" into its day-to-day operations. All Cayuga properties, in fact, offer back-of-the-house tours so guests can observe the ways in which the properties achieve sustainability. On the Twigs, Pigs & Garbage Tour at Lapa Rios, for example, guests meet the pigs that eat the kitchen leftovers and produce the manure that generates the methane gas used to cook the next meal.
"The reaction of the guests is incredible," Pfister said. "They're totally blown away when they understand all the work that goes on behind the scenes to make us truly sustainable."
That's the goal. It's the hope of Pfister and everyone associated with Lapa Rios that every guest returns home with a renewed sense of commitment to improving the sustainability of their own environment.
"Take action, make a difference, and make a change," Pfister said.