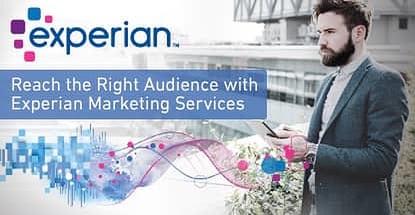 credit card news
Our experts and industry insiders blog the latest news, studies and current events from inside the credit card industry. Our articles follow strict editorial guidelines.
In a Nutshell: While traditionally thought of as one of the three major credit bureaus, Experian is also one of the "big three" original source data compilers — and has been for more than 30 years. Experian Marketing Services aggregates and analyzes public and proprietary source data to help businesses develop effective cross-platform marketing campaigns. With a database encompassing 98% of American individuals and a suite of over 30 direct media partners, the Marketing Services team can enrich consumer profiles, prospect and target specific segments, activate multichannel campaigns, and provide closed-loop reporting to see what works (and what doesn't). Experian Marketing Services enables marketers to reach the right audience, at the right time — and on the right device.
Whether you're an industry guru or a financial novice, the chances are good you've heard of Experian. Popularly considered one of the "big three" in credit reporting — alongside TransUnion and Equifax — Experian's credit division is a major part of the financial lives of hundreds of millions of Americans. What many of those millions don't realize, however, is that Experian's presence in our lives goes well beyond credit scores.
"Most people, as consumers, think of us as one of the three main credit bureaus, but from a marketing services and data perspective, we're actually one of the 'big three' original source data compilers," said Brienna Pinnow, Director of Product Marketing at Experian Marketing Services. "We've been doing that for well over 30 years now."
The Marketing Services division of Experian puts decades of data compiling and analysis to work for agencies and brands of all sizes, from SMB to enterprise, helping them transform their marketing campaigns. With comprehensive experience and extensive reach, Experian Marketing Services can develop cross-channel, targeted marketing for any demographic.
Comprehensive Data Aggregation from Public and Proprietary Sources
One of the more remarkable things about Experian Marketing Services may be the distinct division between its data, and that of Experian's consumer credit databases. While important for privacy and compliance, it's also somewhat based on practicality; the two divisions are utilizing their data sets in very dichotomous ways.
"Even though we have that Experian brand name, it is important to note that, by law, Experian maintains strictly segregated databases. This means our consumer credit database is kept separate and apart from our marketing databases, and there is no commingling of data," Brienna described. "Our marketing data is compiled, managed, and approved for marketing purposes only; it's improving the customer experience, helping businesses target or segment customers better. It's really driving the advertising world."
So, where does the data actually come from? According to Brienna, just about everywhere. "We work with both public and proprietary data sources," she explained. "Public sources could include, for example, a county assessor's site or office, where we're understanding 'Brienna owns a home, and she bought it for $XXX.' Then, we also have proprietary sources, where we're working with other organizations who deal with everything from surveys, to consumer expenditure data, to loyalty card shopping data. Things that you're doing, as a consumer, where you're interacting with other brands."
Of course, all the data in the world is little good without the ability to analyze and parse it. Somewhat like digital archaeologists, the team (and their software and algorithms) uses the disparate data points to construct real-world, actionable information for companies.
"Brands and agencies — whether it's an enterprise client or an SMB — can do many things with that information," said Brienna. "For instance, enriching what they already know about a customer; I could say, 'Hey, Brienna buys a new pair of shoes from me every week, tell me more about her.' We can also help them use that data for advanced analytics, for modeling."
While obviously heavily in use by larger enterprises, advanced data modeling can be a powerful tool for small and medium-sized businesses, as well. Indeed, that analytics and modeling can be particularly important for service-based or niche businesses for whom prospecting can be a lucrative way to find new clients.
"Imagine you're an SMB owner — a real estate agent, for example," described Brienna. "And you want to distinguish the people who currently have their house for sale, or who are about to be on the move, or who have just moved in the last six months. That's the information we can provide for someone, so they can offer their services to those individuals."
Multichannel Linkage and Activation Enable One-to-One, Cross-Platform Marketing
Another benefit to the extensive reach of Experian's data compiling is the ability to source information from a variety of channels. For many businesses, part of the challenge associated with creating an accurate picture of a customer comes down to the many ways in which those customers interact with the business.
"As consumers, we are constantly hopping around and across devices," said Brienna. "I could see an email from a brand or get a text message from them. I could be in their app, at their store, or on their website. I'm doing a lot of different things to engage with that brand across devices.
Not only are consumers using a variety of channels and devices while they browse and shop, but the information they use to identify themselves to the business varies with each method. Consumers may use an email address to log in to a website, but be identified by a loyalty card account in store.
"We are able to help brands stitch that data together. We call that 'linkage' — or having a single view of your customers and prospects," Brienna explained. "It's extremely important to have that single view of your customer so you can actually deliver an experience that makes sense. We've all had that disconnected brand experience."
Disconnect across the multi-channel experience can be bad not only for consumer engagement — and, thus, conversion — but also impact the bottom line in other ways. Coupons may be an effective marketing tool, but sending a coupon to a consumer for an item they already happily purchase at full price cuts into that effectiveness quite sharply. A single customer view allows for a streamlined, targeted activation and modern approach — across every channel of engagement.
"In a traditional sense, 30 years ago, marketers were saying, 'I want to send a direct mail piece to everybody in this specific city,'" said Brienna. "We still do that today, but we've taken that same one-to-one precision you think of with direct mail and we go across all channels. So, we can take a specific person you want to target, and that same person can see a mobile ad, an online display ad, they can hear your commercial on Pandora radio, and they can see your exact ad on TV."
Closed-Loop Reporting Analyzes Campaign Effectiveness
As with most everything in life, marketing is cyclic; you begin with the data, activate your campaign — then you analyze the results to see if it actually worked. In its role as a data compiler, Experian Marketing Services is in the perfect position to bring the cycle full circle.
"With our deep data foundation, the fact that we can match data, and that everyone trusts us to do that safely and in a privacy compliant manner to protect everyone's data — all that means we get to close the loop," Brienna said. "We can close the loop on how your marketing is performing, whether it is something traditional, like direct mail, or something more advanced, such as addressable TV, or anywhere in between all of the digital spend going on."
This is not the basic data you get from your web analytics, either. As with all of the data the Marketing Services team deals with, the end-cycle reporting goes across channels to give a detailed view of campaign effectiveness.
"We help folks go beyond things like clicks, shares, and number of tweets; those are very basic top-line metrics," explained Brienna. "We actually tell you, 'Not only did this customer see your ad five times on Sunday and two times on Monday, she went to your dealership lot on Wednesday, and then she bought that SUV 30 days later," described Brienna. "We roll that up at the segment level, so as to protect an individual's identity, but, at the end of the day, we're truly connecting sales — no matter where they happen — online, offline, 2 hours, 2 days or 2 months later. We close the loop."
According to Brienna, it's that third stage of the marketing cycle that truly drives it, as companies discover the true results of a particular campaign on a granular level.
"That's the part that really fuels the whole cycle over again for marketers. They learn exactly which types of people responded, which types of people didn't respond," Brienna described. "They think, 'This campaign didn't resonate with them, I'm going to go back to the beginning, start with data, and think about my next audience. Then, I'm going to go activate it, measure it' — and it all comes around full circle."
Experian is One of the "Big Three" in Credit Reporting and Data Compiling
Though made a household name by its role as one of the "big three" consumer credit bureaus, Experian's impact on the life of the average American is much more profound — as one of the "big three" original source data compilers. Experian Marketing Services is helping companies develop targeted, streamlined marketing campaigns to increase consumer engagement and improve the customer experience across every device — and demographic.
"I always tell clients to challenge us," said Brienna. "Tell us what you want to know about somebody, and we probably have the direct data that tells you that thing about them or even modeled data. We take all of this strongly observed data and we turn it into predictive data as well. It's a beautiful way for marketers to supplement their marketing process"