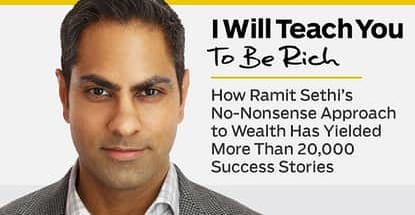 credit card news
Our experts and industry insiders blog the latest news, studies and current events from inside the credit card industry. Our articles follow strict editorial guidelines.
In a Nutshell: Instead of listening to outdated lectures about saving $3 on lattes, many young Americans are seeking logic-based answers to setting themselves up for prosperous futures. They're finding them in the atypical approach of Ramit Sethi, New York Times best-selling author and founder of I Will Teach You To Be Rich. Ramit's no-nonsense approach to personal finance and career advancement combines financial systems with principles of behavioral psychology. Through free articles, guides, tools, and courses based on tested tips and techniques, Ramit is helping young adults achieve wealth and success in all aspects of life. Launched as a personal finance blog in 2004, I Will Teach You To Be Rich has grown into a thriving e-learning business with millions of readers and thousands of success stories.
According to a Bank of America report, only 31 percent of young Americans thought their high school education taught them the financial habits that are so important to maintaining a healthy bank account. So they can hardly be blamed for not knowing how to manage their money properly.
Before he was a New York Times best-selling author and founder of I Will Teach You To Be Rich, Ramit Sethi was in the same boat. After securing enough money in scholarships to attend Stanford, Ramit invested his first check in the stock market and quickly lost it.
At this point, Ramit realized he had much to learn about money and read every book on finances he could get his hands on. He soon realized that most financial experts were ignoring an important element that shapes someone's financial destiny: behavioral psychology. Many people already know what they should be doing with their money. They're just not doing it.
That's why millennials are turning to a personal finance guru from their own generation who's helping them face the facts and find real-world solutions. They're tired of listening to the advice of older-generation financial experts, who tout restrictive, outdated money management techniques achieved solely by willpower.
More than 20,000 success stories attest to the effectiveness of Ramit's methods, which combine systematic approaches with empowering psychological techniques.
A Financial Expert Who Doesn't Believe in Coddling Clients
It's not a charismatic personality or revolutionary concepts that have drawn more than 200,000 people to subscribe to Ramit's personal finance resources; it's his no-nonsense manner and sound financial advice that help him stand out. If you meet Ramit, he won't pat you on the back for trying; he'll openly mock your poor financial choices (as Mina Kimes learned while writing a feature on him for Fortune magazine). And, if you ever decide to email him a question, don't be surprised if he ends up riffing on it in his next blog post.
Despite his bluntness, Ramit is sincere in his desire to help people regain control of their finances and find vocational success through systematic approaches.
Ramit credits systems for his own success. To fund his college tuition, he utilized a method to apply to over 60 scholarships and win over $200,000 in awards. In personal finance, Ramit believes systems, like automated payments and budgeting, are more effective than exercising willpower at helping people achieve their financial goals.
Studying people's psychological hang-ups and testing methods for overcoming them, he formulated ways to help people change their behavior and interact persuasively with others — whether in financial transactions or career opportunities.
Unlike other financial gurus who focus on cutting spending and sweating the little stuff, like buying a $3 latte, Ramit directs people to the things they can do with their money — the 5 to 10 Big Wins that can put them ahead by thousands of dollars.
Ramit's thousands of subscribers and success stories attest that his no-nonsense approach is what the current generation is looking for in personal finance leadership.
A Wealth of Free Resources Helps Readers Better Their Lives
Although he sells some of his resources, Ramit doesn't peddle his advice for personal profit. One proof is his policy to bar anyone with credit card debt from enrolling in his premium programs — a choice that costs him thousands of dollars in revenue each year. He's also made about 98% of his resources free, including guides, courses, and tools.
Ultimate Guides on Earning Money, Personal Finance, and Social Skills
A 2015 Addison Group study shows 40% of millennials expect to get a raise at least every two years regardless of performance and hold other misguided workplace expectations. The Ultimate Guide to Making Money and the Ultimate Guide to Getting a Raise and Boosting Your Salary are two of Ramit's free guides that help young people learn practical tips and psychological techniques for realistically getting ahead in their careers.
Ramit's other guides help young adults take charge of their personal finances, change their money and lifestyle habits, learn better social skills, and create profitable blogs that draw traffic and bring in passive income.
Free Courses on Increasing Your Potential and Starting Businesses
Ramit's free resources also include e-courses geared to helping people improve every area of their personal and professional lives, accelerate their income, launch a dream business, or take the challenge to save $1,000 in a week.
Just like the rest of his personal finance advice, these courses are free of fluff. For example, Ramit introduces 20X Your Potential as a five-day "Hell Week" course that employs strategies used by Navy SEALs to push and strengthen the body, mind, and emotions.
For those who want more in-depth training, Ramit offers premium courses that cover topics on entrepreneurship, career development, personal finance, productivity, and psychology. Although they aren't free, these courses include a 100% refund policy if students aren't satisfied with what they take away.
Tools to Uncover Your Earning Potential and Manage Credit Card Debt
One of Ramit's free resources is a seven-part quiz titled "What's Your Earning Potential?". Simply answering the questions can offer insight into your habits, desires, and goals, and the results reveal your biggest obstacles and personal path to greater earnings.
Ramit believes that debt is one of the biggest roadblocks to wealth, and loves to target misleading financial services, banks, and credit card companies. To help consumers get (and stay) debt-free, he's gathered input from his students and designed a credit card debt calculator tool that provides tips and strategies for debt repayment, such as negotiating your bills or your APR.
For his subscribers, Ramit packaged a free Insider's Kit that details the same systems he uses to manage his finances and maximize his earnings. The Insider's Kit includes a video on how to automate your finances; scripts for how to negotiate late fees, client contracts, and pay increases; and tools for earning money on the side.
A Money Blog That Evolved Into a Thriving Business
Ramit's passion for teaching people no-nonsense personal finance strategies started as a personal blog in 2004 and materialized into a best-selling book in 2009. Twelve years later, it's grown into a team of hundreds and an e-learning business (known as IWT) with over 200,000 subscribers.
The IWT team works remotely from all over the world, but they all share the same goal: innovating and testing tools and creating communities with the lasting value to help people save money, pursue their dream careers, and achieve success in every aspect of life.
You might expect that working remotely would make IWT's employees feel disconnected, but the sense of camaraderie within the company is strong. Team members feel close, regardless of how many miles come between them, and they still meet up occasionally to present ideas within their teams or the entire company.
The ITW team also love connecting with their students. Ramit regularly hosts meetups for students enrolled in the Zero to Launch online business building course to share and celebrate their success stories and encourage one another along the way.
Ramit's Methods Unlock the Earning Potential Within You
Disillusioned young Americans are realizing that career success doesn't always come easily and willpower alone is insufficient to tackle massive debt. They want answers, and they're finding Ramit's approach to be a refreshing change.
At I Will Teach You To Be Rich, Ramit promises his readers will find "no sugar-coating, no BS, no random tactics. Just tested, step-by-step systems that work in the real world."
Whether taking advantage of Ramit's free articles, guides, e-courses and personal finance tools or enrolling as a student in one his premium training courses, subscribers are finding the kind of financial advice they can put into practice to improve their lots in life.
Based on Ramit's systematic approaches and proven psychological techniques, the e-learning tools at I Will Teach You To Be Rich are equipping young people to change their habits, take control of their money, and negotiate all aspects of their careers and personal lives.