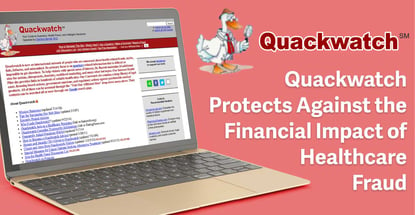 In a Nutshell: Concerned about questionable claims in the healthcare industry, Dr. Stephen Barrett exchanged a career in psychiatry for one as a vigilante to protect against healthcare quackery. Since 1996, Quackwatch and a large group of associated websites have served as Barrett's platform for debunking healthcare pseudoscience, misleading marketing, and health-related fraud. Because relying on nonevidence-based healthcare can impact your wallet as well as your health, take Dr. Barrett's advice and look carefully before you leap into paying for healthcare unknowns.
Quackwatch is a website (or, more accurately, a group of 23 interrelated sites) devoted to debunking medical quackery — frauds, myths, fads, fallacies, and misconduct associated with healthcare. New age thinker and alternative medicine advocate Deepak Chopra once described the Quackwatch network's founder, psychiatrist Dr. Stephen Barrett, as a "self-appointed vigilante for the suppression of curiosity." But nothing could be further from the truth.
Instead, Barrett insists on curiosity and burrowing into the scientific evidence behind health claims to determine which have a factual basis — and which don't.
Quackwatch warns against the bodily and financial harm that can result when people pursue and purchase healthcare practices that don't work as advertised. When you or a loved one needs help, he would advise, look before you leap into paying for something ineffective or even harmful.
As a psychiatrist in San Francisco in the mid-1960s, Barrett grew irritated by books he had read on patent medicine fraud in the early 20th century and on how chiropractors won legal recognition for their practice despite not having a viable scientific theory underlying most of what they did.
He started a local discussion group, gradually reducing his psychiatric practice as he became increasingly concerned with the healthcare challenges consumers face.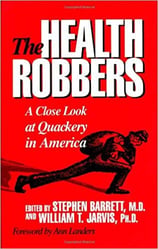 "What I did evolved," he said. "I evolved into a writer and speaker on the side. I practiced psychiatry, but I got more interested in other things."
In 1993, Barrett retired from his practice and devoted himself full time to writing. That year he published the fifth edition of a well-regarded textbook on consumer health as well as an edited collection of essays on health quackery in America entitled  The Health Robbers.
In 1994, he focused his curiosity on the health food and supplements industries in The Vitamin Pushers.
And then came the internet.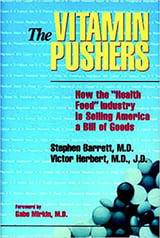 "What used to take months to investigate, I sometimes could take on in minutes," he said. "I just continued, and I attracted a lot of people who were interested in helping and sharing information and just gradually built up what I do."
Quackwatch officially launched in late 1996. To this day, the Quackwatch network continues to expose a wide variety of pseudoscientific medical and healthcare claims, verify and distribute reliable consumer healthcare information, and report on multilevel and other fraudulent marketing schemes — even assisting consumers who have been exploited financially by healthcare charlatans.
When it Comes to Supplements, the Web is Not Your Friend
The enormous cache of medical claims Quackwatch has debunked over the years is searchable. But it's also organized into discrete websites and topic lists that give consumers the benefits of browsability.
"It's all basically one knowledge base," Barrett said. "I like browsable indexes. I don't like sites where you go to them and you don't know what's on them. You can search, but if you don't know what to look for, it doesn't do much good."
On the searchable web, a great deal of financially fraudulent healthcare information is hiding in plain sight. For Barrett, the dietary supplements industry is a prime example. His publication of The Vitamin Pushers suggests he may, in fact, view the industry as a nemesis.
"If you want information about pills and potions, you should never take it from a site that sells them," he said. "The vast majority of dietary supplements, herbs, do absolutely nothing — and no homeopathic products work. Never take information from anybody that sells any of that stuff, whether it's a website, a book, or even your own doctor."
That's one way to stay out of trouble, Barrett said. But consumers are often additionally tempted by BOGO discount offers, money-back guarantees, and other too-good-to-be-true enticements in the supplements industry.
"You really ought to be very, very suspicious about buying vitamins or related products that are on sale over the internet," he said. He's found only one company that manages to sell the products reputably. But it's not because they work.
"They generally don't make claims about their products because the government told them not to," Barrett said.
Beware of Taking on Credit to Finance Chiropractic Contracts
Barrett's advice on how to evaluate healthcare information over the web is therefore instilled with a good deal of common sense.
"If you have a health problem, look at what the reputable sites say about it," he said. "Reputable sites are the major professional groups, major voluntary organizations like the American Cancer Society, and government websites. They all tend to have reliable information."
"I do not suggest that you look up 'supplements' using Google," he said. "That's now called 'researching,' and people who do research using search engines come out with the wrong answer nearly 100% of the time because commercially motivated websites dominate search engine results."

A Quackwatch site called Internet Health Pilot is perhaps the best place to start. There, Barrett links to hundreds of general and specialized information indexes offering trustworthy information.
"I would suggest you do your searching among the sites we identify as trustworthy," he said.
In a broader context, the challenge of financing long-term healthcare is subject to the same sorts of pressures. Here, Barrett's concerns about the chiropractic industry come to the fore.
Many chiropractors entice patients into agreeing to an extended treatment series by offering a discount if the patient commits to a contract.
"No trustworthy chiropractor will tell you that you need a large number of treatments in advance because you can't predict that," Barrett said. "Most of the time, they're offering treatments for problems that don't even exist."
An even worse scenario occurs when the patient uses credit to finance the contract. The patient is boxed in because credit card companies don't usually care whether the contracted services were legitimate or needed — even when the loan is financing an unnecessary series of treatments.
"If your contract is only with a chiropractic provider and you don't pay, it's not going to hurt your credit rating," Barrett said. "But when you don't pay credit card companies, it can."
Be Skeptical When Dealing with Healthcare Unknowns
Underlying everything Barrett does on Quackwatch is a dose of healthy skepticism. Bolstering Barrett's impeccable professional credentials is his role as a Fellow of the Committee for Skeptical Inquiry, an organization devoted to the promotion of the skeptical viewpoint in everyday life.
"Skepticism is a part of everyday common sense we all use," says the Committee on its website. "It is also a key component of scientific thinking. It helps lead to fact-based judgments about what is real and what is not. It allows you to see for yourself which claims you've heard stand up to tests of evidence and which do not."
For Barrett, those words of wisdom apply whenever healthcare decisions need to be made. Common sense ought to prevail, for example, in selecting health insurance — stay within the mainstream, he advises.
"There are a lot of scams," he said. "The best I can do is to say that if you go beyond the most prominent companies — Blue Cross Blue Shield, Aetna, and so on — the further away you get from those kinds of companies, the more you have to be extremely careful," he said.
"If you're eligible for a government-sponsored program under the Affordable Care Act, that's probably the best thing most people can do," he said.
The same is true when evaluating healthcare marketing claims. If you receive a marketing message over the phone, ignore it, Barrett advises.
"The chances are probably close to 100% that if somebody wants to sell you something by phone that's health-related, it's very unlikely to be legitimate. You can't even tell if there's going to be a product," he said.
The best antidote to healthcare quackery is information. Quackwatch offers a free weekly newsletter summarizing the latest scientific reports, legislative developments, enforcement actions, news reports, and much more. People make wiser choices when they're armed with facts.
Advertiser Disclosure
CardRates.com is a free online resource that offers valuable content and comparison services to users. To keep this resource 100% free, we receive compensation for referrals for many of the offers listed on the site. Along with key review factors, this compensation may impact how and where products appear across CardRates.com (including, for example, the order in which they appear). CardRates.com does not include the entire universe of available offers. Editorial opinions expressed on the site are strictly our own and are not provided, endorsed, or approved by advertisers.